Well it sure seems like the last couple of weeks just flew by! And it for sure wasn't because the weather has been cooperating! It's been flooding a lot and maybe I'm just getting old or something, but I seriously never remember having a storm come through and you get 4+ inches of rain at one time! This last round we were lucky and only got about 1 1/2 inches of rain but not that far from us some farmers got over 4 inches and their fields are flooded. The standing water in the fields will kill the corn which is not good! 
Other thing that happened is that we celebrated our 36 year anniversary towards the end of April. OK, maybe I am getting old! But how great is that? Now it can't hold a candle to a celebration we just had this weekend. It was Daryl's sister and brother in laws 50th! You know when I was a teenager and someone was celebrating their 25th anniversary I thought 'holy smokes' they are almost ancient people! And when I thought about 50 years I couldn't almost comprehend it. So with us into the 30 years of marriage and having a party at our house for a 50th – I think I'm changing my mind to what is a long time to be married   is  – maybe if you celebrate your 100th anniversary than you just might be old ! Ask me in about 67 years 🙂 
Rock picking has been on our calendar these past weeks and we even got a couple of loads picked up already. There is some new seed grass planted on the farm and Daryl wanted to have most of them picked up before it came up.  I'll have to take a picture of the field this week and show you. It looks pretty nice. OK, maybe you need to be a farmer to see the beauty in new grass in a field, but it does look nice.  
I've picked up my first batch of chickens the other day and I'm just saying I did a really good job only coming home with what I was ordered.  But I also have to go back next week and pick up the second half of the ones that were ordered. I stopped in at Ma's on the way home and needed a model holding the chickens. I even got her to stop mowing for the picture which is kind of a shock because she loves mowing!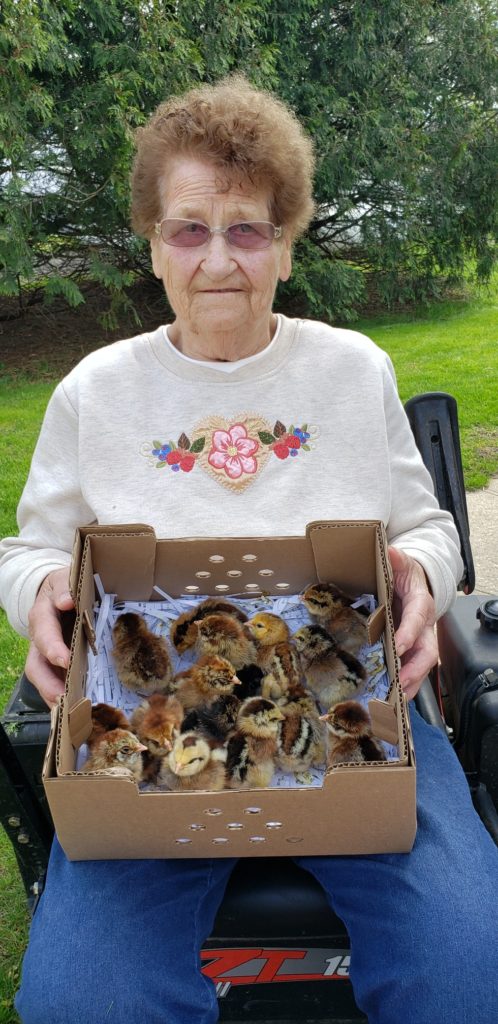 Making soap has been high on my To Do List. And with getting around 700 bars made for an upcoming show I am now nervous that someone will buy them! I'll find out in two weeks.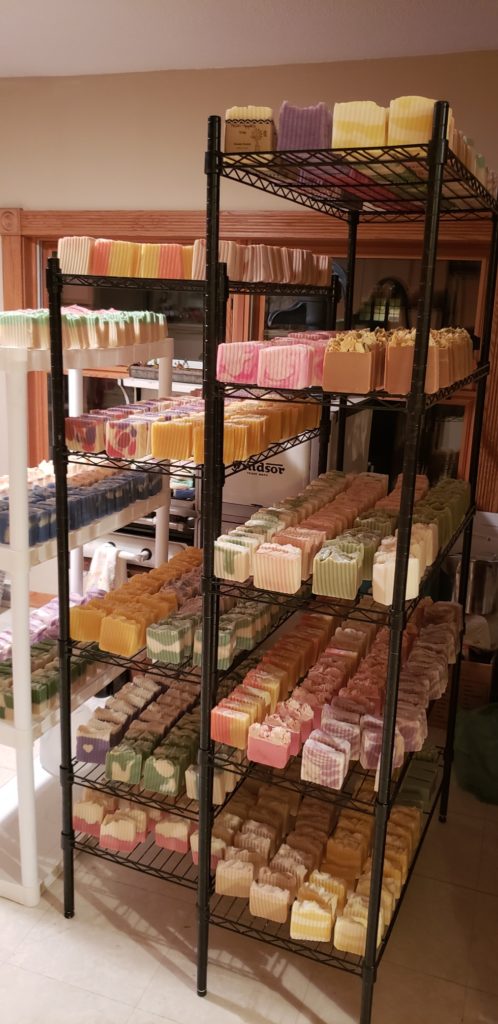 Of course I would like to have made some other ones that I've been thinking of to bring to the show but I guess it'll have to be later this summer to the stores. I bought some goat milk and froze it and I'm just dying to try to get them made along with some beer soap. Both are harder to make than other 'regular' soap so it'll take more time than I have right now.
And Daryl has been busy working up the ground and planting corn and beans. We were visiting the kids today and saw that there is quite a bit of corn up south of our farm so that just makes everyone more anxious to get the rest of the seeds in the ground.