Laura's Cabbage Supreme
Dressing
½ c vegetable oil
¼ c sugar
2 T vinegar
1 tsp salt
½ tsp black pepper
Combine all ingredients and blend thoroughly
Salad
1 (2 ¼ oz) pkg sliced almonds, roasted
1 (16 oz) pkg coleslaw mix
½ c chopped green pepper and ½ chopped red pepper
5 green onions chopped
1 (8 oz) can sliced water chestnuts
2 c chow mein noodles
Just before serving, combine almonds, vegetables, noodles and dressing; toss to mix
Cream Puff Dessert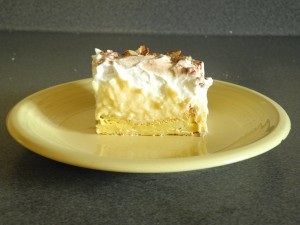 Ingredients
1 cup water

1/2 cup butter

1 cup all-purpose flour

4 eggs

FILLING:

1 package (8 ounces) cream cheese, softened

3-1/2 cups cold milk

2 packages (3.9 ounces each) instant chocolate pudding mix
TOPPING:

1 carton (8 ounces) frozen whipped topping, thawed

1/4 cup chocolate ice cream topping

chopped nuts (I used pecans)
Directions
In a large saucepan bring the water and butter to a boil over medium heat. Add flour all at once; stir until a smooth ball forms. Remove from the heat; let stand for 5 minutes. Add the eggs, one at a time, beating well after each addition. Continue beating until mixture is smooth and shiny.

Spread into a greased 13-in. x 9-in. baking dish. Bake at 400° for 30-35 minutes or until puffed and golden brown. Remove to a wire rack to cool completely.

For filling, beat the cream cheese, milk and pudding mix in a large bowl until smooth. Spread over puff; refrigerate for 20 minutes.

Spread with whipped topping; refrigerate until serving. Drizzle with the chocolate and sprinkle with nuts. Refrigerate leftovers.
Ma's Bars
1 stick of butter
1 cup of crushed graham crackers
1 cup of coconut
1 cup of chocolate chips
1 cup of butterscotch chips
1 cup of chopped nuts
1 can of sweetened condensed milk
Preheat oven to 350 ° F
In a 9×13 pan, place the butter in it and put it in the oven to melt
Once melted, add the following ingredients in layers : graham crackers,
coconut, chocolate chips, butterscotch chips, & nuts.
Pour the sweetened condensed milk over the ingredients and bake
until golden brown.
Easy Alfredo Sauce
1 stick of butter
1 cup heavy cream
2 cups fresh Parmesan cheese
salt & pepper
In a skillet, warm the butter and cream.
Season with salt and pepper
Add cheese and whisk until smooth. Add extra water if needed to thin it.
Fluffy Snicker Dessert
6 apples
6 Snicker bars
1 box of instant pudding (vanilla, butterscotch, or chocolate)
2 containers of Cool Whip
Place the cool whip in a large enough bowl to add the remaining ingredients.
Then add the instant pudding to the Cool Whip and Do Not Mix with milk.
Cut up the apples and candy bars into small pieces and put with the Cool Whip
mixture.
I added extra candy bar pieces to the top of the dessert and then drizzled it with
caramel topping. But you can skip this step or add other toppings – just what ever
you have in your cupboard at the time. It's pretty forgiving.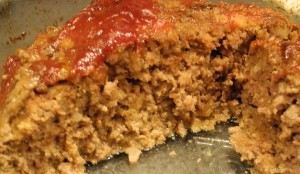 Teresa's Every Day Meat Loaf
⅔ C. dry bread crumbs
1 C milk
1 ½ to 2 lbs ground beef
2 beaten eggs
¼ C chopped onions
1 tsp salt
⅛ tsp pepper
½ tsp sage
Soak bread crumbs in milk. Add beaten eggs, meat, onions, and seasoning to the milk. Mix well and put in greased loaf pan. Cover with the following sauce:
3 Tbsp brown sugar
¼ C catsup
¼ tsp nutmeg
1 tsp mustard
Bake 45 to 50 minutes
Easy Chicken Soup
Remove chicken from the bones and tear up into smaller pieces
Add 2 boxes soup stock (I used 2 of the 32 ounce sizes)
I added 2 carrots cut up, 2 stalks of celery cut up,1 small onion, and some garlic. Honestly, you can add as much or as little of these things that you like.
Then it looked a little runny and I knew that Daryl hates homemade noodles, so I added a packet of the pasta mixes that you can usually get on sale for a $1. I had creamy chicken with noodles and into the pot it went. I left it simmer for about 30 minutes and just like that it was done.
I almost forgot. I also added some butter to the soup 🙂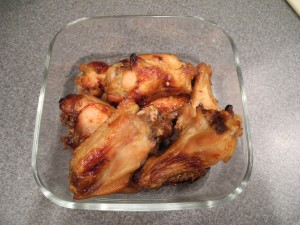 Japanese Chicken Wings
2 lbs chicken wings
½ cup soy sauce
½ cup sugar
¼ tsp crushed red pepper
1 clove garlic, crushed
¼ cup honey
Marinate chicken in the above ingredients overnight
Preheat oven to 375 degrees
Line 9×13 pan with tin foil or parchment paper and put chicken on it
Bake for about an hour or until chicken is done.
3 cups of Crispix cereal
1/2 cup of salted peanuts

1/3 cup of packed brown sugar

1/3 cup of corn syrup

1/4 cup of peanut butter
In a large bowl combine cereal and peanuts, Set aside.
In a microwave safe bowl, combine brown sugar and corn syrup. Microwave high for 30 to 60 seconds or until sugar is dissolved, stirring several times.
Immediately stir in peanut butter until smooth
Pour over cereal mixture and toss to coat.
Pour mixture onto parchment paper to dry.
Break apart to eat
3 cups croutons

2 lbs of sausage (browned and drained)

2 cups shredded cheddar cheese

4 eggs

2  1/2 cups milk

1/2 t. prepared mustard

1/2 t. salt

1 can cream of mushroom soup

1/2 cup milk

1/2 pkg frozen hash browns

1/2 cup shredded cheese
Directions
Put croutons, sausage and 2 cups cheese in 9×13 " ungreased pan in order given.

Combine eggs, 2  1/2 cups milk, mustard, & salt.

Pour over mixture in pan and refrigerate over night.

In the morning combine the soup and  1/2 cup milk. Pour over casserole.

Put frozen has browns on top and top with  1/2 cup cheese.

Bake 300 degrees for 1  1/2 hours. *** I baked at 350 for 1  1/2 hours

Let stand for 10 minutes before cutting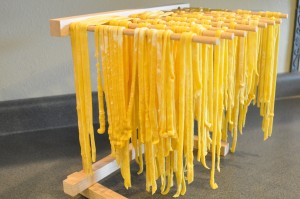 Directions
Put flour in bowl and add eggs
Mix together until manageable
Add small amounts of water if needed
Put on floured counter top and knead until it doesn't stick and won't take any more flour
Noodles will need to rest for a little bit, so put large pan of water on stove and bring to a boil
Add salt to water
Roll noodles out thin and cut to desired width
Add noodles to water and when they float they are done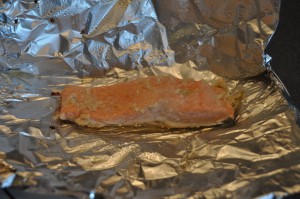 3 cloves of garlic
lemon juice
olive oil
tin foil
salt
Directions
Preheat oven to 425 degrees
Take tin foil and tear off 3 pieces large enough for salmon pieces
Add small amount of oil to tin foil and place salmon on top
Drizzle oil on top of salmon and season with salt
Add a few drops of lemon juice on top
Add one pressed clove of garlic to the top of each salmon
Fold tin foil to make pocket for salmon. Bake for 15 minutes.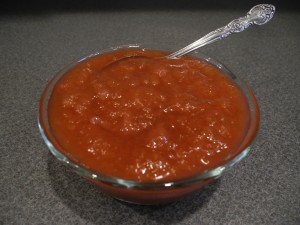 4 cups cut rhubarb
1 cup sugar
2 ½  tbsp orange juice
1 tsp grated orange zest
¼ cup water
Red food coloring
Cook in saucepan over medium heat until thick
2 cups uncooked pasta
1 garlic clove, minced
2 Tbsp butter
2 Tbsp flour
1/4 tsp pepper
1/2 tsp salt
2 cups milk
3 cups shredded cheddar cheese, divided
1/2 cups crumbled cooked bacon
Preheat oven to 350 degrees
Cook pasta and drain.
In a large saucepan, saute garlic in butter for 1 minute.
Stir in flour and salt/pepper until smooth, gradually add milk.
Bring to a boil, cook and stir for 1 – 2 minutes or until thickened.
Reduce heat and stir in 2 cups of cheese until melted.
Add pasta & 1/4 cup bacon to cheese sauce.
Transfer to a greased baking dish.
Cover and bake for 30 minutes
Uncover and sprinkle with remaining cheese and bacon.
Bake 5 – 10  minutes longer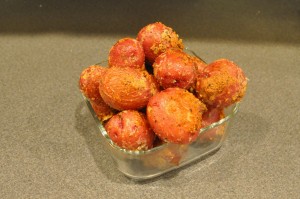 1/4 cup olive oil
1  1/2 tsp Italian seasoning
2 cloves garlic, minced
1/3 cup Parmesan cheese
Preheat oven to 400 degrees
Toss potatoes with oil, seasoning and garlic. Add cheese and mix lightly
Spread potatoes in a 9 x 13-inch baking pan and bake approximately 30 minutes or until tender.