Chocolate Caramel Candy Bars
Bottom layer:
1 cup chocolate chips
¼ cup butterscotch chips
¼ cup creamy peanut butter
Filling:
¼ cup butter
1 cup sugar
¼ cup evaporated milk
1 ½ cups marshmallow creme
¼ cup creamy peanut butter
1 tsp vanilla extract
1 ½ cups salted peanuts
Caramel Layer:
1 package (14 ounces) caramels
¼ cup whipping cream
Icing:
I cup chocolate chips
¼ cups butterscotch chips
¼ cup creamy peanut butter
Combine the first three ingredients in a small saucepan, stir over low heat until melted and smooth. Spread onto the bottom of a lightly greased 9×13 pan. Refrigerate until set.
For filling, melt butter in a heavy saucepan over medium high heat. Add sugar and milk. Bring to a boil, boil and stir for 5 minutes. Remove from the heat, stir in the marshmallow creme, peanut butter, and vanilla. Add peanuts. Spread over the first layer and refrigerate until set.
Combine the caramels and cream in a saucepan, stir over low heat until melted and smooth. Spread over the filling layer. Refrigerate until set.
Combine the chocolate chips and peanut butter and melt over low heat until smooth. Pour over the caramel layer. Refrigerate at least 1 hour before cutting. Store in the refrigerator.
Apple Tart
Ingredients
1 whole sheet puffed pastry, cut in half
Nonstick cooking spray
1 cup brown sugar
1/4 teaspoon salt
Juice of 1/2 a lemon  (Because I didn't have any lemons, I gave it a good shot of lemon juice instead) 
2 whole apples, cored, halved and sliced thin, but not peeled
Store-bought caramel sauce, for serving
1/4 cup chopped pecans
Directions
Preheat the oven to 425 degrees F.

Place the puffed pastry rectangles onto a baking pan that's been sprayed with nonstick spray or lined with parchment paper.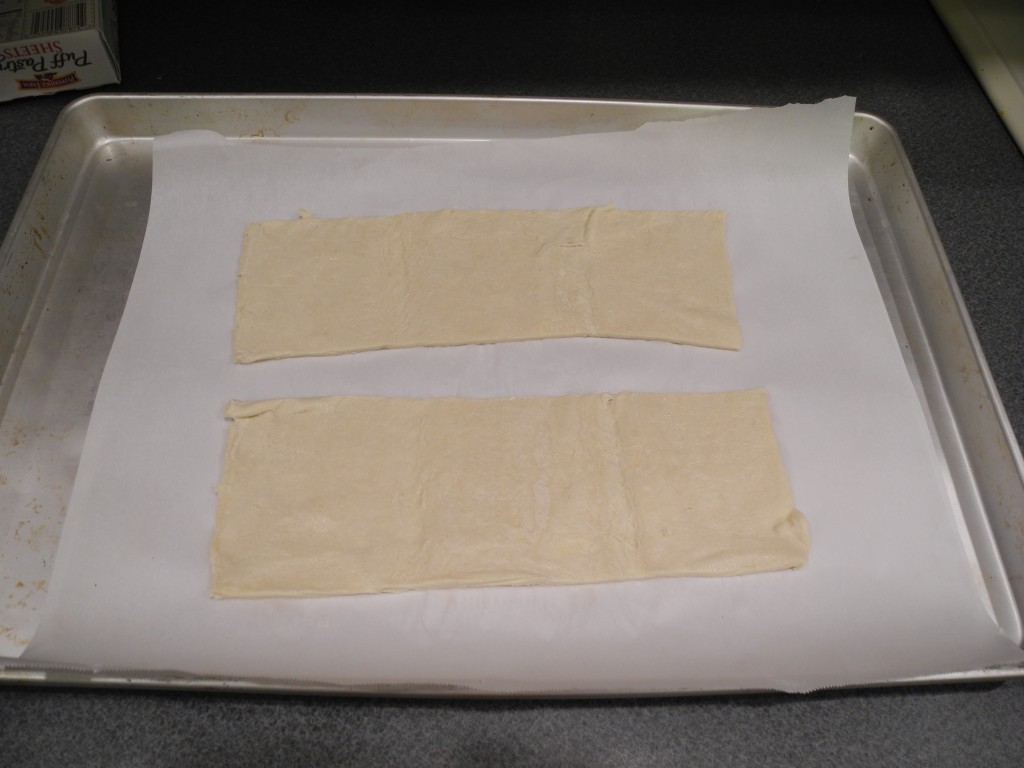 Add the sugar, salt and lemon juice to the apples. Stir to combine. Allow to sit for a few minutes.
Arrange the apple slices on the pastry rectangles in a straight line, overlapping as you go. Bake until the pastry is puffed and golden brown, about 20 minutes.
Remove from the pan immediately and place on a serving platter. Serve with caramel sauce and chopped pecans. I would also recommend a big scoop of vanilla ice cream!!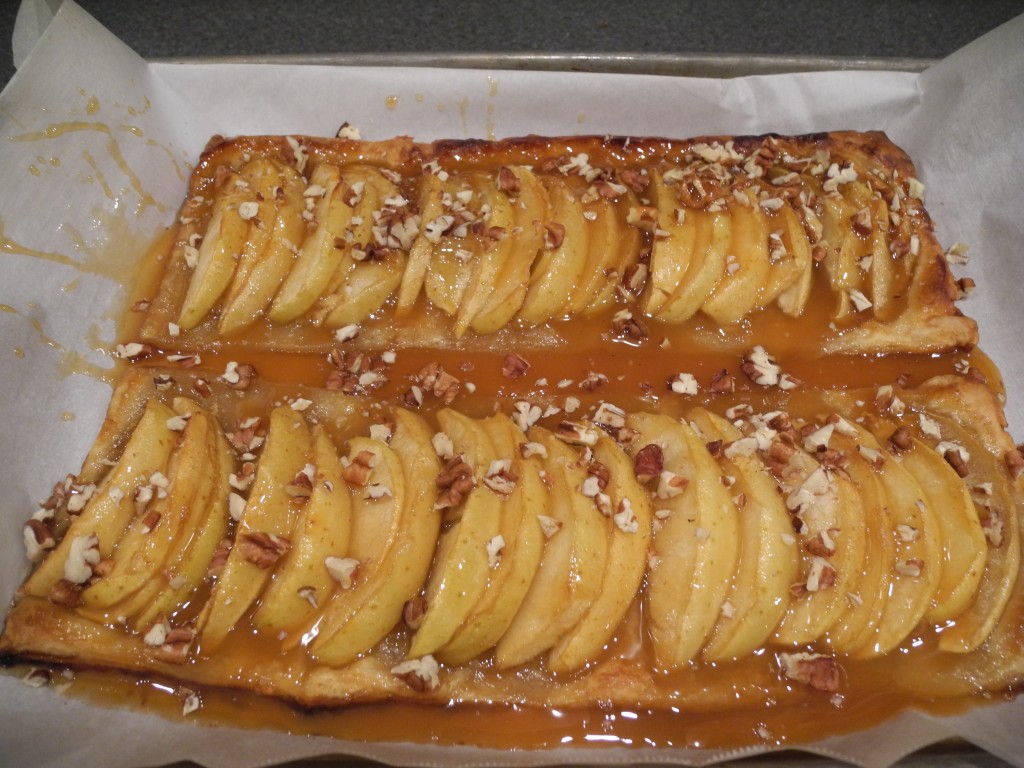 Filled Turnovers
Ingredients
8 ounces cream cheese, at room temperature
1/3 cup sugar
1 extra-large egg yolk, at room temperature
1 teaspoon pure vanilla extract
1/4 teaspoon salt
Dash of lemon juice
1 sheet of frozen puff pastry, defrosted
1 egg beaten with 1 tablespoon water, for egg wash
Directions
Preheat the oven to 400 degrees F. Line a sheet pan with parchment paper.

Place the cream cheese and sugar in the bowl of an electric mixer and cream them together on low speed until smooth. With the mixer still on low, add the egg yolks, vanilla, salt, and lemon juice and mix until just combined. Don't whip!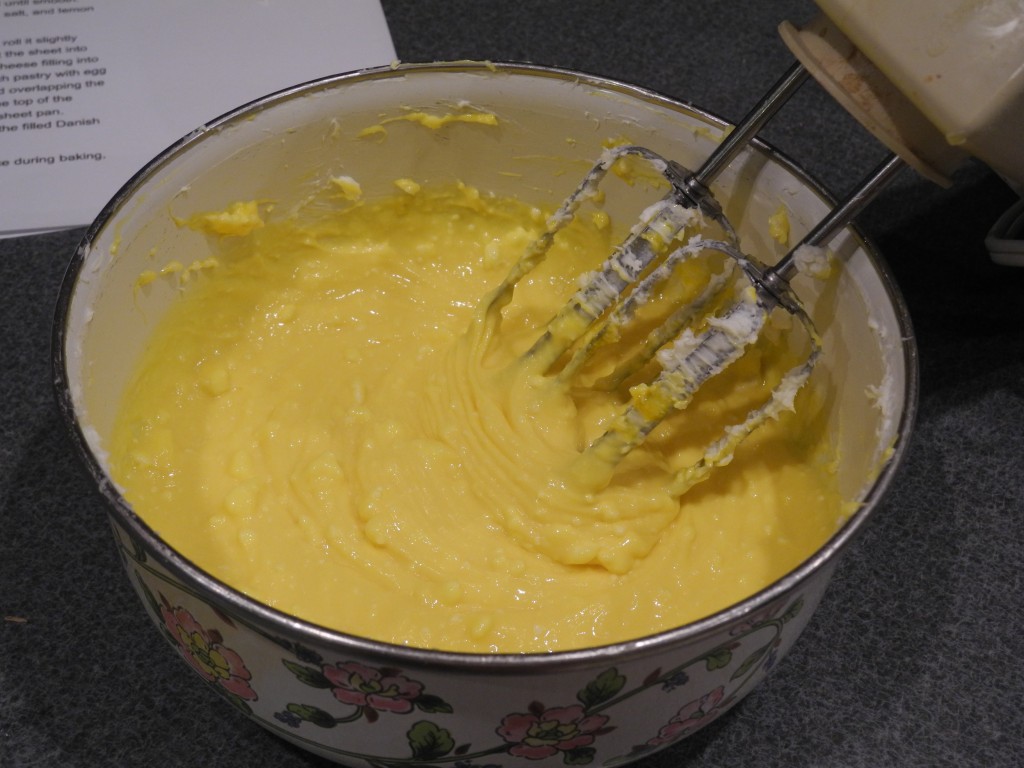 Unfold 1 sheet of puff pastry onto a lightly floured board and roll it slightly with a floured rolling pin until it's a 10 by 10-inch square. Cut the sheet into quarters with a sharp knife. Place a heaping tablespoon of cheese filling into the middle of each of the 4 squares.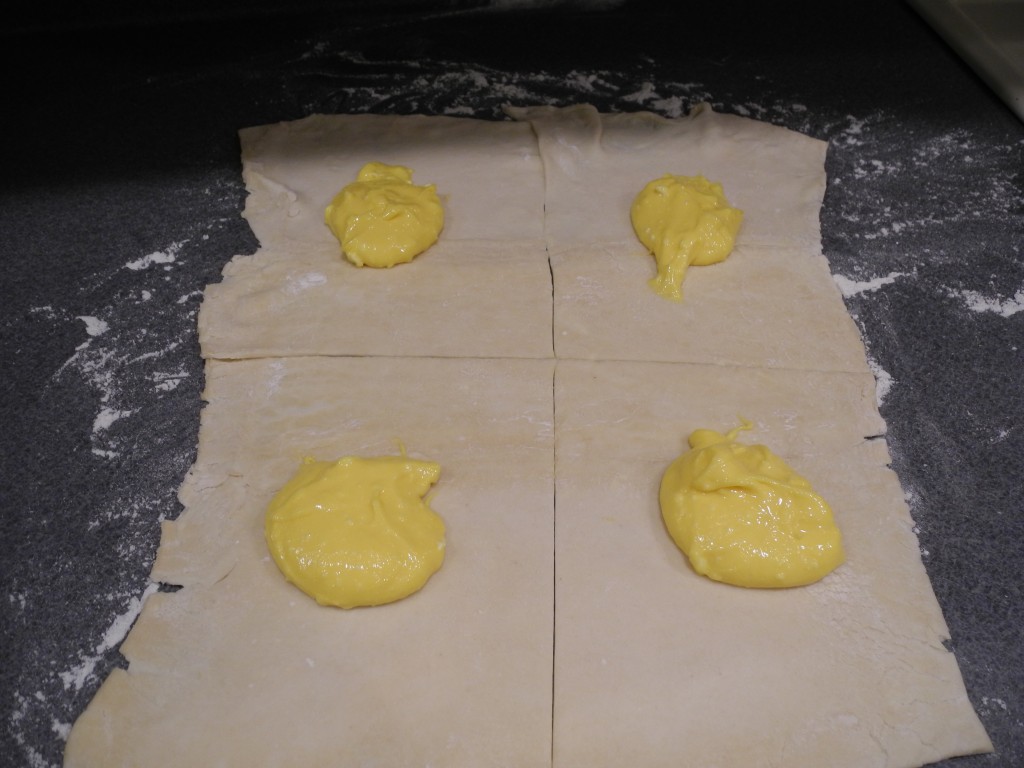 Brush the border of each pastry with egg wash and fold 2 opposite corners to the center, brushing and overlapping the corners of each pastry so they firmly stick together. Brush the top of the pastries with egg wash.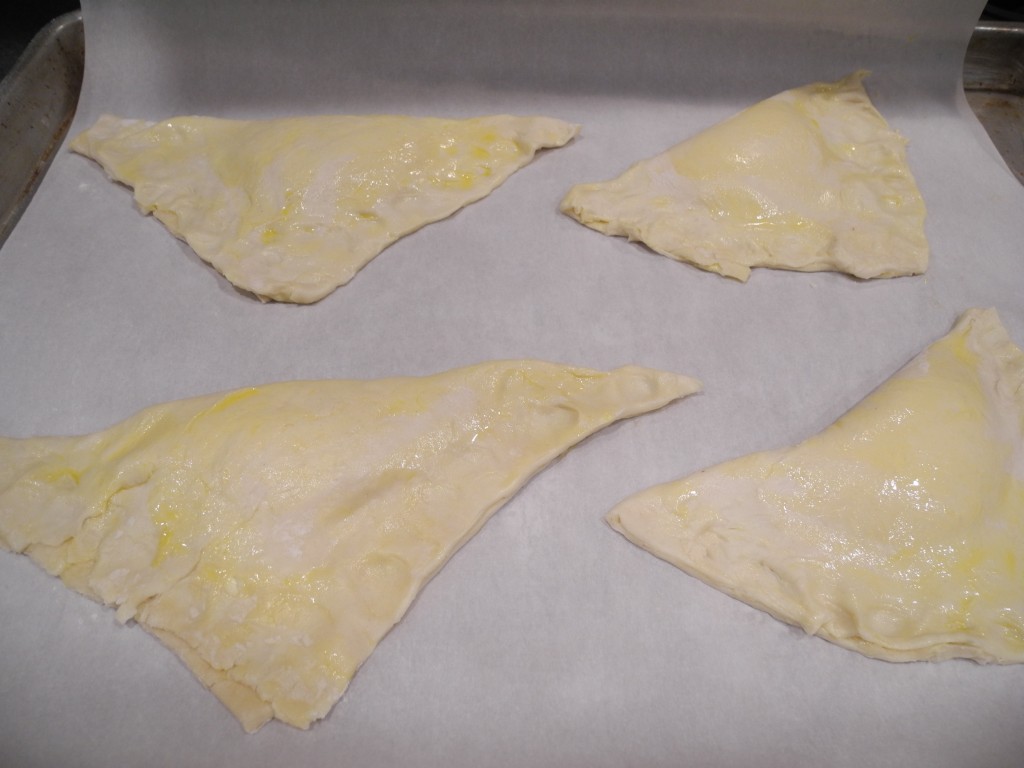 Place the pastries on the prepared sheet pan. Refrigerate the filled pastries for 15 minutes.

Bake the pastries for about 20 minutes, rotating the pan once during baking, until puffed and brown. I add powdered sugar to the tops of them or you can drizzle frosting over each one.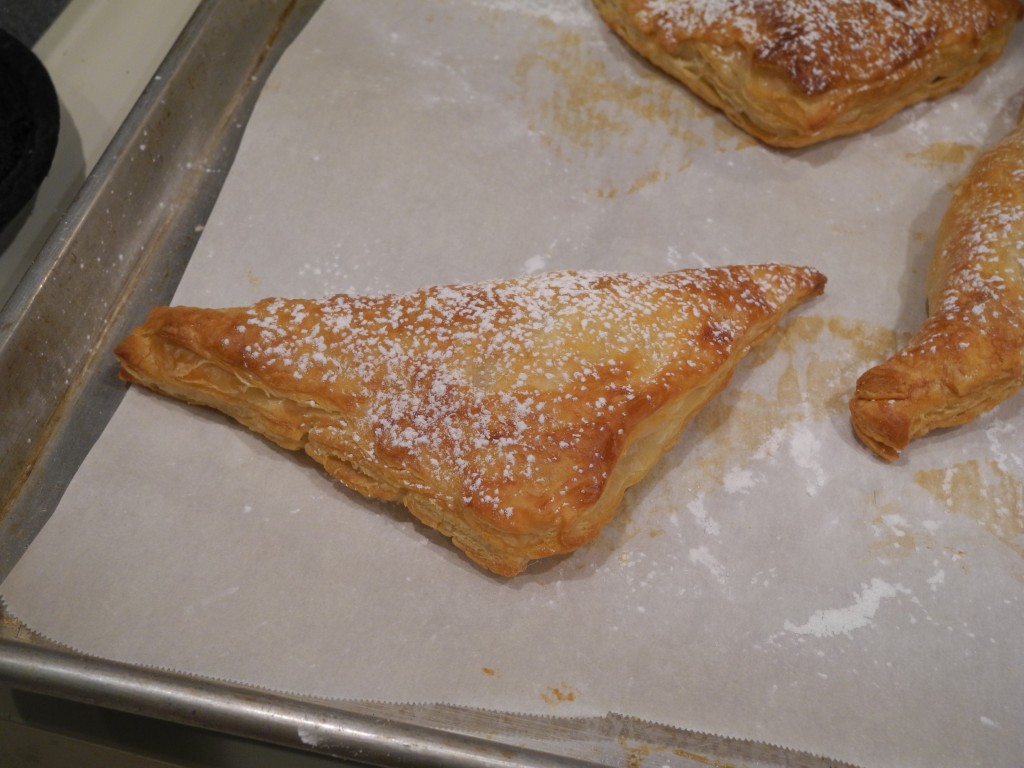 Dump Cinnamon Rolls
Ingredients:
5 cups flour
1 pkg of yeast
3/4 cup scalded milk
3/4 cup water
2 eggs beaten
1/3 cup sugar
3/4 tsp salt
1/2 cup softened butter
To a large bowl add : 2 cups of flour and make a hole in the middle of it. Then scalded milk to water and add pour that in the 'hole'.  Add eggs, sugar, salt, and sprinkle yeast over this. DO NOT MIX and Cover with plastic wrap and set for 1 hour.  Remove plastic wrap and beat in softened butter for 2 minutes.  Add 3 cups of flour and form ball. Replace plastic wrap and let double. Roll out, add melted butter, cinnamon, and brown sugar on top and roll into jelly roll. Cut into rolls, add to greased cookie sheet and let double again. Bake 375 in oven for 20 minutes or until light brown.
Deviled Eggs
Ingredients:
6 eggs
2 Tbsp Mayo
1 tsp sugar
1 tsp vinegar
1 tsp mustard
3/4 tsp salt
Paprika
Cut boiled eggs in half the long way and separate yolks. Add all ingredients to the yolks except the paprika. I put this filling into plastic sandwich bag and cut bottom corner to use as piping bag. Fill egg whites with yolk mixture and add paprika to tops. 
No Bake Cookies
Ingredients:
3 Tbsp cocoa
2 cups sugar
1/2 cup milk
1/2 cup butter
Slowly bring to a boil over medium heat. Boil 90 seconds and then add 3 cups oatmeal, 1/2 cup peanut butter and 1 Tbsp vanilla. Drop on parchment paper to cool.
Pumpkin Roll
Ingredients:
3 eggs
1 cup sugar
2/3 cup pumpkin
1 tsp lemon juice
Beat eggs. Gradually beat in 1 cup sugar, stir pumpkin and lemon juice together then add to eggs.
3/4 cups flour

dash salt

1 tsp baking powder

1 tsp cinnamon

1 tsp ginger

1/2 tsp nutmeg
Mix dry ingredients together, then fold into egg mixture. Spread onto greased and floured 10 x 15 inch pan. Top batter with chopped nuts. Bake for 15 minutes in 375 degree oven.  Sift confection sugar onto dish towel and put cake onto it. Roll towel and cake jelly roll style and cool. When cool – unroll and spread on filling and roll.
Filling:
1 cup powdered sugar

4 Tbsp butter

1 tsp vanilla

8 oz cream cheese
Beat together well
Judy's Banana Bread
1 egg slightly beaten
2 medium bananas, smashed
4 Tbsp butter
2 Tbsp milk
1 3/4 flour
1/2 cup sugar
1 tsp baking powder
1/2 tsp baking soda
3/4 tsp salt
Mix wet ingredients together
Add dry ingredients and mix well
Put into greased loaf pan and bake 350 degrees until top of loaf is dry.
Chocolate Cheesecake
Ingredients:
1 1/2 cups chocolate wafer crumbs
1 cup plus 3 TBSP sugar
3 TBSP butter, melted
5 boxes cream cheese, softened
1 1/2 tsp vanilla
3 TBSP flour
3 eggs
1 cup sour cream
8 ounces melted semisweet chocolate, cooled slightly
fruit ( I used raspberries)
whipped cream
chocolate shavings
Directions:
Preheat oven to 325 degrees
Lightly grease the bottom and sides of spring-form pan
In a mixing bowl, combine the chocolate wafer crumbs, 3 TBSP sugar, and butter. Mix well. Press onto bottom of spring-form pan and set aside.
In a large mixing bowl, combine cream cheese, 1 cup sugar, and vanilla. Beat until light and creamy.
Add flour to the cream cheese mixture and beat until smooth.
Add melted chocolate and sour cream. Mix well.
Add eggs, 1 at a time , mixing on low speed after each addition until just blended.
Pour the batter into prepared pan and bake for 1 hour to 1 hour and 10 minutes., until the center is almost set. (When putting pan in oven, place on cookie sheet)
Run a sharp knife around the rim of the pan and allow cake to cool on wire rack.
Refrigerate overnight to set cake.
Add toppings
In a medium bowl, combine the following and set aside
2 1/2 regular rolled oats
2 cups flour
1 tsp baking powder
1 tsp baking soda
1/2 tsp salt
Then in a large mixing bowl, beat the following:
1 cup butter, softened
1 cup brown sugar
1 cup granulated sugar
2 eggs
1 tsp vanilla
Beat together the dry and wet ingredients then stir in:
1 12-ounce semisweet chocolate chips
1 1/2 cups nuts (optional)
4 ounces milk chocolate bar, grated (I used Hershey's bar)
Drop from large cookie scoop (3 tbsp) 4 inches apart on ungreased cookie sheet. Bake 375 degrees for 9 minutes or until edges are light brown. Cool on cookie sheet for 1 minute and then transfer to wire rack; cool.
Crust:
1/2 cup flour
1/4 cup brown sugar
1/4 cup butter
Filling:
4 – 8 oz pkg cream cheese, softened
1 1/4 cup brown sugar
4 eggs
1 cup heavy cream
Topping:
Whipped topping, thawed
3/4 caramel ice cream topping
1 cup pecans, toasted
Shaved chocolate
Directions
Preheat oven to 350 degrees
Mix crust ingredients and press onto bottom and sides of lightly greased 9 " spring form pan
Bake 8 minutes and set aside.
Reduce heat to 300 degrees
In large mixing bowl, blend cream cheese, add sugar, eggs, and heavy cream. Beat well.
Pour onto crust and bake 1 hour and 15 minutes
Cool. Release pan rim and refrigerate overnight
Add whipped topping, caramel, shaved chocolate, and pecans