Daryl's been busy getting stuff all lined up so when the fields dry out with all the rain we've had this fall – he'll be ready! So this morning when we had I think all our grain wagons out in the yard just waiting, I went out to take a picture of them and they were gone. I'm not sure where they went to be honest? 
And getting ready for the harvest also means setting up the grain elevators to the storage bins. This doesn't sound that bad, but you have to put your shoulder into it when you're setting them up. For some reason it always seems like you have to push the auger up hill and this year wasn't an exception. We keep the auger below for this farm in a shed, so with Daryl holding up the motor part of the auger and me standing in front of the wheels holding onto the brace bar – we seem to get enough momentum to get up the hill to get it set up. Thank goodness!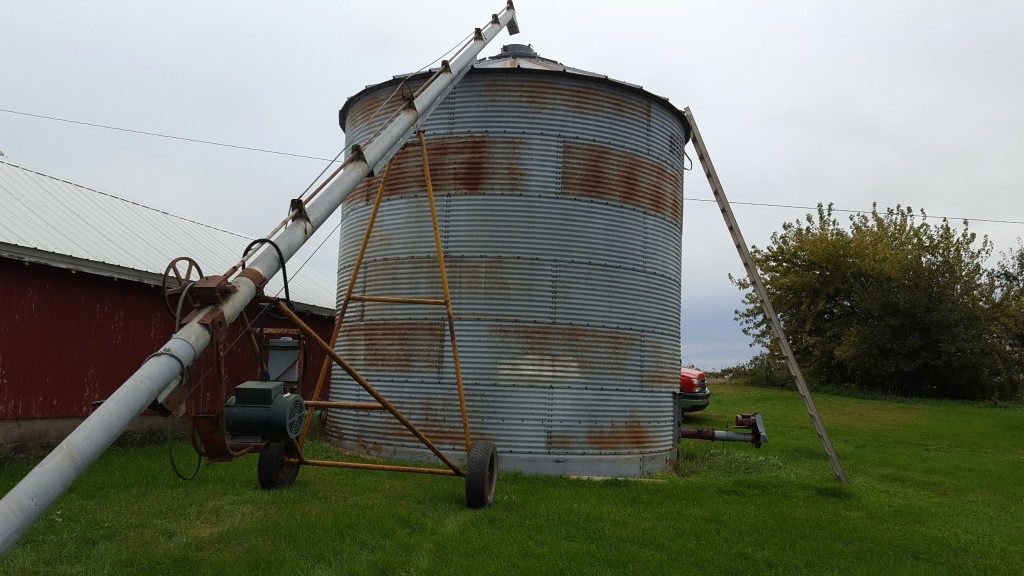 Now all we have to do is to see what the weather is going to do this weekend. Hopefully it'll be sunny to help dry out the fields. We've heard that there are a lot of farmers getting stuck trying to get their crops out and I sure don't want that to happen to us! For me I'm trying to get some outside painting done yet this fall so I'm also hoping that the weather will be sunny soon to get that project started. It's been almost 6 years since I painted white and it needs to be touched up again.
And finally here is the birthday card that I made Ma the other day for her friend. She wanted it to be glitzy and also a spot for her and her friends to write a note on. I think I delivered! The card folds onto itself and the only trouble that I had is to figure out how to get it mailed. It was a little too big for any envelope that I could find and finally Ma found one in a local store that could be used. Whew! I need to remember this lesson the next time I'm making tri-fold cards.