ARUBA – One Happy Island!
I never take it for granted when we're able to go on any trips, and once again I couldn't believe that we could be so lucky to be able to head some place warm this winter. It just seems like it has been a very lonnngggg winter and I am so ready to get away!
OK, so this is how the weather looked the week before we left. It's a picture of the trees behind our house. Looks cold and let me tell you that it is!!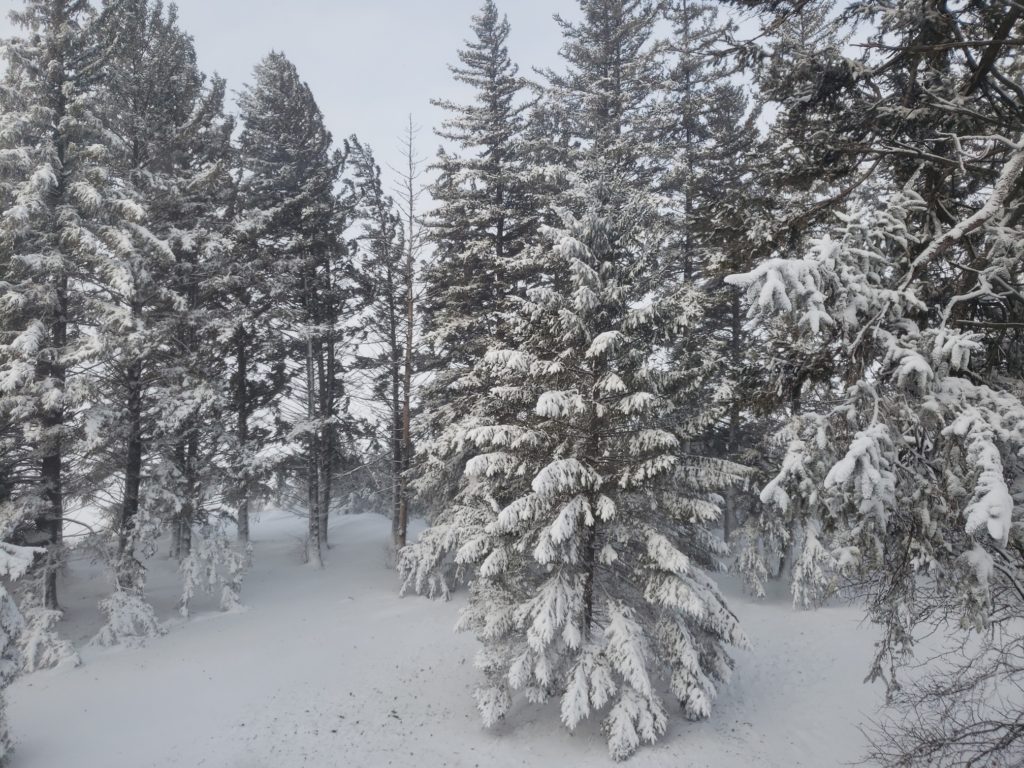 Blizzard warnings were out the week before we left and the wind chill temperature were between 50 & 60 degrees below 0. WHAT!! It was time to get out of the Midwest and head for warmer grounds.
And that's exactly what we did! Our flights went well even though the Chicago connection had us running through the airport – we made all our flights and that's all that really matters! We were heading to Aruba!! 
When we get to the hotel it's pretty much the same routine – it was time to check it out!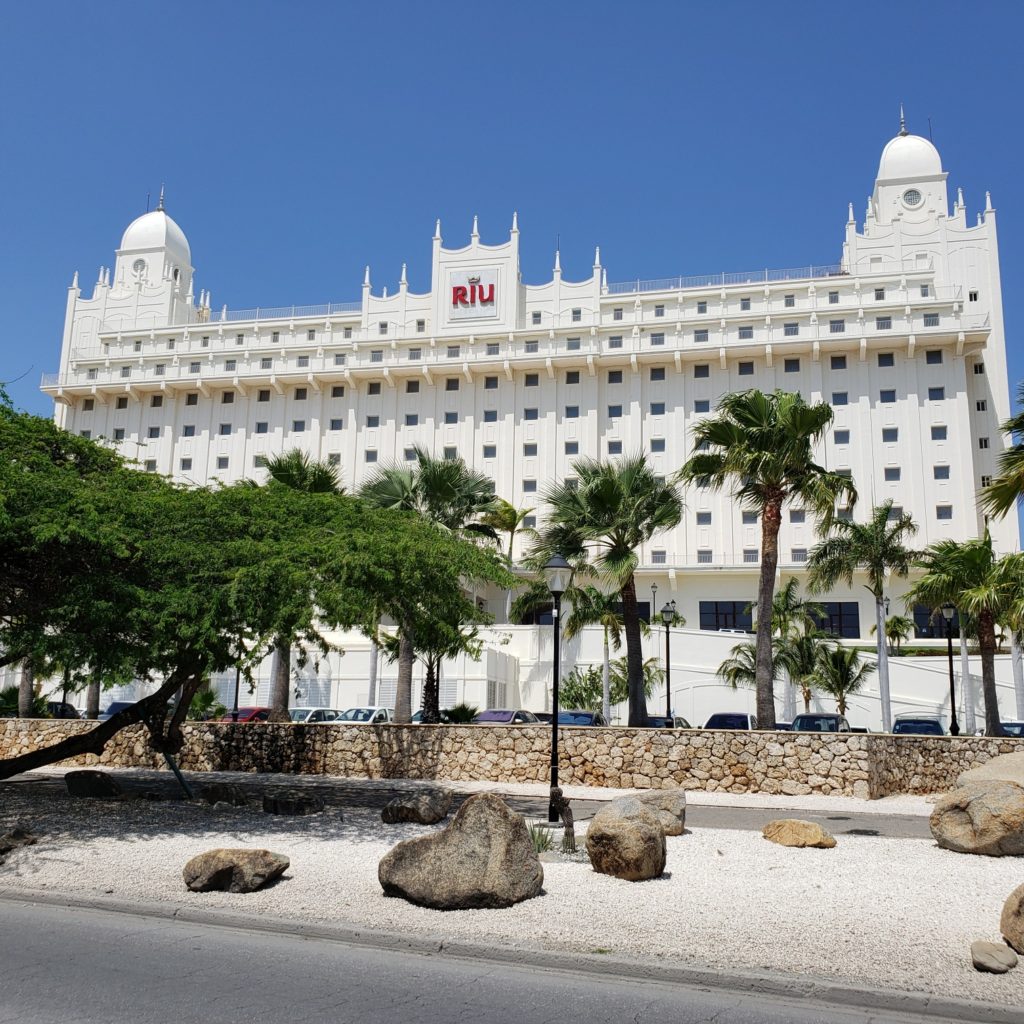 Since we've stayed at this hotel chain quite a few times over the years, we new that it was going to be good. Well with the first look when we were standing in the lobby, we knew that we were right! It was going to be a good week – A VERY good week!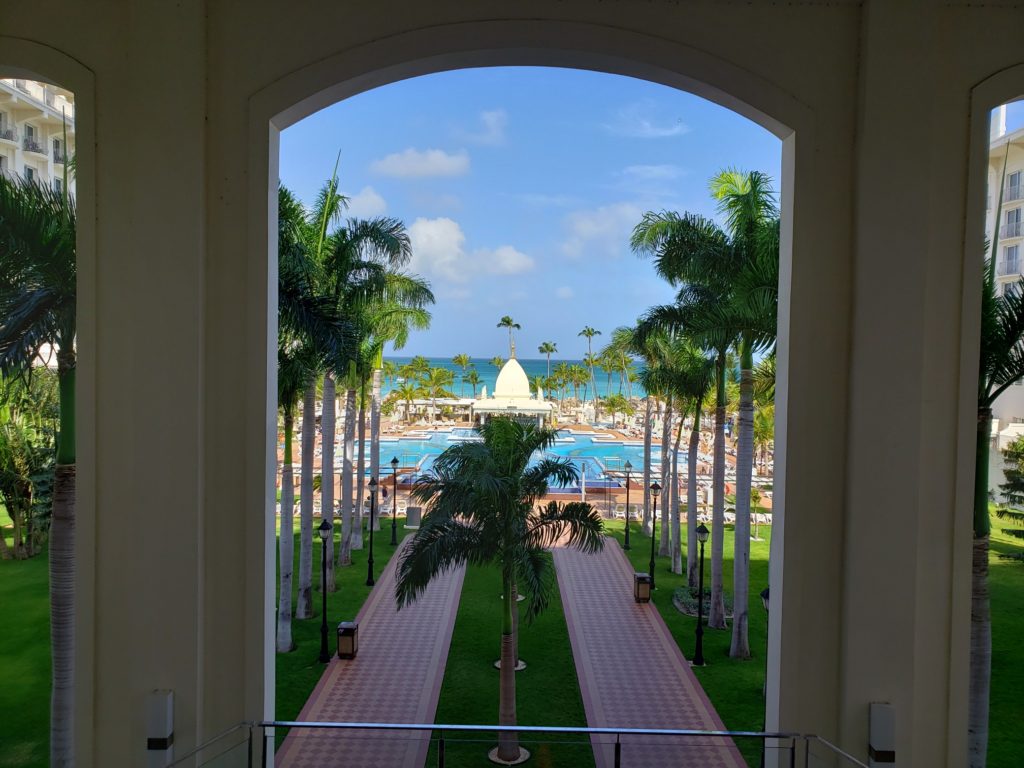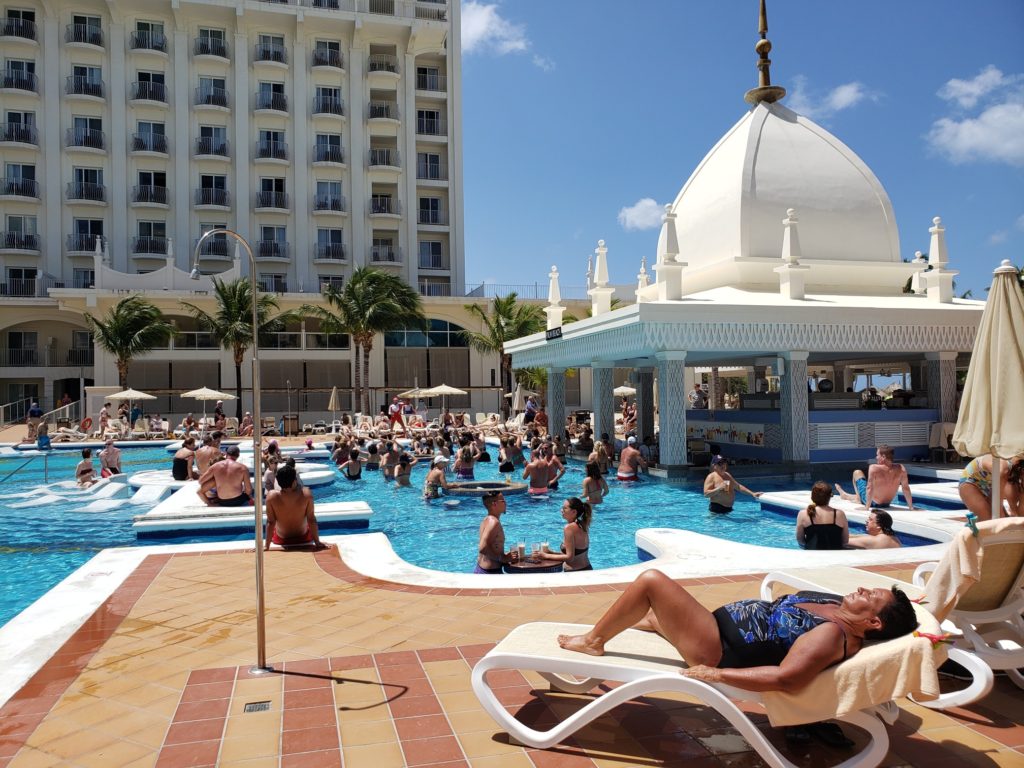 I soon realized that Aruba has the most beautiful beaches that I've ever seen in any of our travels. And the warm temperatures of 85 to 90 °F every day with a breeze made the wait to get out of the cold weather all worth it!  We laughed more than once about the weather because every day it is exactly like the day before! Kind of like the movie Groundhog Day but without the snow and work stuff 🙂  The best job to ever have is to be a Weather person in Aruba. With 10 inches of rain or less a year and every day sunny & breezy, seriously how can you call the weather wrong?
When we booked our trip we didn't know that the island was going to have a Mardi Gras parade the next day, and we were ready to join in the fun! Now the front desk clerk said that the parade started at 10:00 am and goes to 7:00 pm – but don't go downtown until at least  2:00. OK, it sounded a little odd to go down so late, but then we found out that everything, and I mean everything slows down on the island. So we found some good food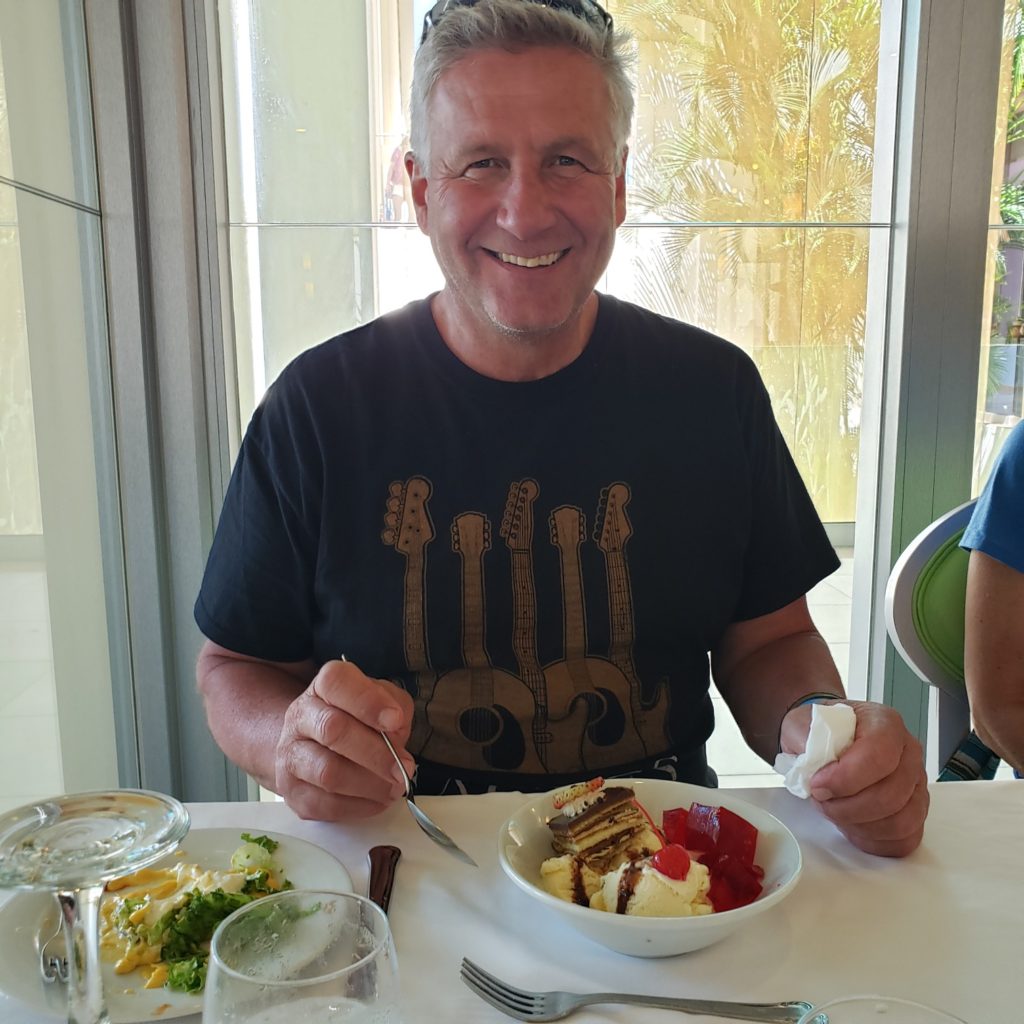 and then in a cab we all went and we were off on our first excursion – downtown Aruba to the Mardi Gras parade! And guess what? With there being 15 to 20 groups each year participating in the parade, hundreds of people are in each group, and with this being it's 65th year of the parade – it was absolutely unbelievable! The costumes, the amount of people, and just the whole afternoon!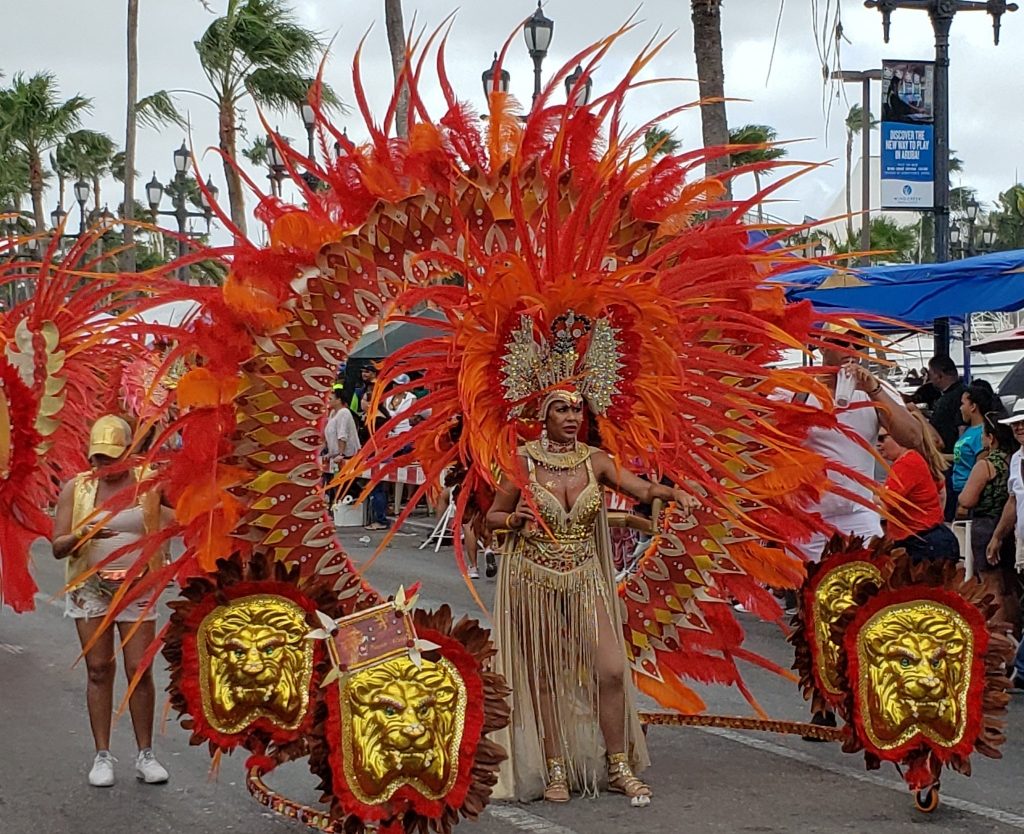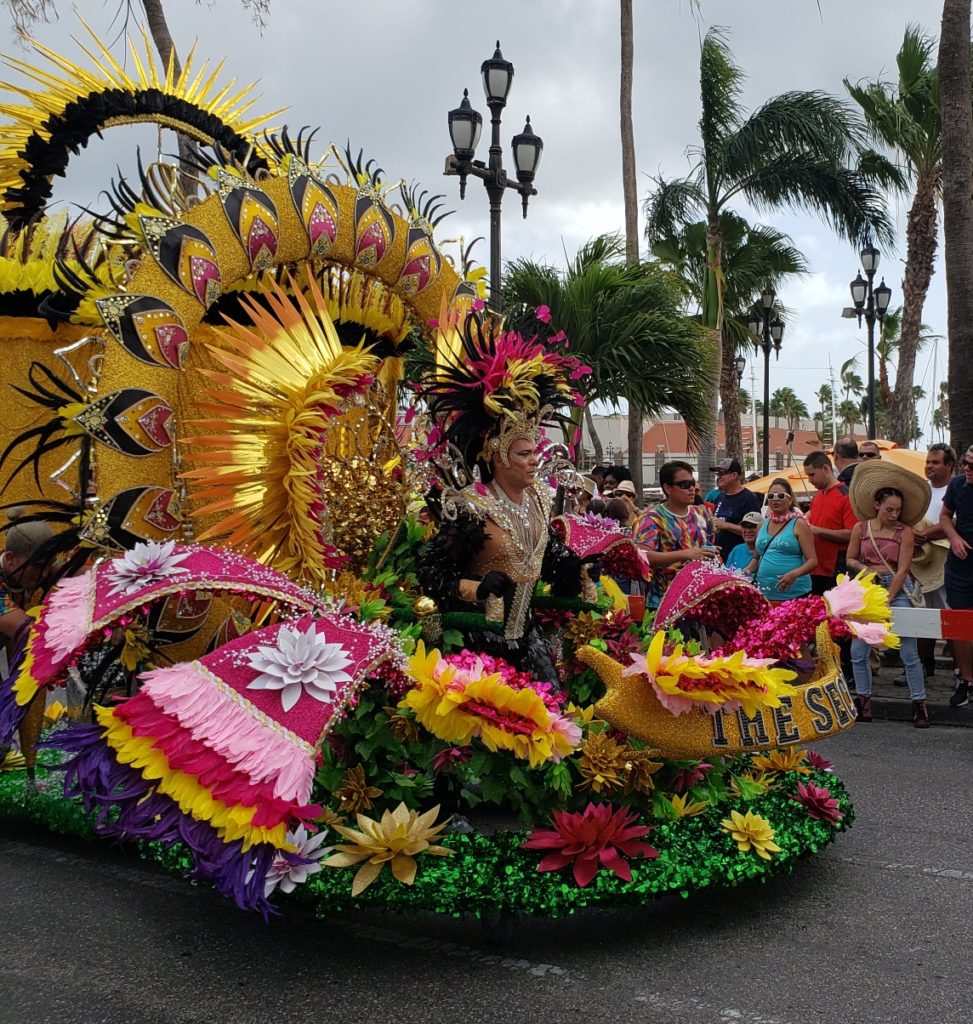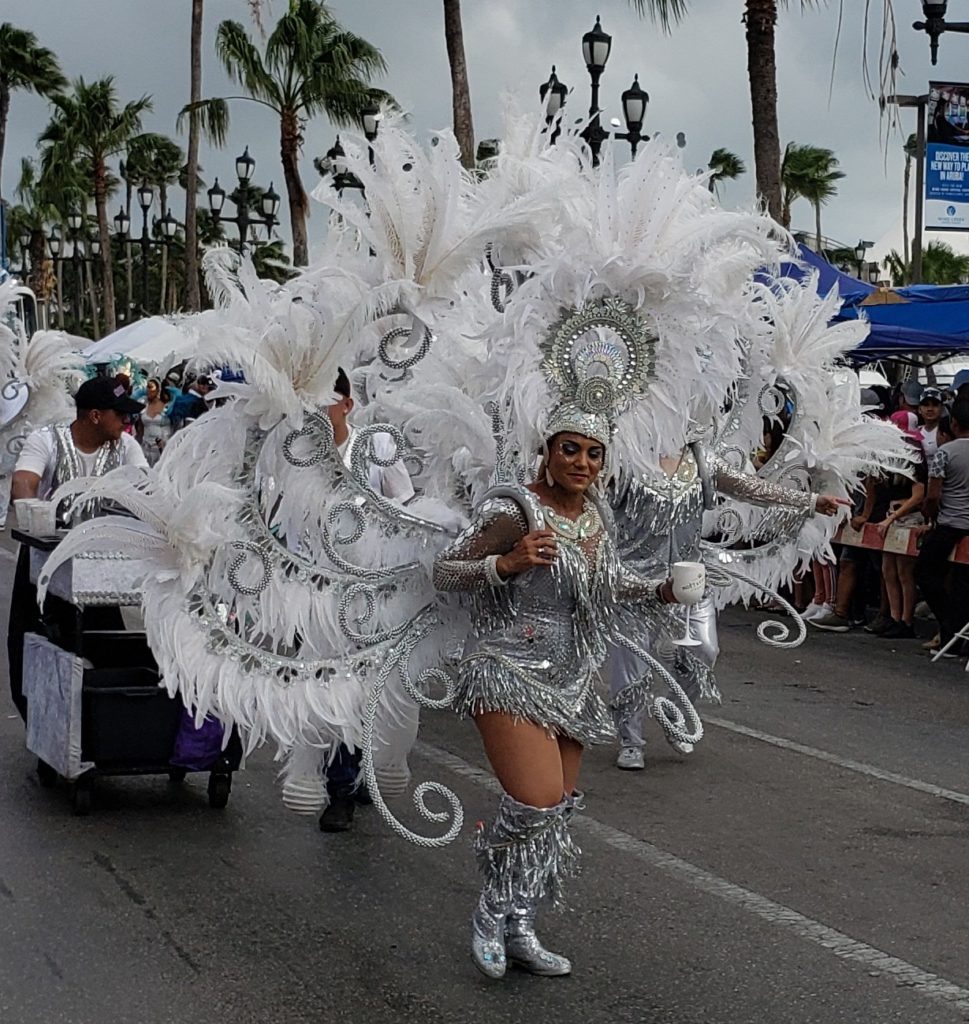 And with most of the locals waiting for the parade since the very early hours of the day, let's just say it was a Party! Now did it come by around 2:00 where we were standing? Nope, it finally started to come through around 3:00 🙂  With the music so loud that you could feel your clothes actually moving off your chest, and everyone dancing and having a great time, what a fun thing to see and be a part of!
Like I mentioned earlier, our beach was one of the most beautiful beaches that I've ever seen on our vacations. It was so white that it felt almost cool when you walked on it barefoot. And as far as you could walk out into the ocean, you had this white powdery sand under your feet. It was absolutely perfect!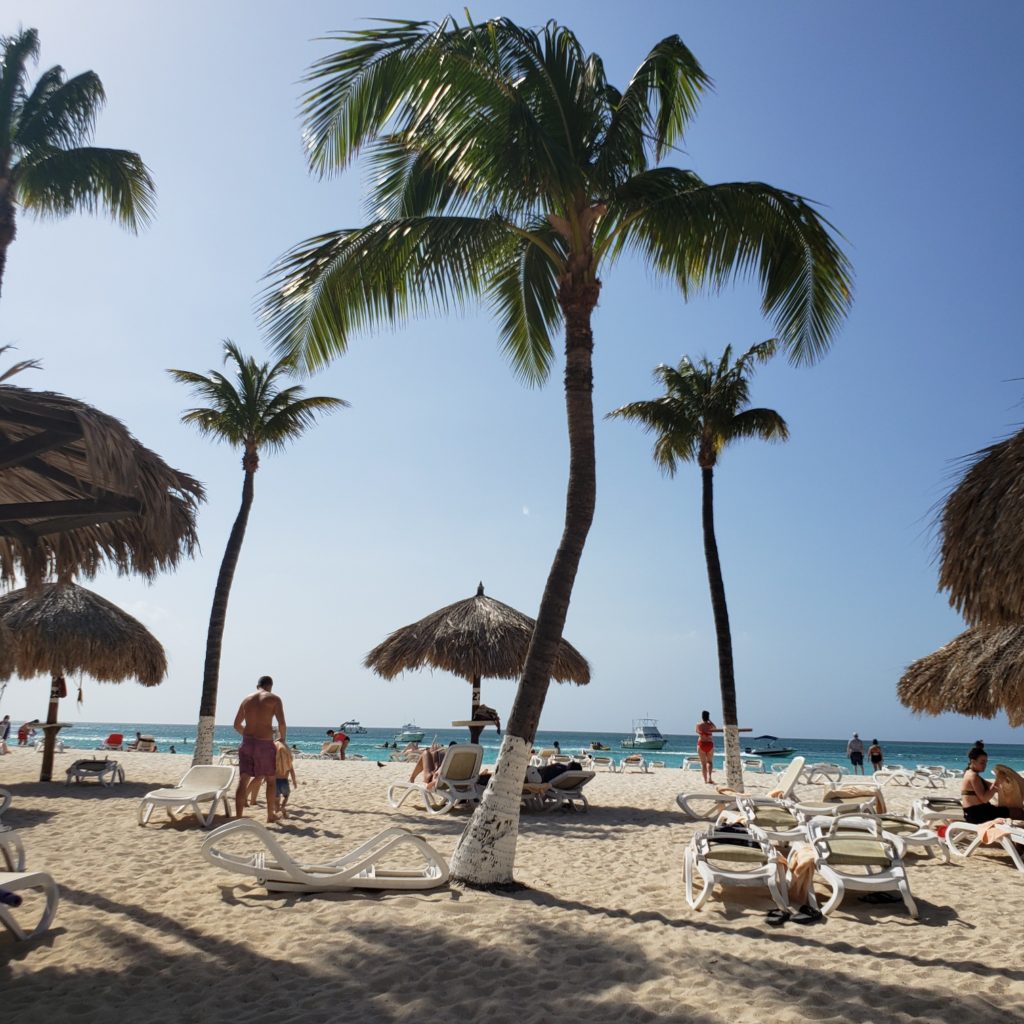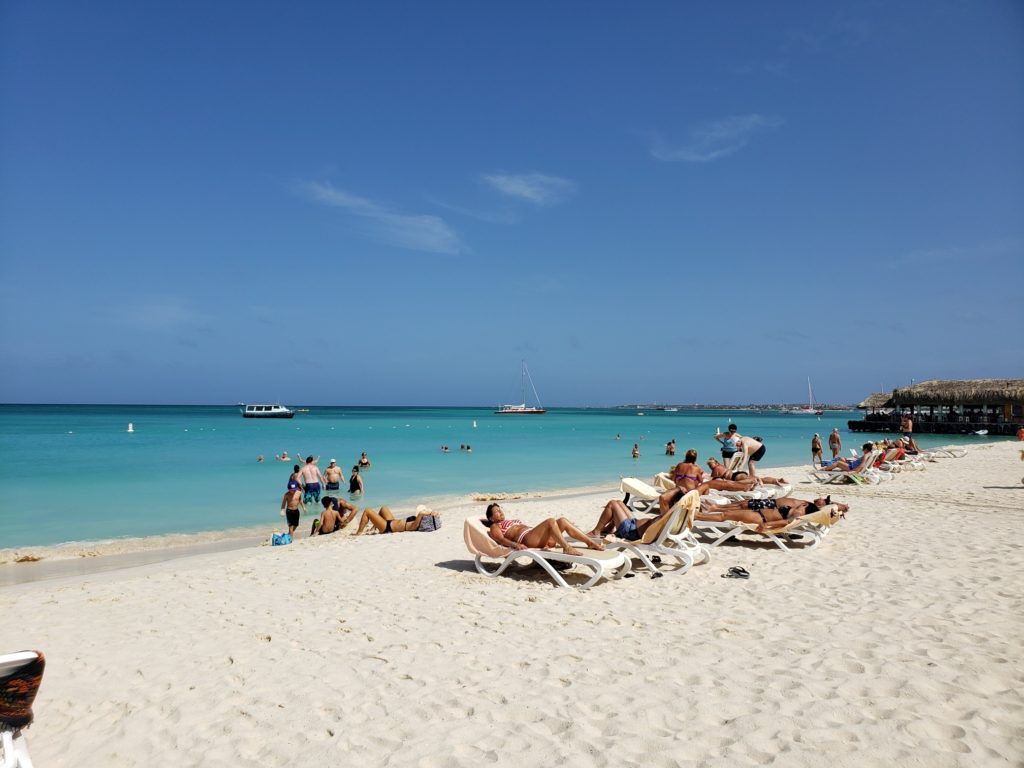 Other things that we did on our vacation was to go on a submarine tour. Now normally I'm one of those tourists that hook a snorkel mask over my face after you spit on the glass and head to deeper water to check out the fish and coral. But honestly this gig was so much better! You ride a boat out to the submarine meeting place and once your'e on the submarine you find your spot for the next hour. We saw tons of fish and how often do you get to park the submarine you're riding on the bottom of the sea at 135 feet! For me before Aruba? Never!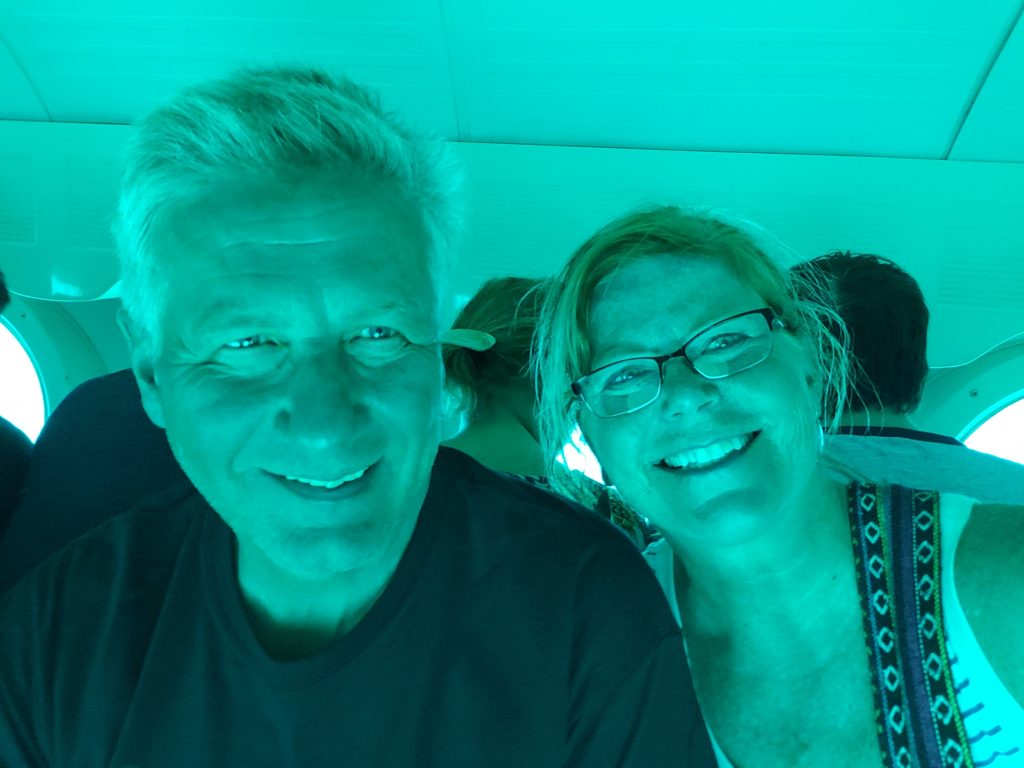 The rest of the time was spent hanging out at the pools or beach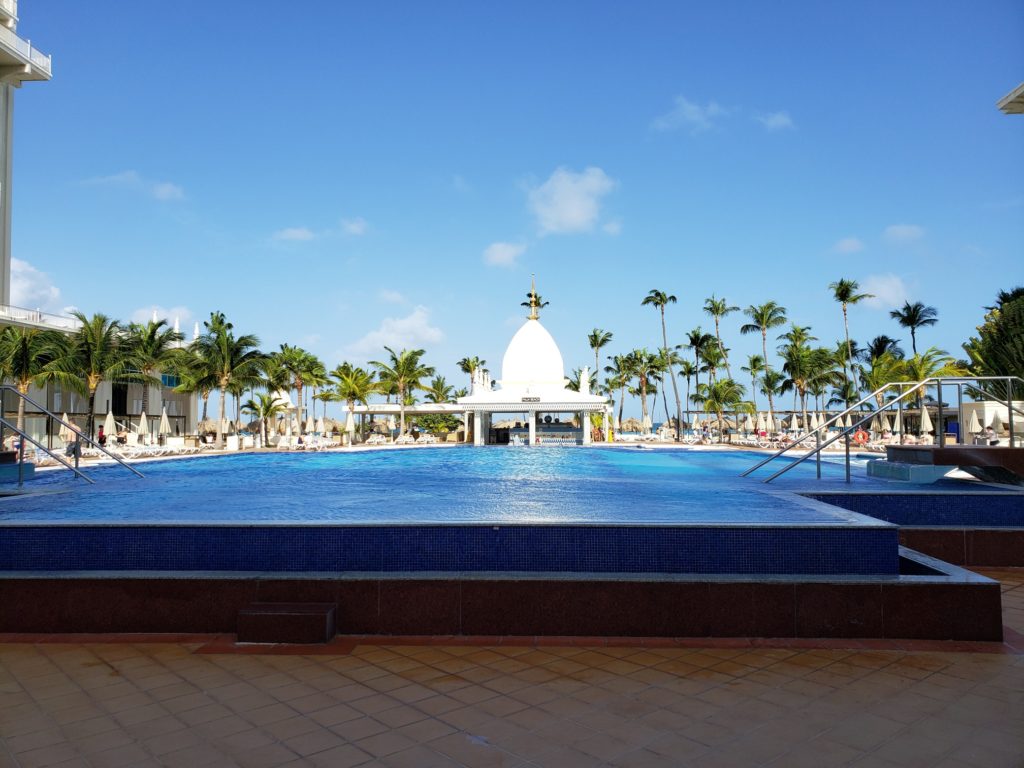 or watching the shows that they had every night. It's unbelievable how talented the people are in those shows!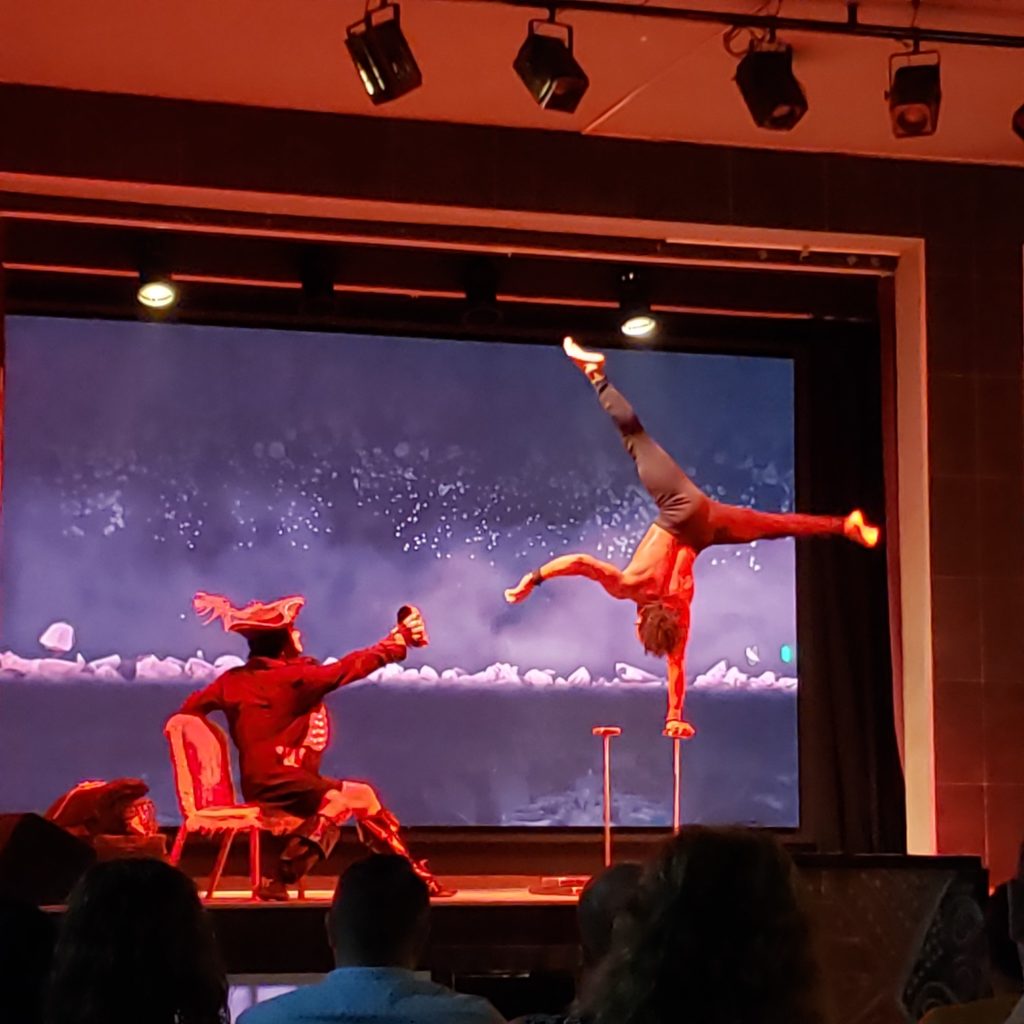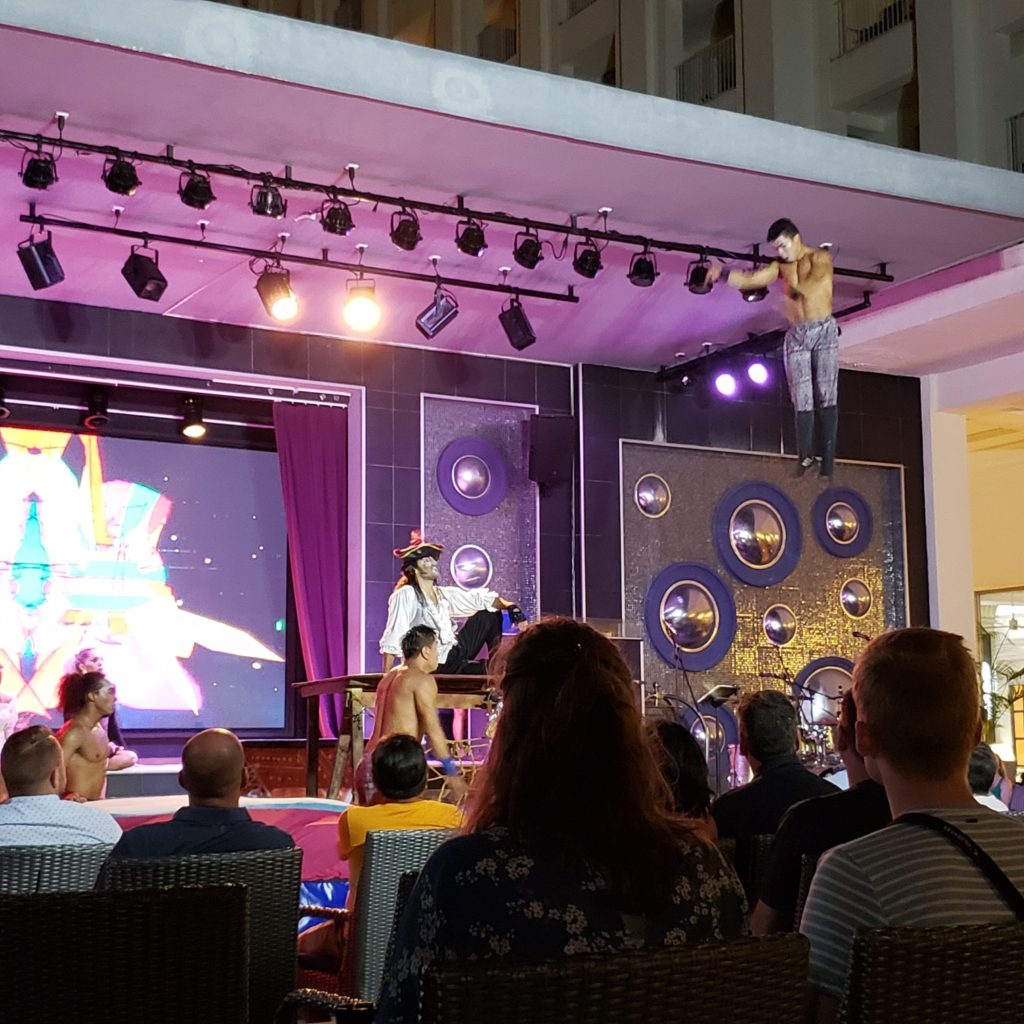 One day we saw some a bunch of people carrying concha shells by us and after talking to them they said the beach wasn't far from our hotel. So of course we wanted to check it out! After taking a short walk on the boardwalk along the beach,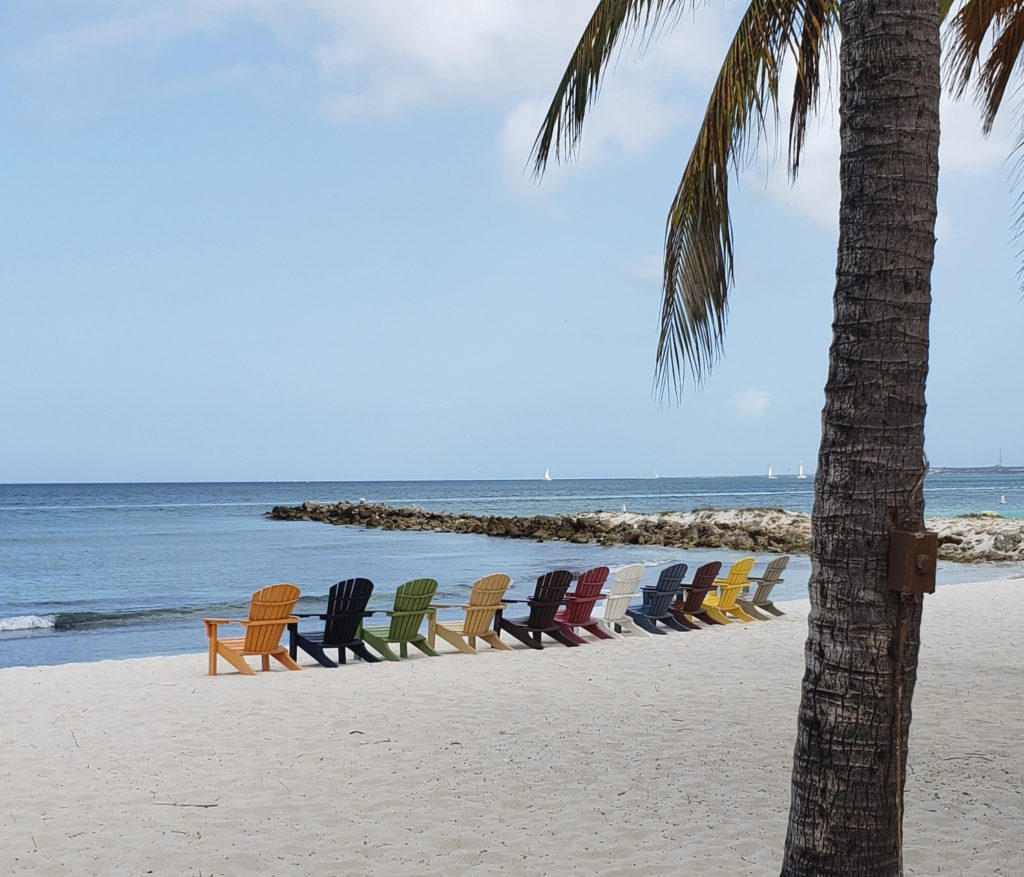 and passing by the many aloe vera plants that the island is known for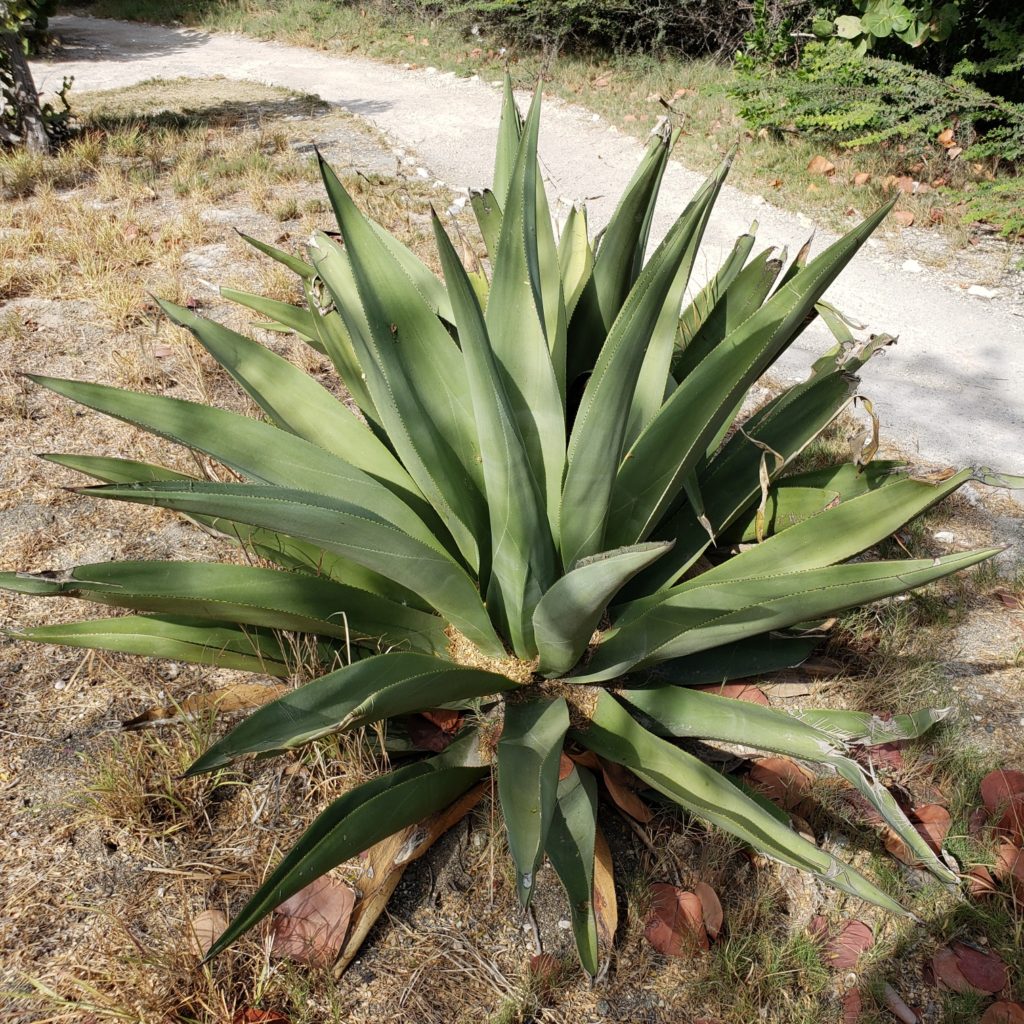 we ended up on a beach that was literally covered with shells!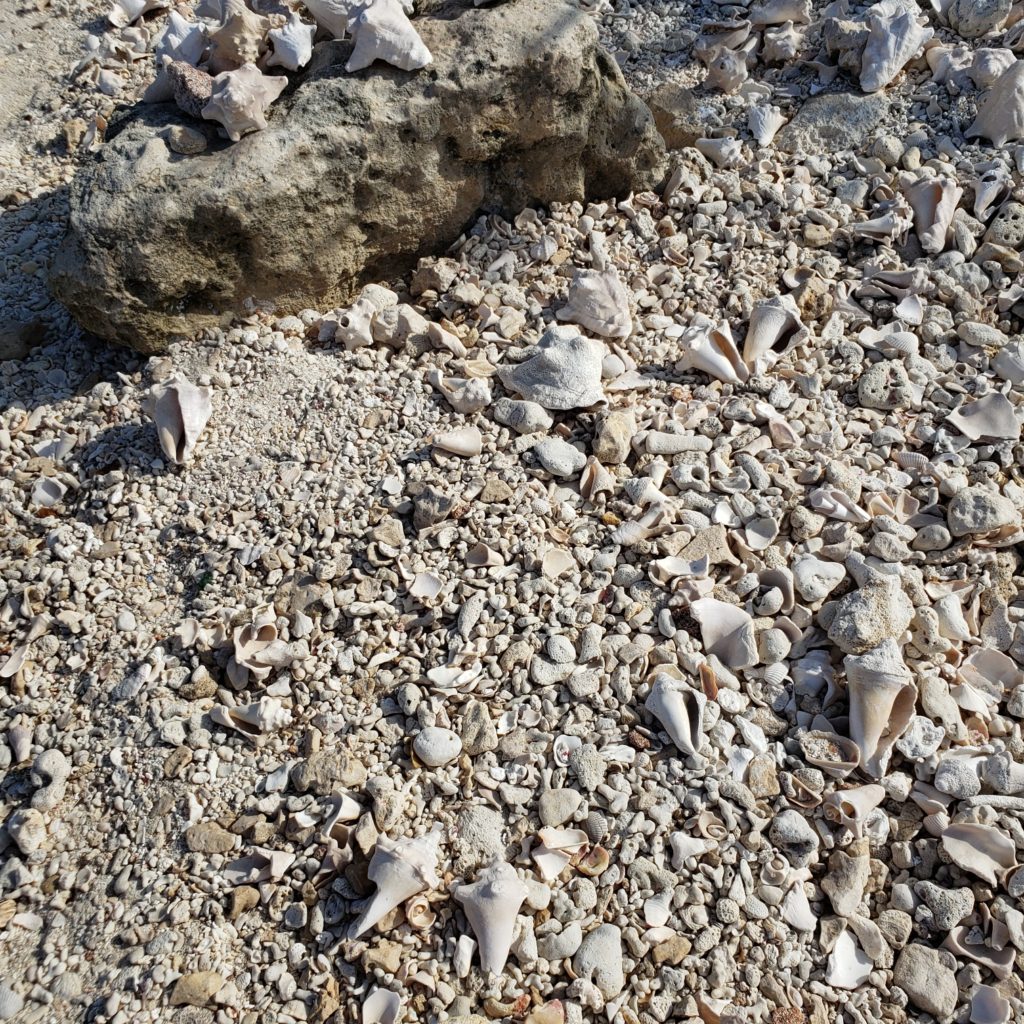 One of the locals told us that when the tide turns with the hurricane season it washes up all these shells on this beach. OK, I think 'beach' isn't the best description for this. It looked like the whole area was made from lava rock or maybe it was dead coral reef – extremely sharp and with only geckos and small animals living in the crevices. Even though it was kind of an extreme from our beach, it was still pretty cool!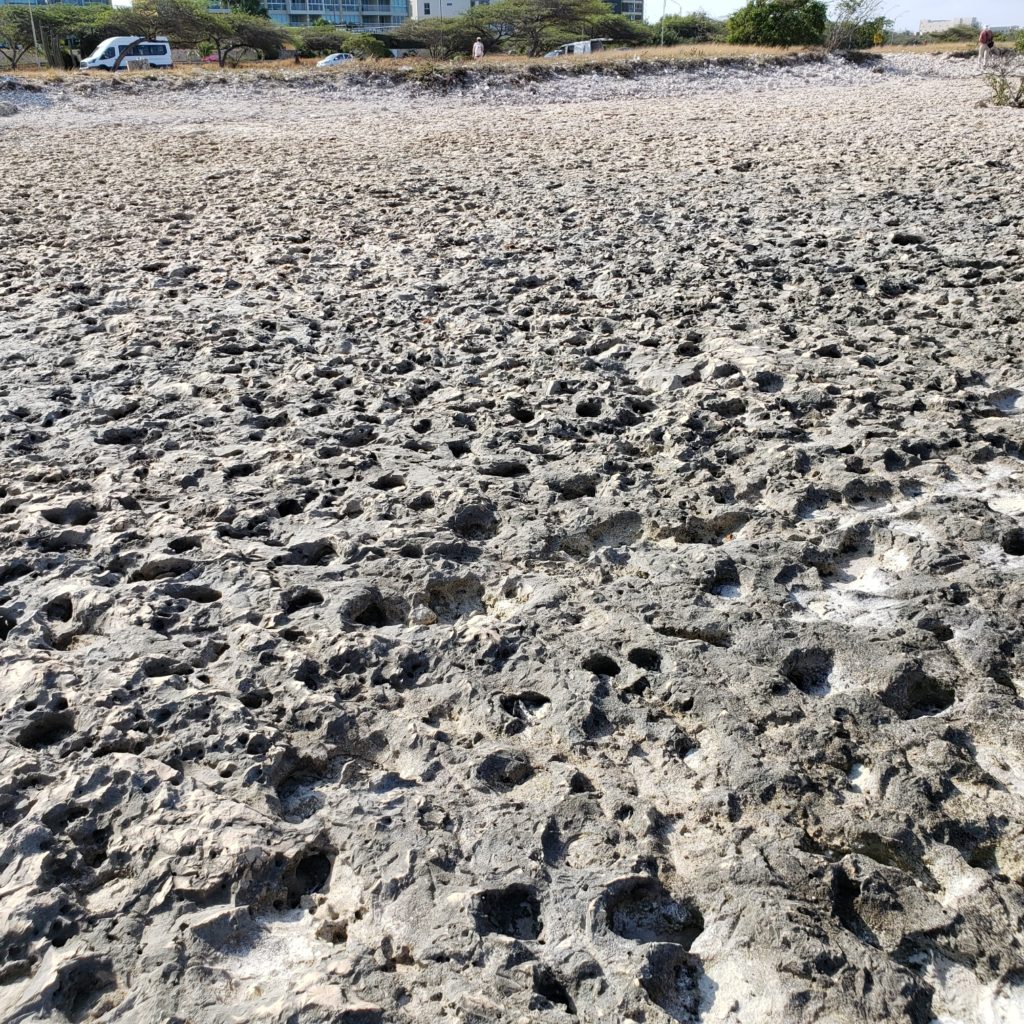 We knew that this great vacation was about to end, and we found ourselves once again on the plane heading back to Iowa.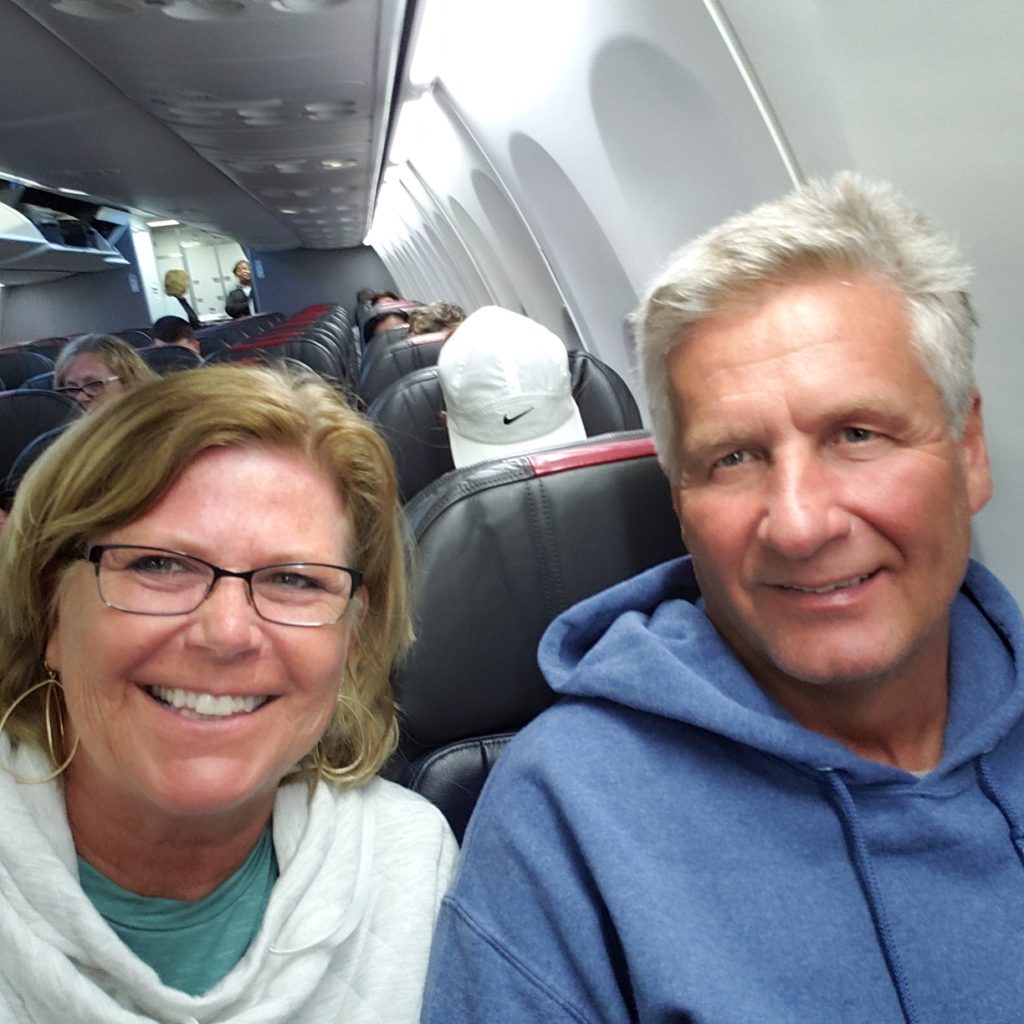 Now we were hoping that the all the snow would be all gone once we got home.
Was it?
Hummm.. not so much!