Even though it was a Saturday, when Daryl got out of bed this morning at 5:15 am I also got up. There was a lot of stuff that I wanted to do, and I'm trying to be more of a morning person – so out of the warm bed I got.  
We didn't get too much snow last night, but we did get enough to cover the ground which is still OK.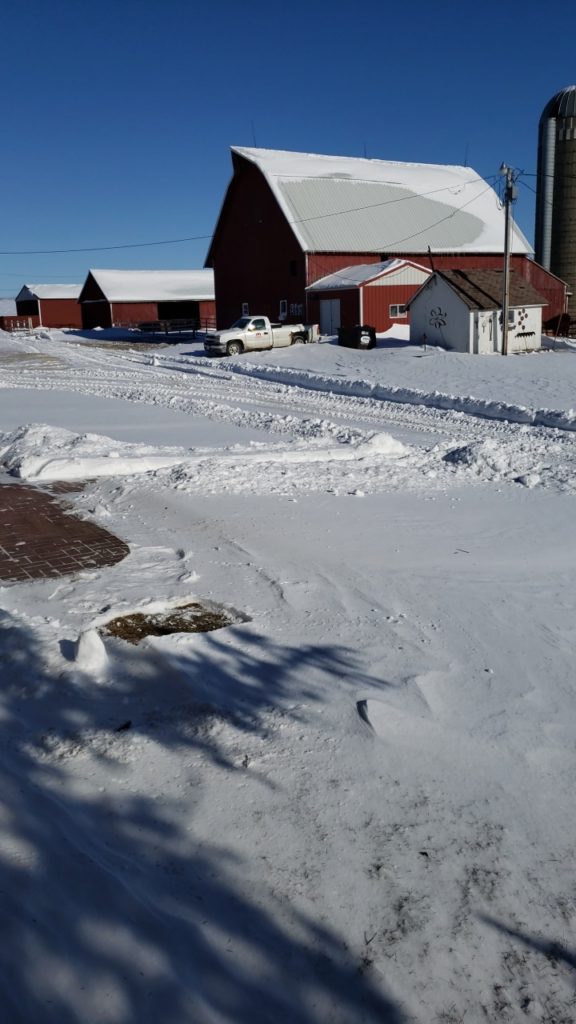 If the weather turns really cold without any snow on the ground the cold goes too far down in the ground and then your water pipes start to freeze. It doesn't make anyone happy when that happens. People or the cows! 
So like I said I got up early to get something done. After stripping the bed and cleaning up our bedroom, I decided to 'help' Daryl with his side of the closet. So I took everything out of the closet, sorted it by color and like items, moved some of his stuff to storage for the summer and got his pants and shorts in order. It looks good even if I say so myself! 
Next on the list was to clean both William's bedroom that I use now for a storage room for my soap supplies and also Kyle's bedroom. To be honest I still had Christmas paper strewed on the floor from wrapping Christmas gifts and I had more boxes that I think Staples has in their store in William's room. So out they went! 
Then I moved on to my scrapbook room. Whew it was a mess! But with a little love and some time I'm back in business. Not a minute too soon because Ma's birthday is this week and I better get a nice card made for her. 
After organizing some tax papers, getting 5 loads of laundry done, and the sidewalks all shoveled and swept, it was time to KonMari my socks. I've been putting this off because I don't think that I would want to get rid of any of them. So as I'm going through them I'm thinking – only get rid of ones that you don't love. OK, so I think I got rid of maybe 3 socks and kept around 20 pairs. Well maybe I just love all ! 
I was on a roll so I put some homemade beef and barley soup on the stove for dinner and with some bananas on the counter I also made some banana bread. While I had the oven going I quick threw in some sugar cookies for dessert and then got all my dishes cleaned up.
Now it's noon, so I sure hope that I can get as much done after dinner as I got done before! I'm kinda guessing that I'll run out of steam, but I guess time will tell.