We've been lucky these past few years to pack some warm clothes in a suitcase and head to much warmer parts of the world when it's cold here in Iowa.
So having said that – just where did we go for a week in February? Well we went to Curacao with my brother and sister in law. And if you are like me, the first question is where is Curacao and what is it? And to be totally honest I wasn't even sure how to pronounce it when we were just starting to talk about our vacation 🙂
Daryl is standing in the C and I'm in the U in the picture below 

OK, so here's the low down. It's an island just North of Venezuela and the islands are so close to each other that one of the local islanders told us that you can see each others island on a clear day. Now if you really want to be impressed – Curacao is part of the ABC islands – Aruba, Bonaire, and Curacao. So sometime see if you can work that into a conversation not only is it impressive,  but who knows just maybe they'll be asking you to be on the next Jeopardy show!
Our flights were from Minneapolis to Miami and then to the island of Curacao
Waiting anxiously for our flight and for our adventure to begin!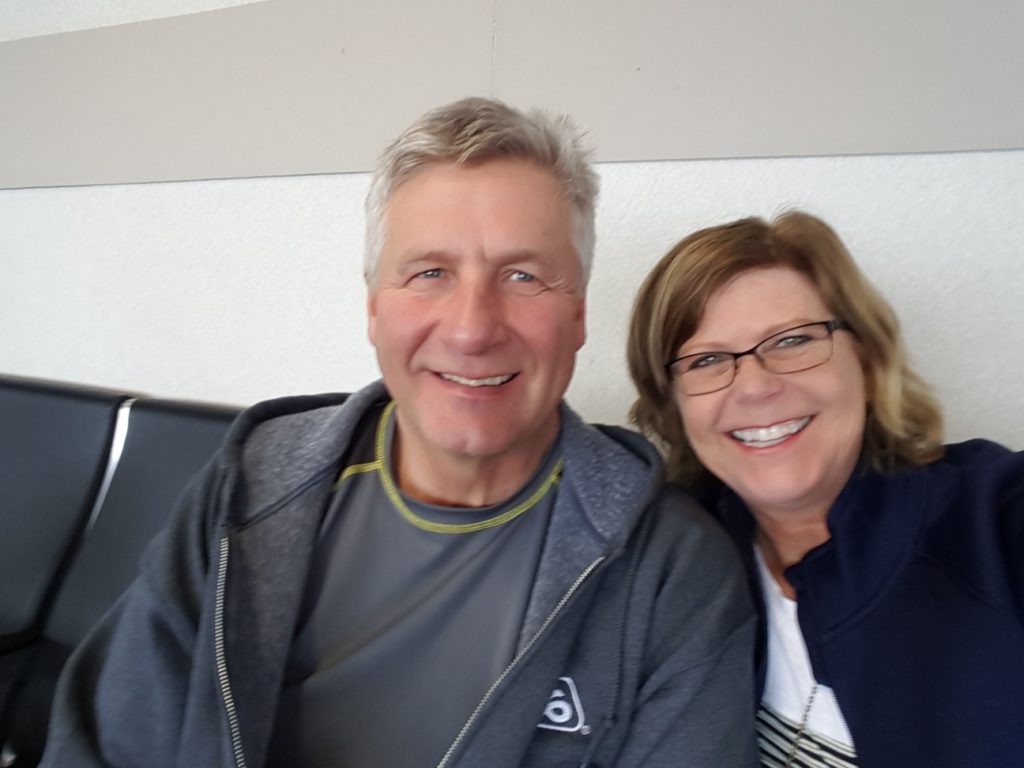 And to say that the island is 'amazingly beautiful' is an understatement. There are over 30 beaches on the island, and our resort had a a private beach with the waters completely filled with more colorful fish that you can ever imagine! We learned a great trick this year too!  When snorkeling what you do is to take some bread and put it in a water bottle and  then you shoot out some of the bread from the bottle by you. It's crazy but soon you'll be surrounded by more tropical fish than you can count! I'm pretty sure we'll be using this trick more than once again!  What I didn't know until we got to the island was that it is considered one of the top diving locations in the world, and after seeing how many fish that were just by our cove I'm kinda guessing that it's true.
Our week was filled with tons of stuff, some of it was being tourists in the capital of Willemstad where all the buildings are painted so colorful it was just cool to see them. I think they kind of look fake don't they? 

There is a floating market in town where you can buy fresh fruit and fish, and tons of shopping of course!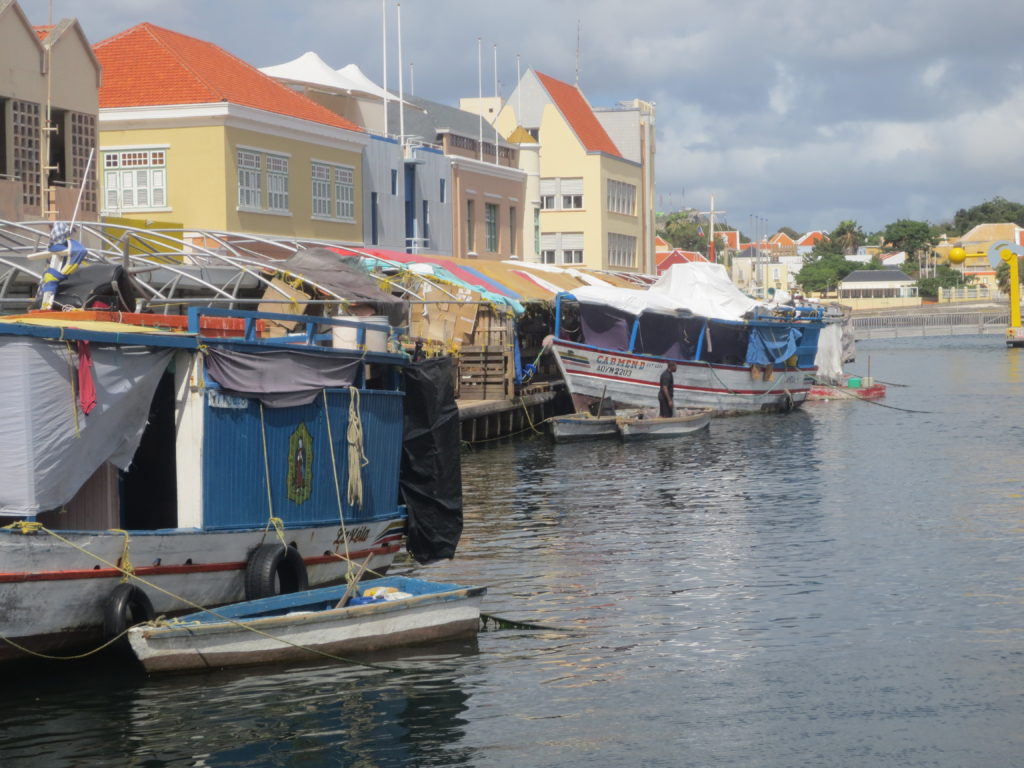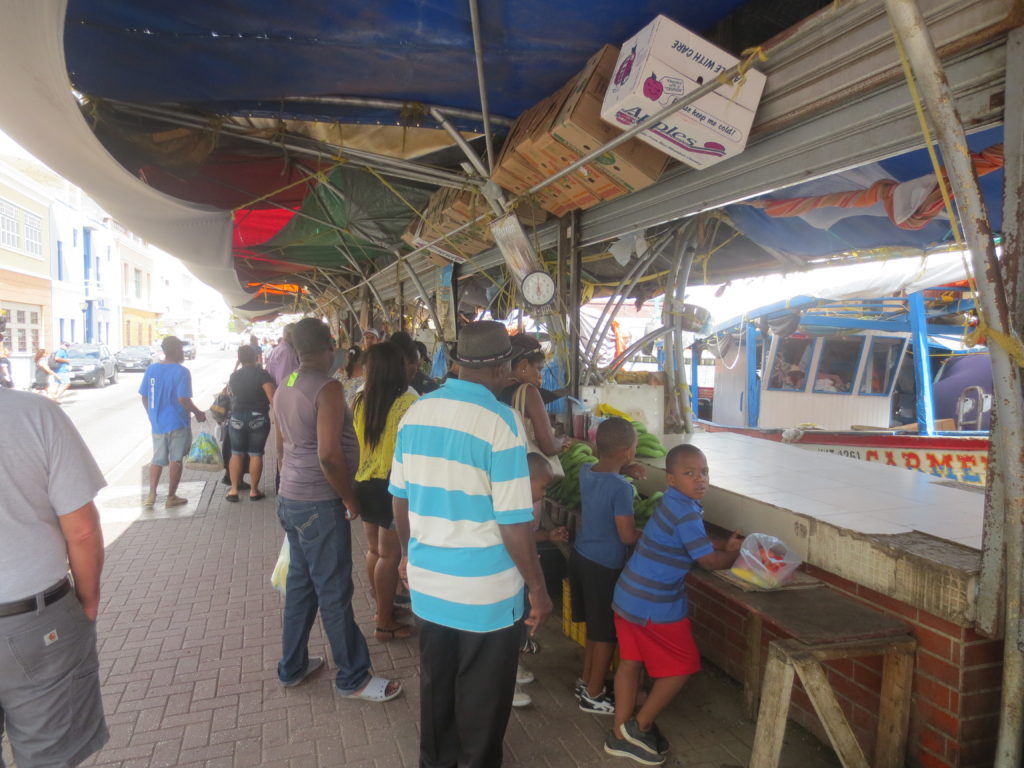 One of the local meat markets was even selling pig tails. Now not that this was a bad thing, but we were sticking with our food at the resort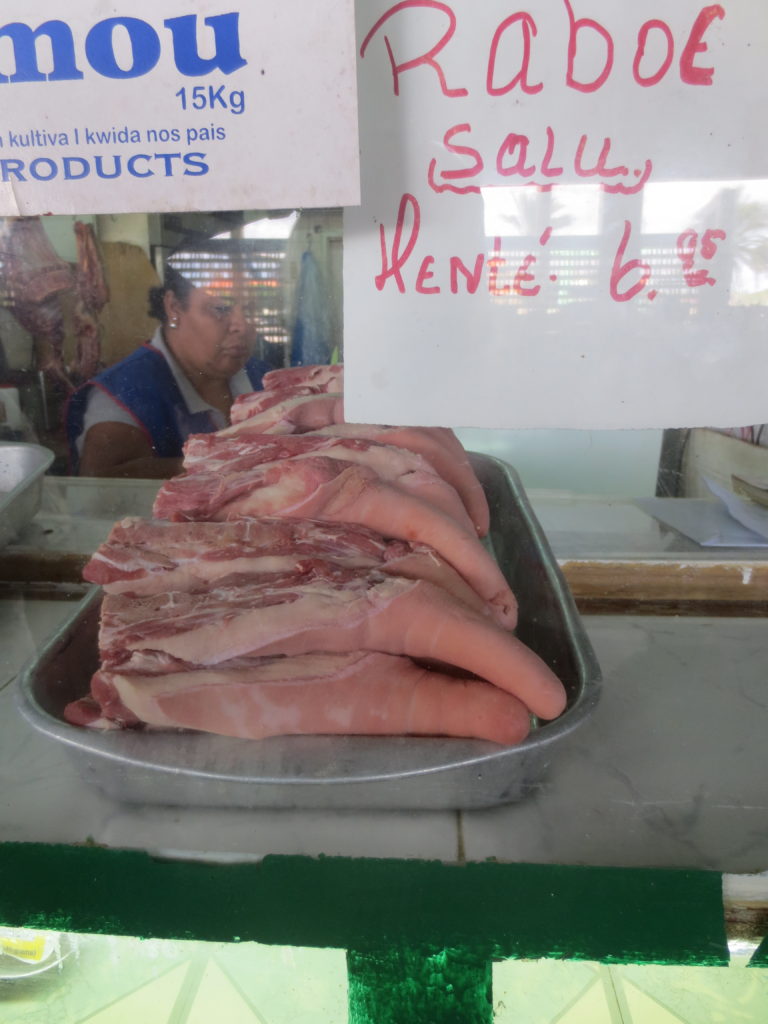 and a local restaurant where they literally were cleaning the fish that was just caught before they cooked them up for you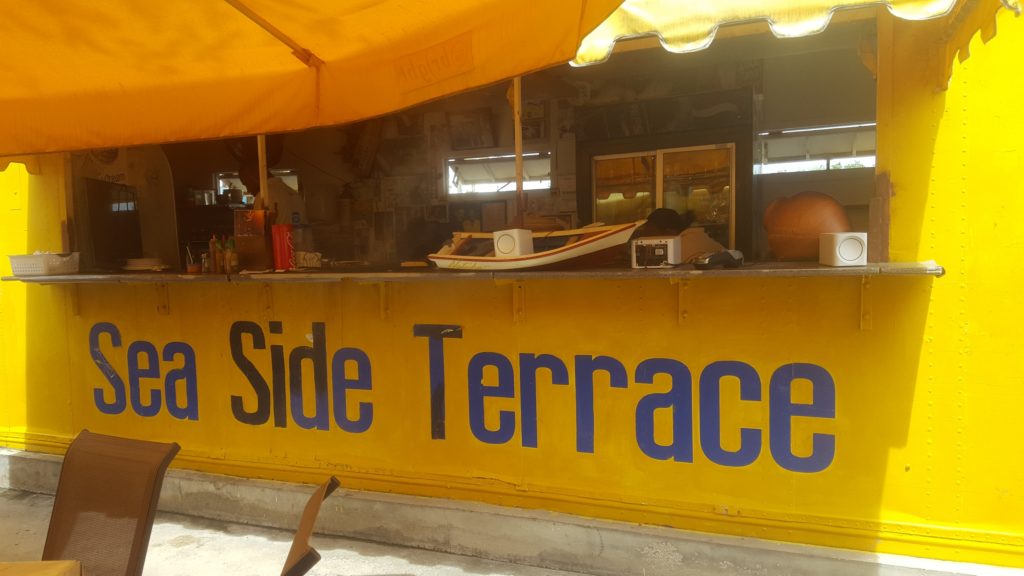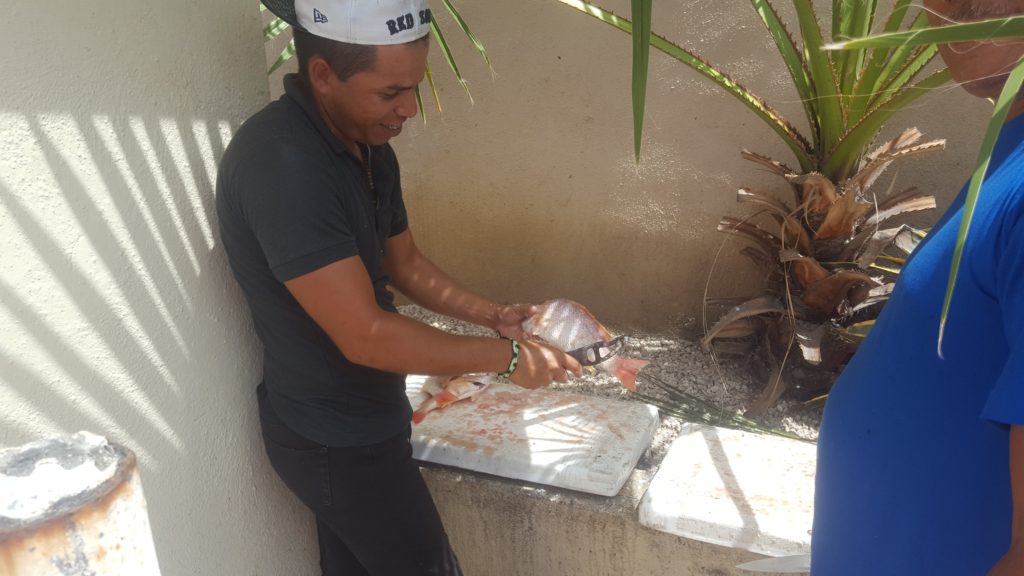 Some people ate iguanas on the island and made soup or stew out of them – but we liked our local star Charlie at the resort too much to even think about it!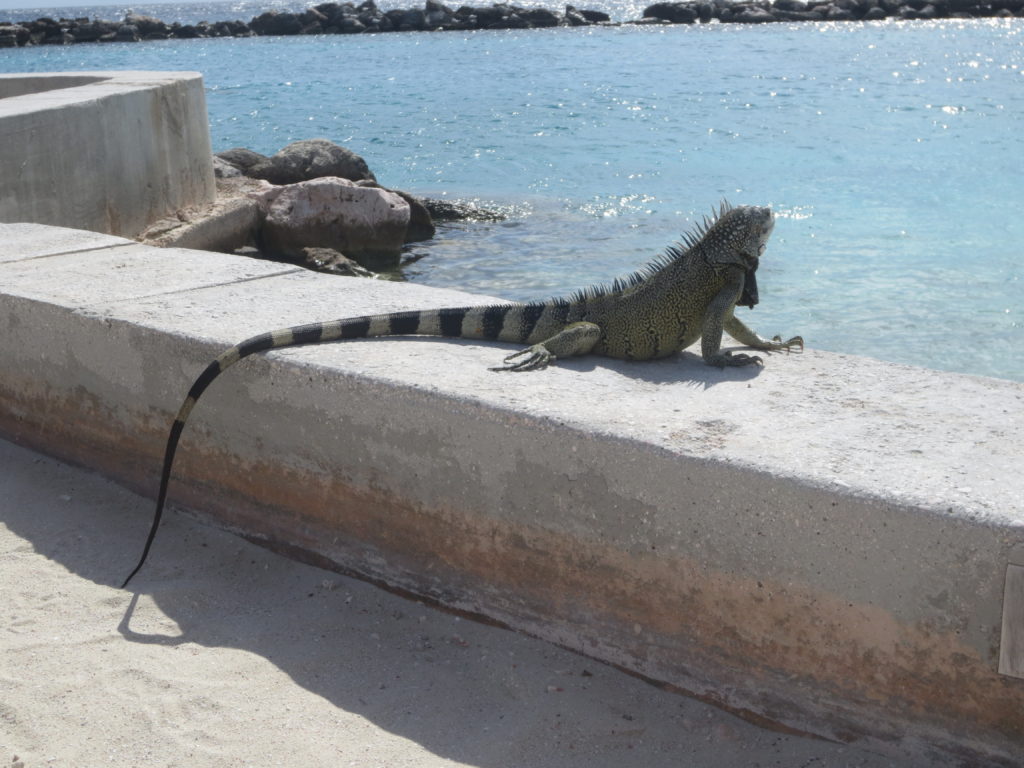 Other things that we did was that we took a catamaran out to the island Klein Curacao. OK, so here's another geography tidbit – Klein Curacao is owned by Curacao and the word Klein means small. So the trip started out pretty typical on the boat with sun shining and everyone anxious to spend the day together checking out the uninhabited island. But when the captain and his crew came around and said that you will need to put anything under deck because it's going to get wet, well to be honest I kinda didn't think that much of it. But we did what he said and then soon found ourselves holding on the railing as we literally rode the waves! It was such a wild ride and as you're holding on so you didn't go overboard it didn't take long until my sister in law and myself, along everyone else, were completely soaked!  The ride was so crazy that your feet sometimes came off the boat deck and you just hoped that you could keep a good grip on the railing. Once we got on the island  we took a quick tour to see if we could find the turtles that are common for the area and then checked out the abandoned ship and lighthouse.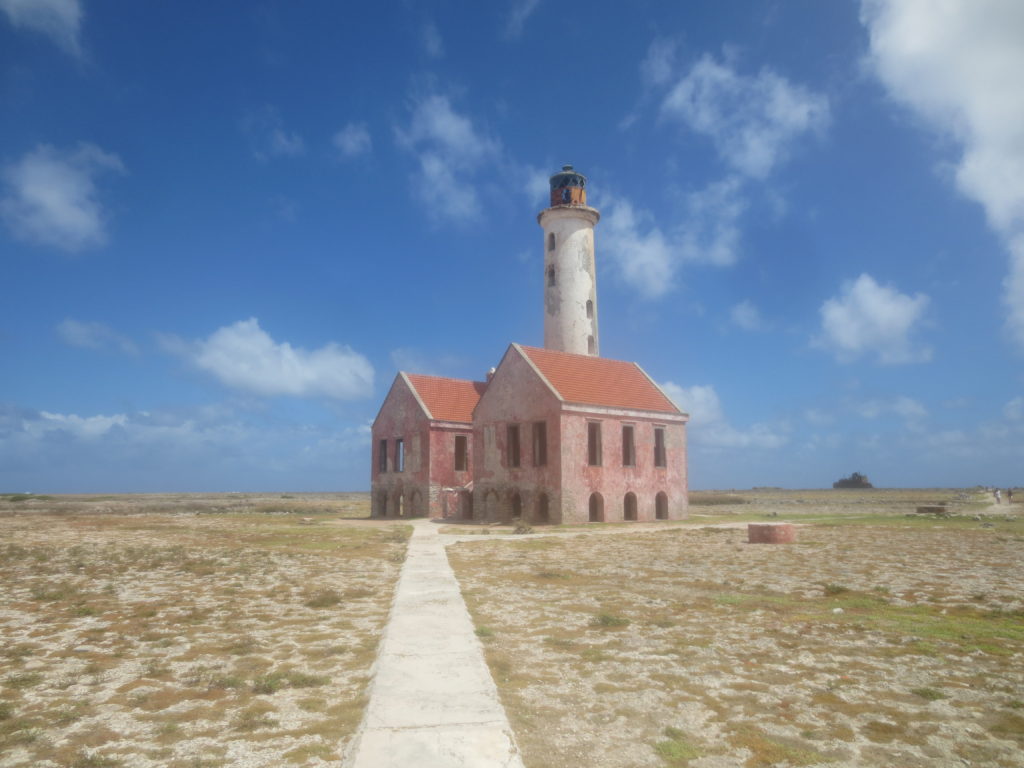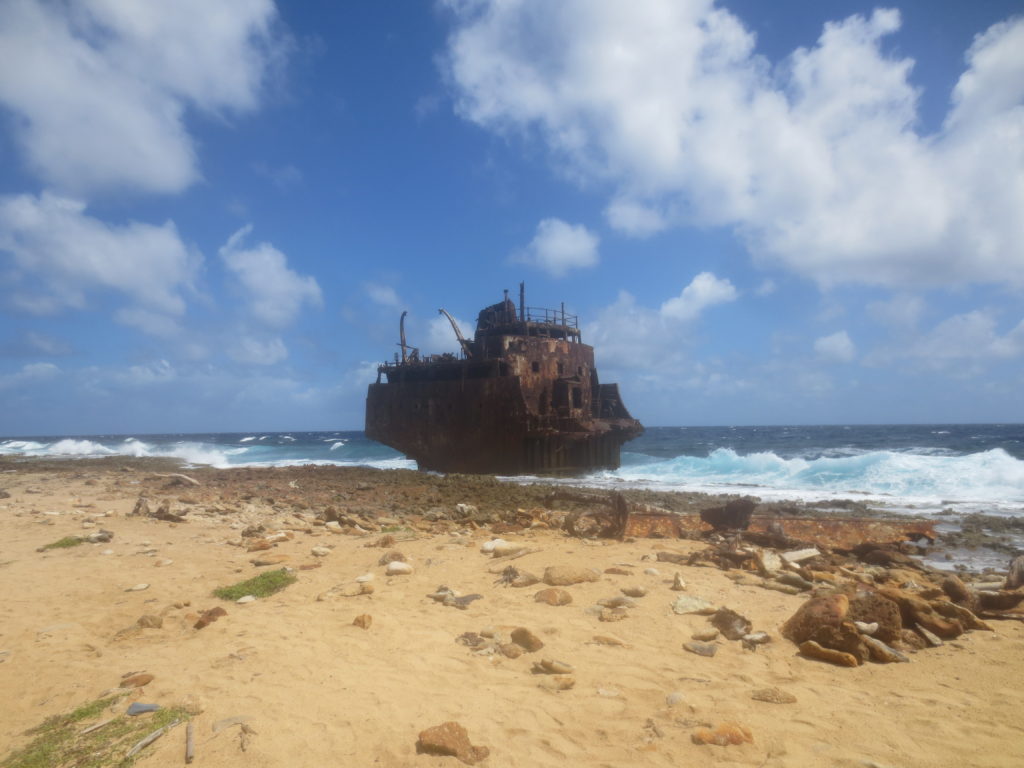 And I took this picture below of the pelican to show just how turquoise the water was.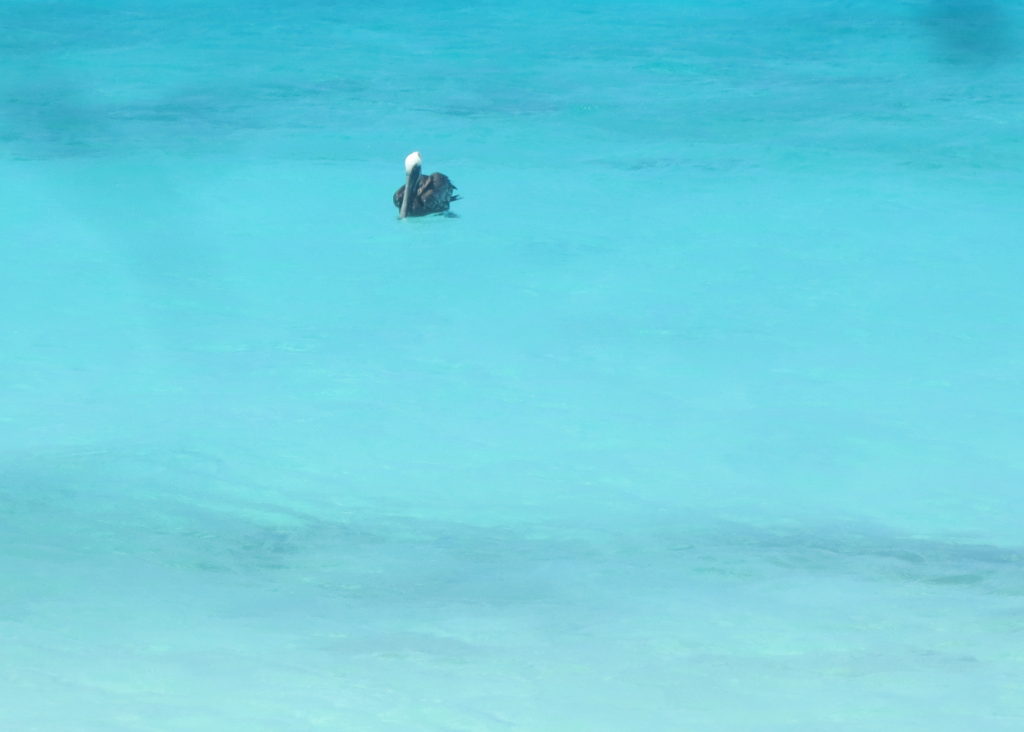 The ride back to Curacao was much calmer with the sail up and thank goodness! We sat on the front of the boat with the sails up gliding us through the much calmer waters. Even once in awhile we would see flying fish jumping out of the waves which was pretty cool. And with the warm sunshine on our faces and having our fill of barbecue and drinks, we knew that Life was Good!  
After we landed on shore we ended up taking the party bus back to our resort to get us ready for the nighttime fun!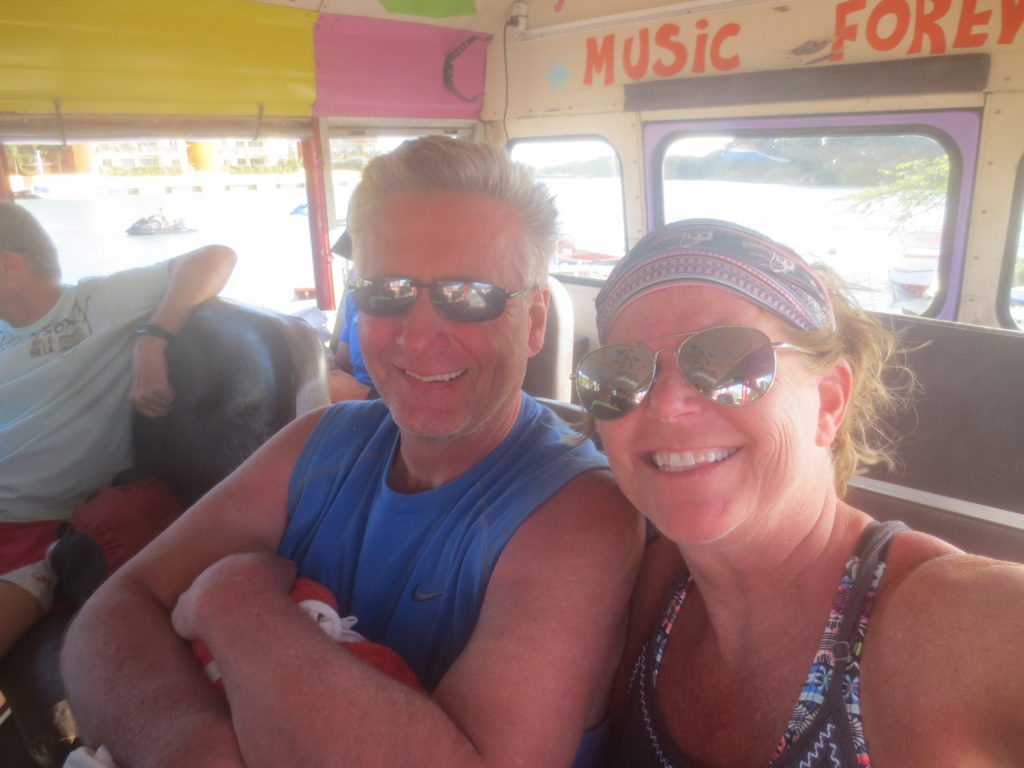 Let's see, other things that we did was to check out the North side of the island which has much less people and is beautiful. It's really hard to show just how wild the ocean is there! The cliffs are very steep and when the water came up into them it was really loud and awesome. Well it was awesome also because we were safe on a secure look out point!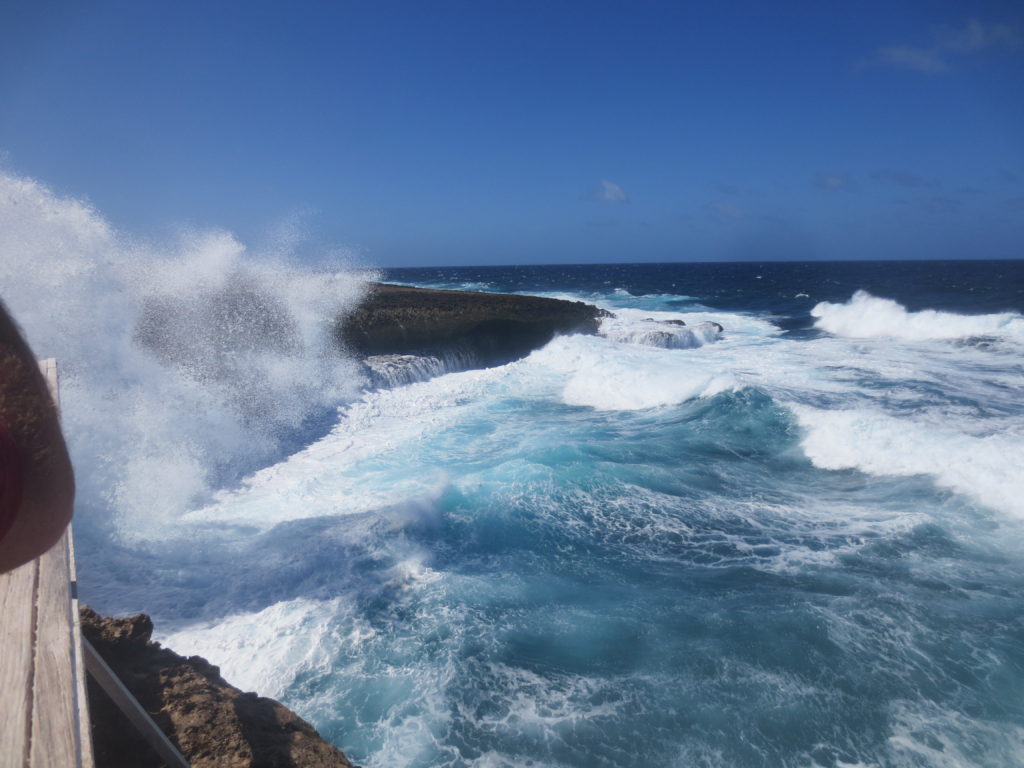 I also did something on this vacation that was both fun and terrifying at the same time. What I did was to do a cliff jump. Now seriously no big deal I thought. I mean I'm not afraid of heights and was so excited to do it…. well until I got to the edge of the cliff. There wasn't anyone else that was jumping so I had no idea what it was supposed to look like and the part that put the fear in the pit of my stomach was that there were rocks where you were jumping. OK, seriously ROCKS? But the local island guy who was helping me said that it's no big deal, just don't jump where the rocks are. It totally freaked me out. There were rocks all over. Now after the fact, I'm sure that they were probably pretty deep right? But when I asked what I can do so I don't jump on the rocks he told me to just make sure that I pick up my legs when I hit the water. Well I was nervous but thought what the heck, so I curled my toes over the edge of the rocks and pushed off. Did I do a good job? Well I didn't hit the rocks so that was good,  but I also leaned too far with the front part of my body and as my feet hit the water so did my upper body. I know it wasn't pretty at all and I'm sure that I'm not Olympic ready – but I gave myself 5 points for the guts to do it and then maybe around 2 points for not dying 🙂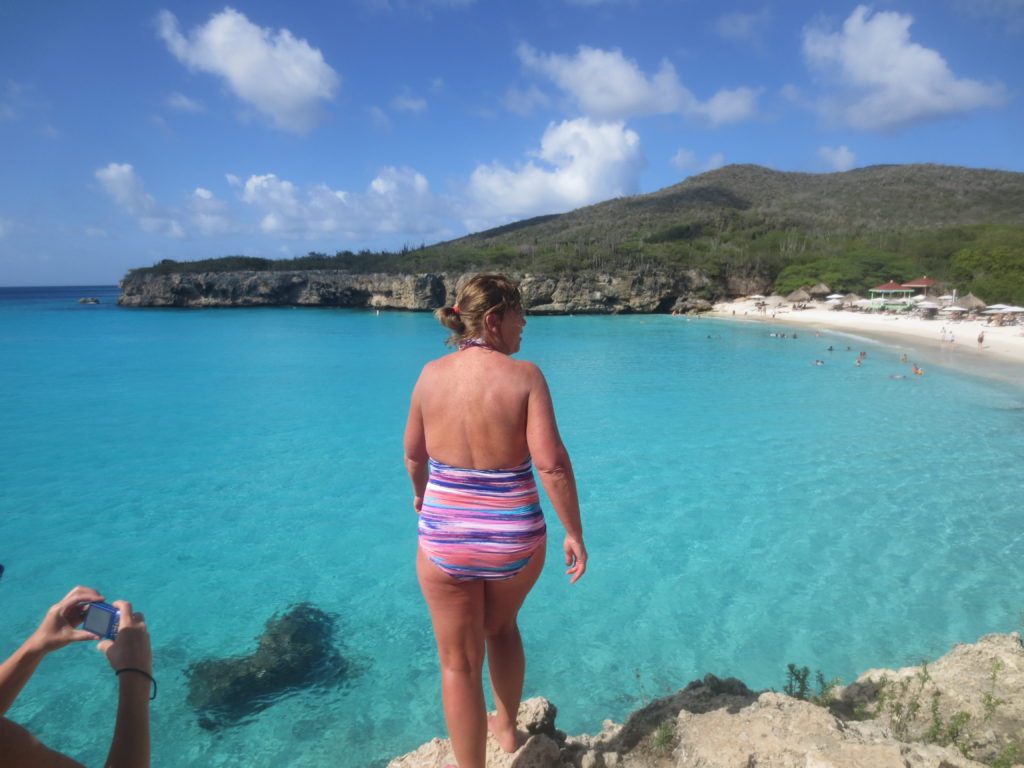 Like I said earlier that the island is known for it's incredible waters and fish, they also have flamingo's migrating there and fly in during the afternoon and then fly out somewhere (?) during the day and come back again. Pretty cool to see them in their natural habitat and not just in a zoo or something.
What did we do with the rest of our time? Well vegging out on the beach, contests during the day at the pool, eating too much, having cold refreshments, spending time at the spa, checking out a local distillery, and just having a great time! 
What a good sport Daryl is to do these pictures with me at the distillery!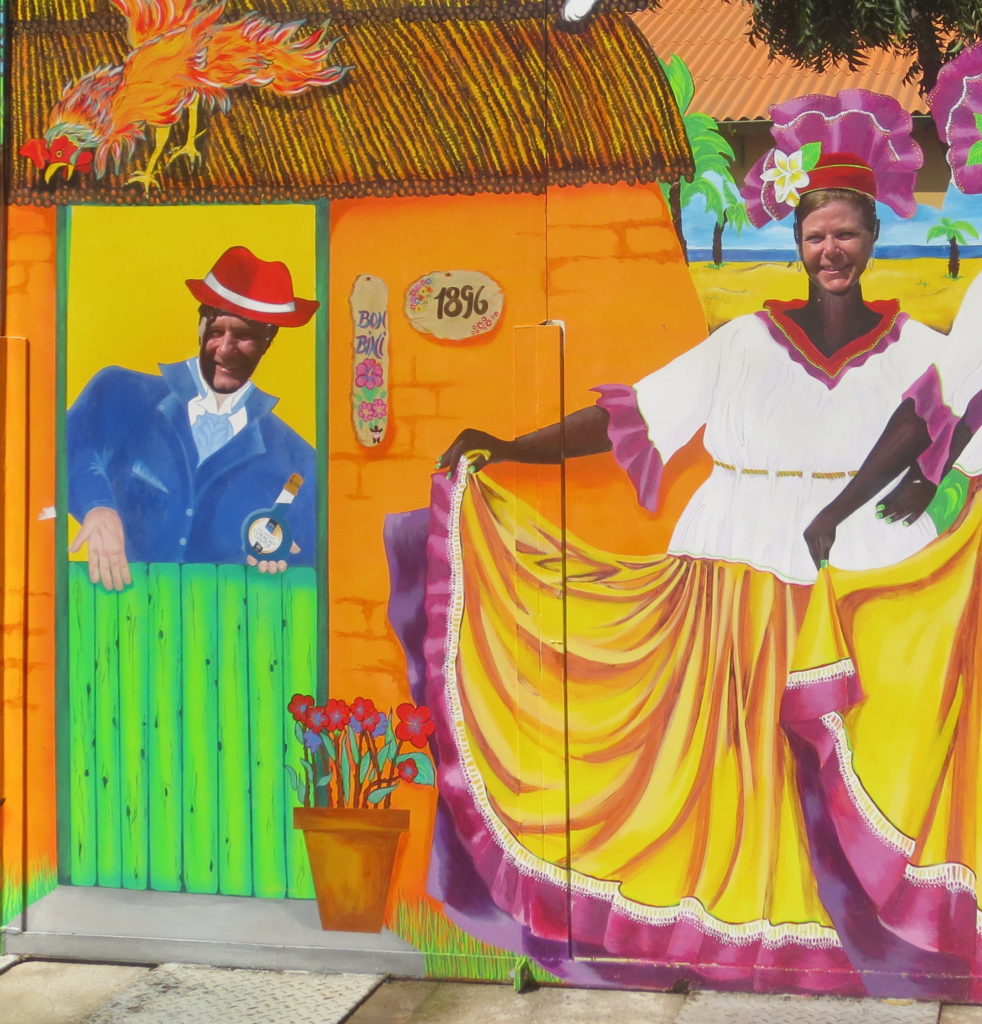 But all good things must come to an end and this is what it looked like from our pool when we left our resort- 85 to 90 degrees and sunny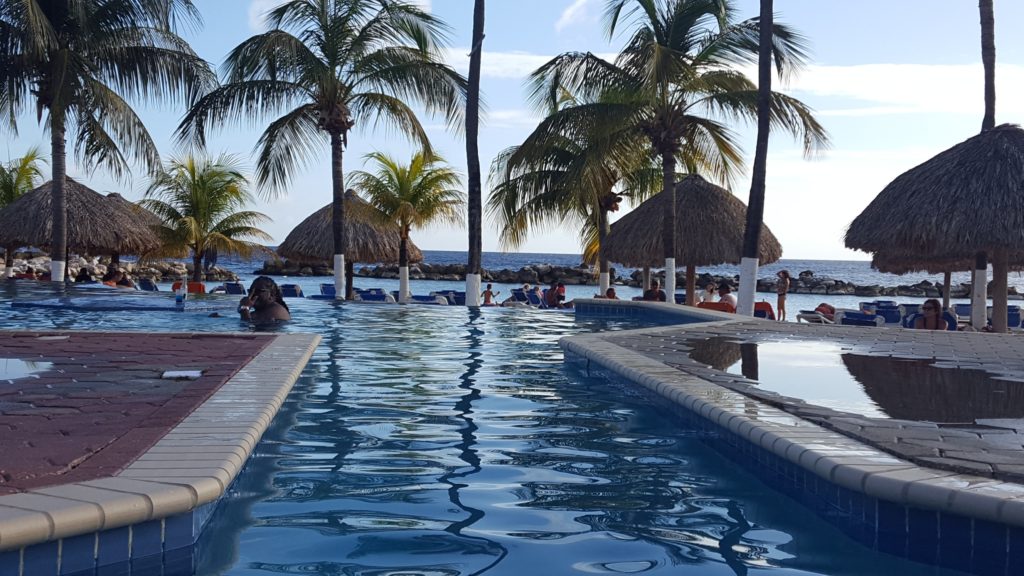 and this is how it looked like when we landed – snow and blowing!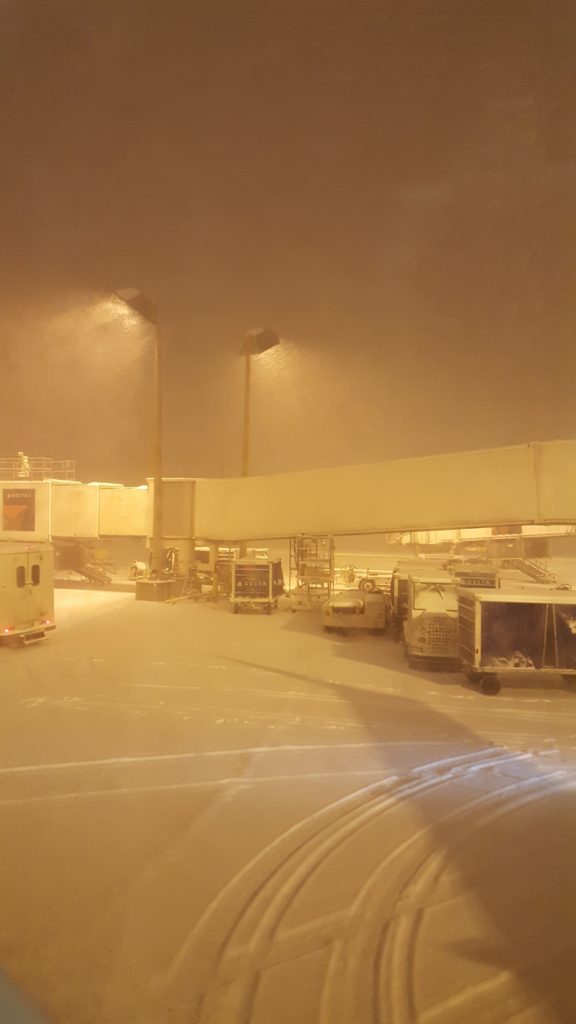 Even our driver who picked us up at the airport to bring us to our car suggested we not travel back home until tomorrow. But we did thanks to some careful driving from my brother, and we made it home just in time to grab a quick shower and head to work for the day. 
Hum.. I wonder where we'll go next year?