We had a chance to host Daryl's sister and brother-in-law's 50th Anniversary on the farm back in May and what a fun night that was!
It's kind of funny that I just posted about Kyle and Kelcie getting engaged and now I'm posting about a Golden Anniversary – but I guess that's how it goes. It's kind of like the circle of life.. or in this case the circle of marriage. 
So what did we do? Well to start the night out, Daryl's brother and sisters headed out for supper to the White House in St. Lucas. With both our families growing up in the Lucas area, this is like our stomping grounds and with their relative owning and running the restaurant – let's just say everyone knew everyone there tonight. After a fantastic meal with more food than anyone can ever eat, we came back to the farm to sit around the kitchen table and enjoy some cake and ice cream and to celebrate! 
And do you know the best part of the night? It was literally just stepping back to see our old kitchen table that has been home to in the past – coloring books from the boys, to school projects for History class, throw in tons of meals, and even holding a soap or two 🙂 now being used for this milestone! And how fun it was just having everyone sitting around the table and laughing at a trivia game that we did and checking out a wedding album from 50 years ago. So cool.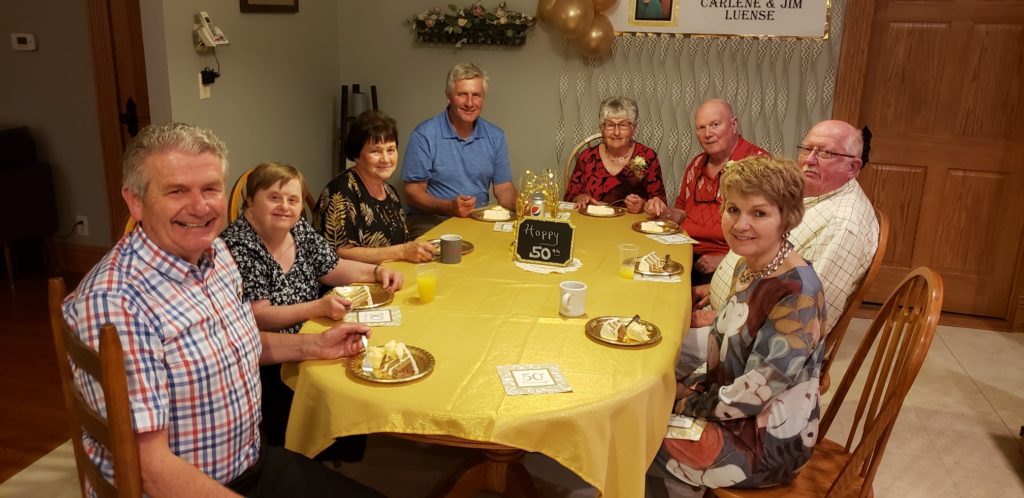 I don't feel that we did too much to get ready for the night, but then I'm thinking that this small gesture of everyone getting together on the home farm made some pretty good memories for everyone. 
Cheers to 50 Years!