I saw a recipe on Pinterest the other day that I've been dying to try. OK, once you see what I wanted to try you might think that this girl needs some better hobbies!
But what I wanted to try was to make a homemade dishwasher soap. Yup – just like living on the edge.
So with my recipe in front of me I started to cut up the lemons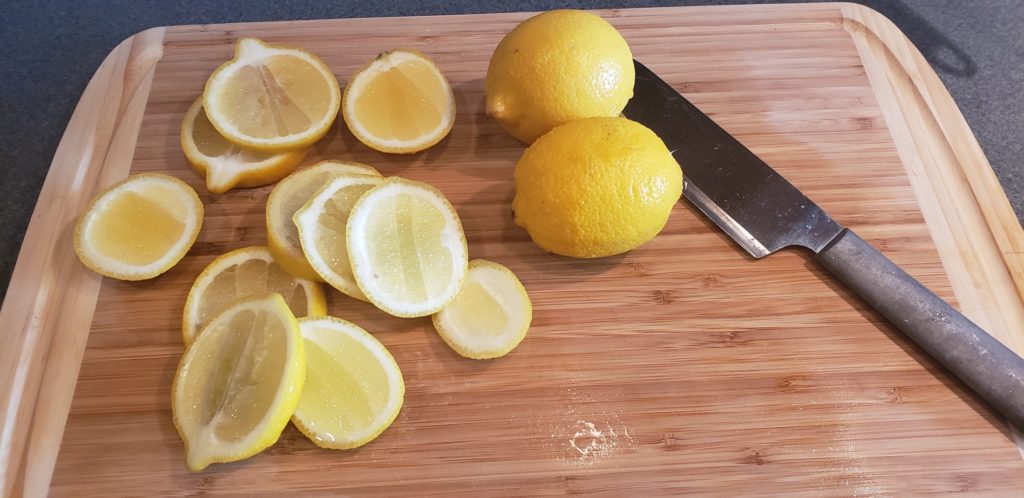 and then added water into the pan so that it could cook for around 20 minutes or until they were soft.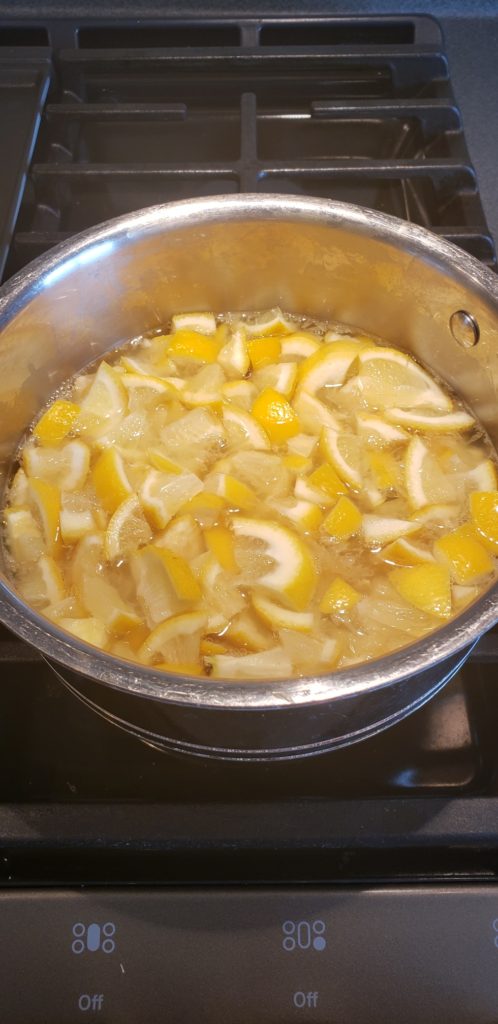 Next step was to blend them up to almost a paste. After a really good blending in my bullet blender the lemon mixture was way too thick to strain so I added some additional water to see if that would help. This step seemed to take a lot longer to me and the next time that I do this I think I'm going to use my juicer! It should be faster but still get the job done! But for now I had kind of a mess. I pulled out a second strainer to 'pre-strain' the mixture. Yup, I officially had a mess going on in the kitchen. But the recipe did say that it was a little time consuming so I just need to go with the flow. OK,  next add the salt and vinegar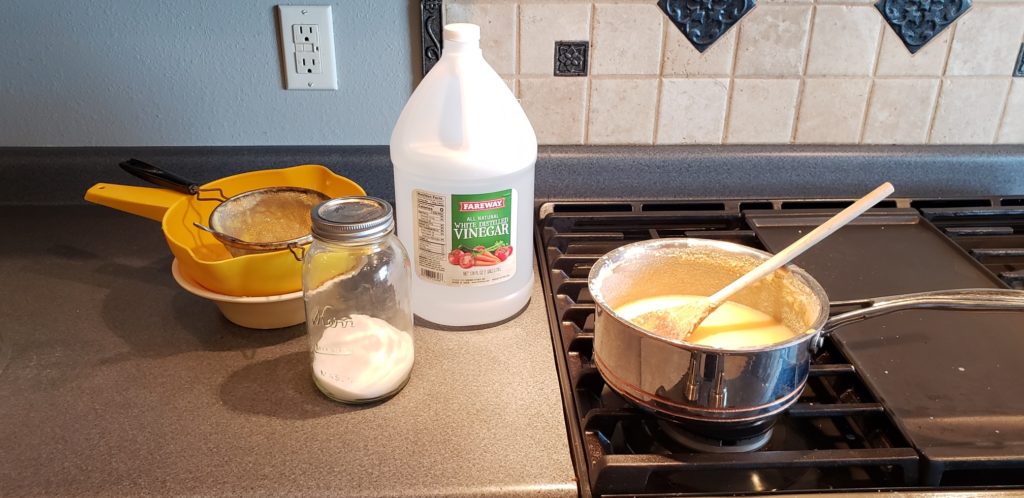 and now all it has to do is boil and get thick.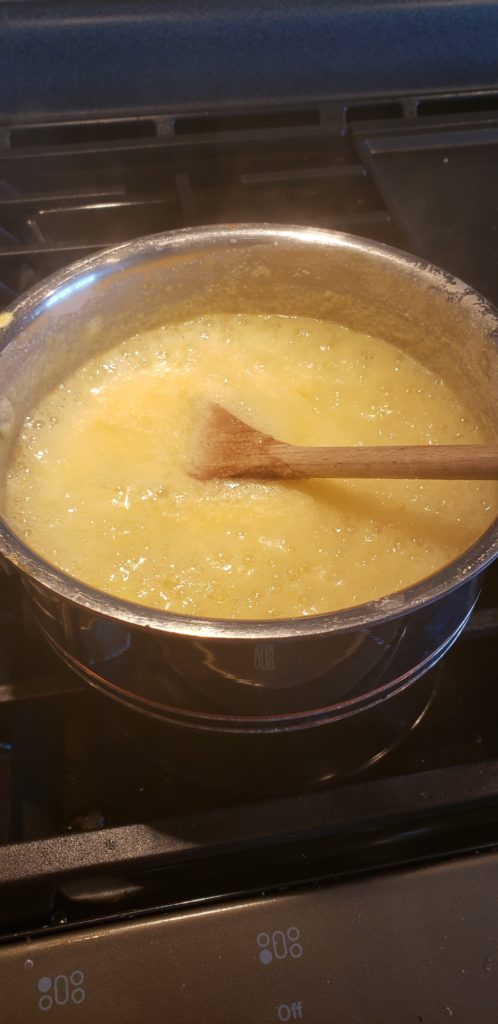 Well this is where I didn't 'go with the flow' so well. I'm sure I should have boiled it longer to thicken it up but I needed to move on with my day. The final product wasn't as thick as they said it was going to be, but I think it'll be OK.
The funniest thing about the whole process is that one of the comments for the recipe is that it'll make your house smell absolutely wonderful. Huh. Our house just smells like soap.
Update I have used it a couple of times and so far so good. I used 3 Tbsp per load or one good pour and then keep the jar in the fridge.  I think I'll make some more again but use the juicer thing instead. I can always throw it in the dishwasher to get it clean

🙂 
Why it should work: "Lemons have many properties that ensure clean dishes, from the citric acids that help to remove mineral and hard water deposits to the lemon oil in the rind with bacterial and cleaning properties from limonene – a component used in many commercially prepared cleaning products. Add white vinegar's cleaning power, and salt as a scouring agent, and you've got a complete dish cleaner. The white pith and rind also add pectin, a natural thickening agent"
Ingredients
4 medium lemons

1 ½  plus 2 cups water

4 ounces white vinegar

1 cup Kosher salt (I used table salt without Iodine)
Instructions
Cut the lemons – including the pith and peel – into chunks about 1/4 inch thick. Remove all seeds. You should have about 2 cups worth.




• Place the lemons into a small saucepan with 1 1/2 cup of water.




• Bring to a boil slowly over medium heat and allow to simmer for about 20 minutes. There should be less water, and the mixture should be a little syrupy, with the lemons very soft. Stir frequently, adding more water as needed.




• Pour the lemons and liquid into a blender and add the other 2 cups water. Blend at a high setting until the mixture is very smooth.




• Strain the liquid back into the saucepan.




• Add the vinegar and salt and stir thoroughly.




• Bring to a boil at at medium setting and cook for 10 to 15 minutes. The mixture should thicken a little – something like applesauce.




• Allow it to cool completely in the saucepan. Stir if you notice any crust forming on the top (it will be due to the salt.)




• Store in a glass container. It will make a gel.