It's amazing that it's 2019 already isn't it? When I think how fast the year went I feel two ways about it. The first way is that it almost went by in a blink of the eye, but then when I remember everything that we had done I can't believe we got it all done in a year! 
So even though the Holidays have come and gone and we're into January already, I hated to see the lights turned off for another year. I mean our farm really lit up the country side! But it was time and Daryl and William took down the lights Saturday afternoon.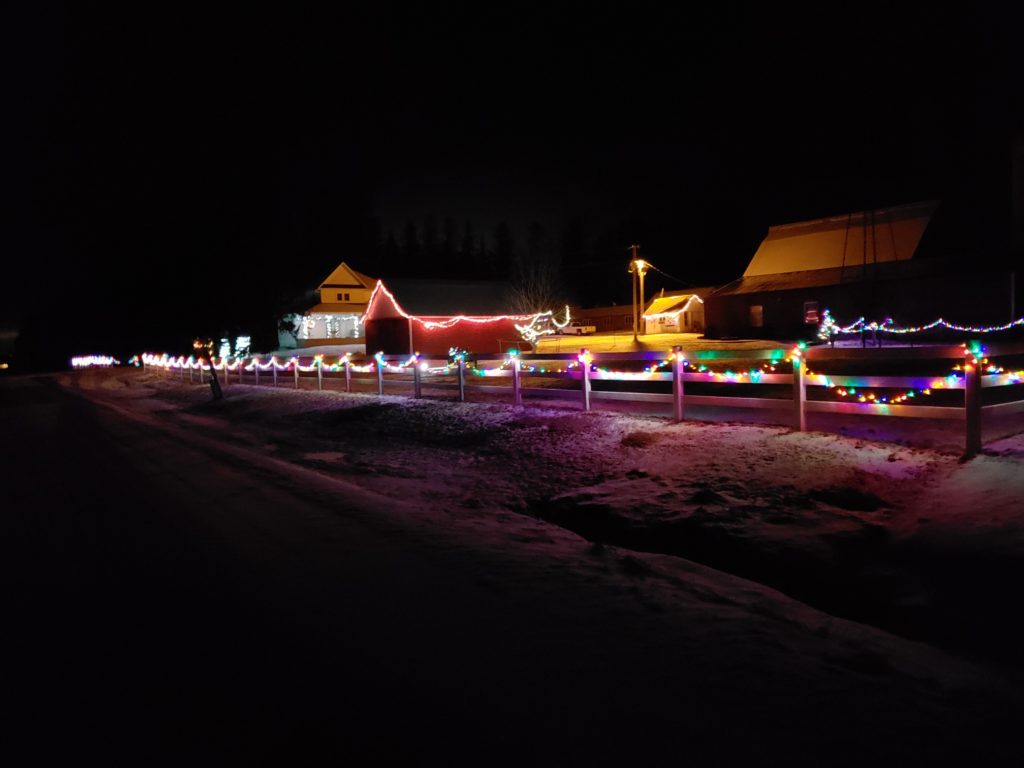 It's always a sad day when the lights get turned off I think and honestly it's pretty dark and boring outside now!
But seriously how lucky our family has been this year!  From hosting both our families at the farm for get togethers during the year, to being able spend quite a bit of time together – it was definitely a good year! 
And nothing seems to be busier than around Christmas time does it? Our busy time started the Saturday after Thanksgiving. I had a Christmas Open House in our local town for my soap. Yup, still making soap 🙂 And even though I've done this Open House once before, it's still pretty scary. I mean I had a great turnout last year, what would it be like this year? Well with the help from our kids, Daryl, and my niece,  we were able to get everything done just in time. And how did it all turn out? Even better than I had hoped for. Crazy right? I would never have guessed that I would have two years of a successful sales. I couldn't be more happy and grateful at the same time. I started to work on getting ready for this Open House about 3 months ago and now it's time to start planning again for the next sales coming up the end of May. 
Next up? Well St. Nicolas Day of course! I love celebrating this day with our family and this year was no exception. We celebrated St. Nicolas day along with Ma's Christmas at our farm a couple of weeks before Christmas.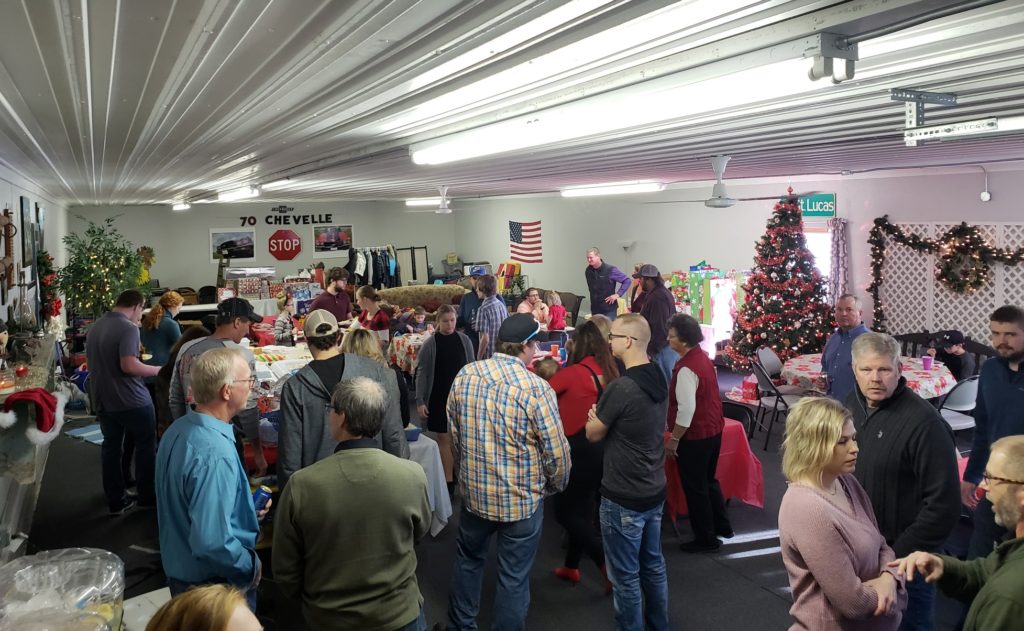 We set the tables for 63 people and with a lot of laughter and loud noise the only time it was actually quiet was when the special guest of St. Nicolas showed up for all the kids to let him know what they wanted for Christmas. Other than that? Well you can about imagine all the noise and fun it was! The day ended up with a Christmas exchange and of course more food. How I explained it to one of the 'new' guys (niece's boyfriend) is that don't be offended if no one is listening to you when you're talking. It seems like there's more conversations going on than people listening to them and you just have to go with the flow. He kinda gave me this little uncomfortable smirk and slowly walked into the crowd. I think he did OK because at the end of the day he was still hanging out  🙂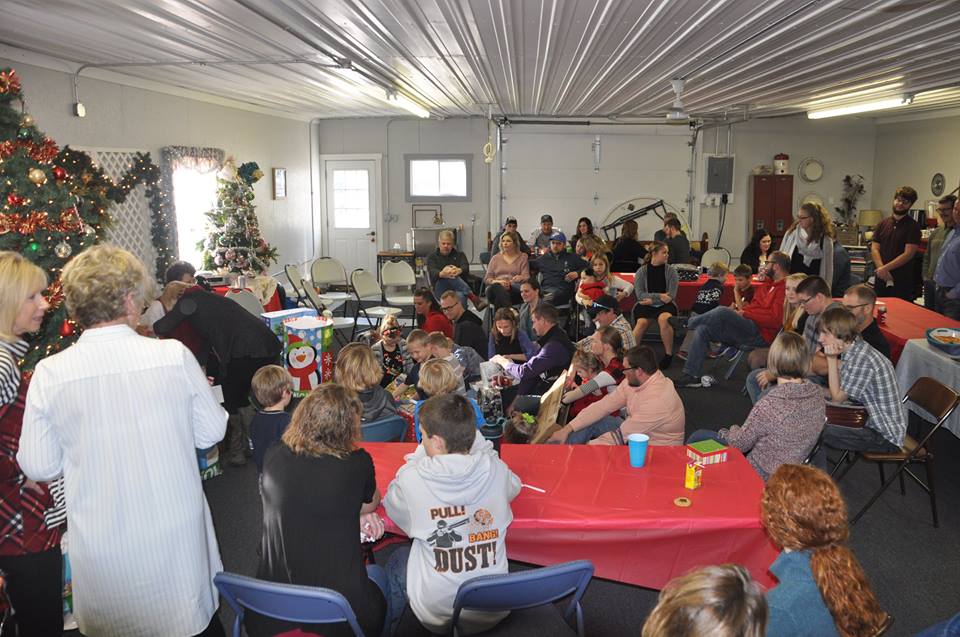 We did have a challenge this year and it was how we were going to get our family together for Christmas. There has been some changes in some of their jobs this past year which means that there are some vacation time challenges that we had to overcome. So it was decided. We were going to fly everyone to New York and spend it as a family at Kyle & Kelcie's place. With all the tickets purchased ahead of time, I was just praying that we wouldn't get into a situation where we would get snowed in at Iowa. But guess what? The weather cooperated and those sleepless nights were for nothing! Whew! 
So what did we all do in New York? Well here's a snapshot of what our days looked like while we were there:
First things first. Guess who was the Mystery Reader at the Elementary School in New York. ME!! SHAZAM!!  We landed around noon on Friday and after a quick lunch, we headed to the school to meet the teachers and around 23 1st and 2nd graders who immediately knew that we were Kyle's parents. Maybe we look a little more Mid-western that I thought. After gathering them all around in a circle I started to read to the kids the story of Home Alone. Most of the kids knew the story so they were at least one or two pages ahead of me all the time. I've never done anything like this before and it was a hoot! Then when I got done, they said now lets have Kyle's dad read. I wish I could have seen the look between Daryl and I. I'm guessing it was a look of surprise that there was a second book and that now Daryl was up. See he wasn't planning on reading but he was a good sport and did a great job! 
After school was over and eating Italian food at a local restaurant, we waited for William and Jude to fly in around midnight so we could all be together for the next couple of days. I have to be honest, I was up for around 24 hours at this point so I laid down and when I woke up everyone was just walking in the door from the airport. Nice. We all knew that tomorrow was going to be a busy day so it wasn't long and we were all packed for the train ride into town for the morning and hit the bed for a quick sleep. 
Now I've never taken the train before to New York, but because I love riding trains there was no complaints from me when it was taking an hour and a half before we ended up at Grand Central Terminal. Kyle always has said that it was very pretty at Christmas at the terminal and boy he was right!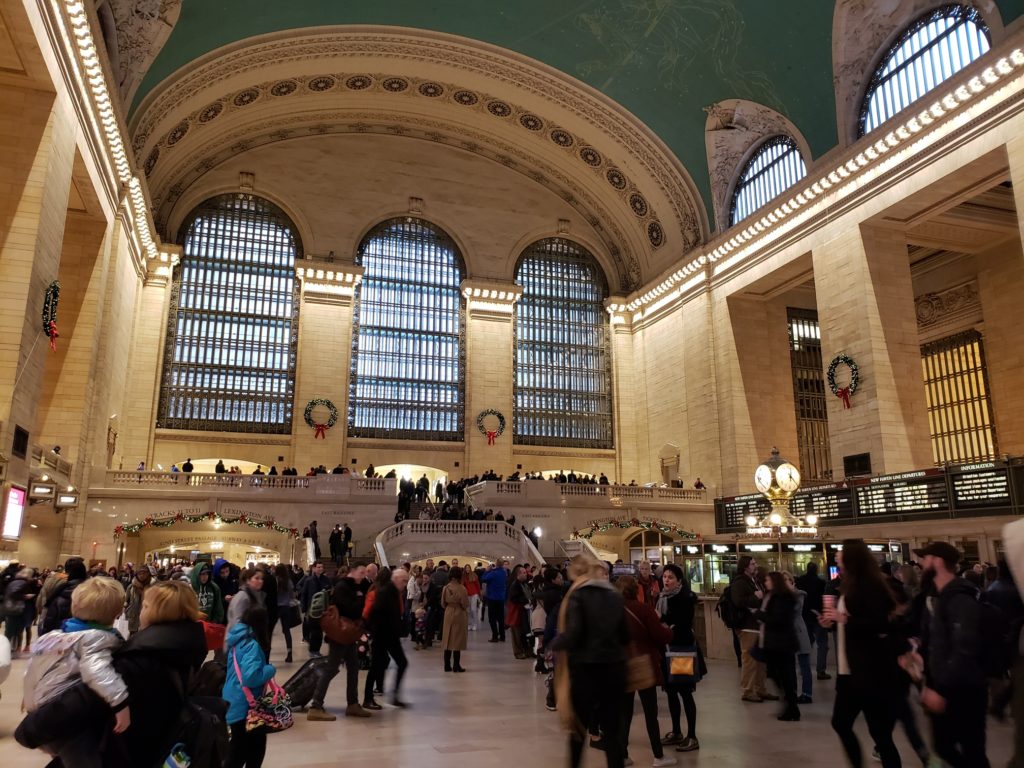 Garland and lights decorated the walls and with it built in 1913 you can about imagine how cool it looked! On a 'normal' day there are estimated 750,000 people visiting it and on Holidays it's around a million. Now that's a lot of people!  But because it's so big, it wasn't as crowded as you would think and after a couple of selfies (yup I'm one of those Moms) we were off to our hotel to drop our bags for the afternoon. 
We had a couple of rooms booked at the hotel just down from Times Square so we dropped off our bags and grabbed some deli pizza quick for dinner from one of the small shops that line the streets and then started walking to see what was uptown. 
The stores all had some unbelievable window displays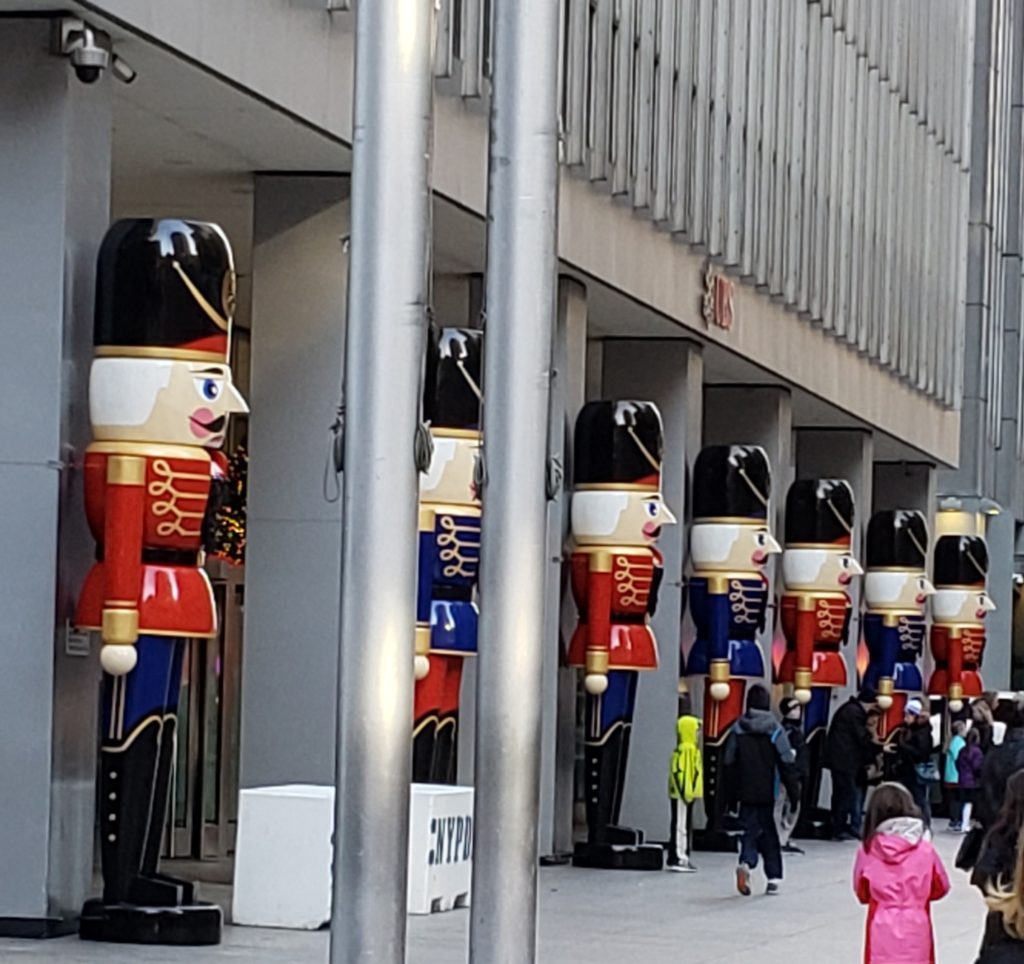 and how can you go to New York at Christmas and not stop into Macy's? Now I've been in a Macy's store, before but honestly nothing ever like this one. There were more lighted garland and decorations that I think our whole town in Iowa has! I took a quick picture or two and it seriously doesn't do it justice.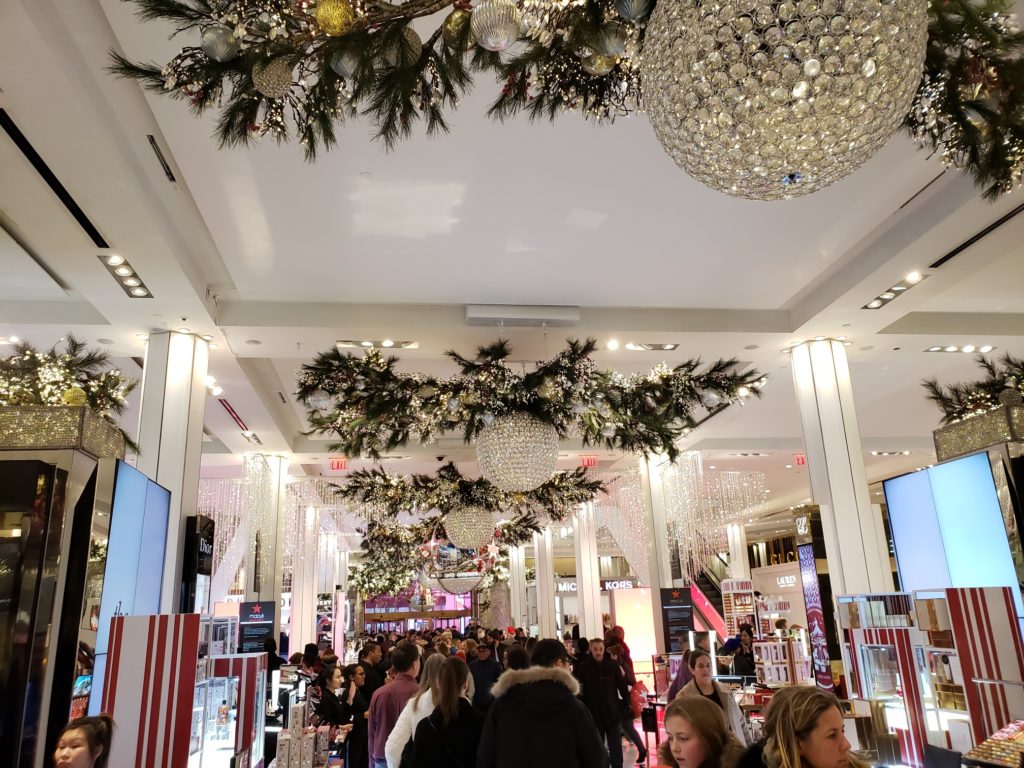 There was a lot of people in there and with every little department there was a Macy's salesclerk or two helping.  Well it was pretty packed so we didn't stay too long. I didn't want to buy anything anyway but just wanted to check it out. 
With Kyle and Kelcie leading the way, we headed to Bryant Park to watch the skaters and also take a walk through the Winter Village to see all the local gift & specialty food shops.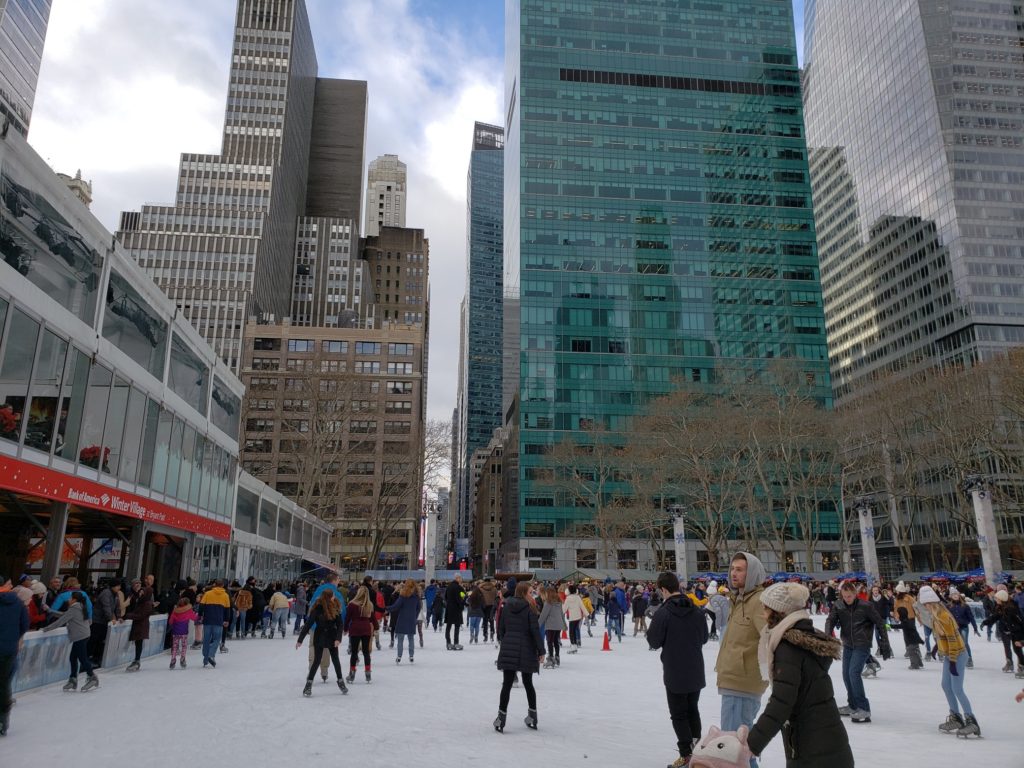 Bryant Park is known as Manhattan's Town Square and was also beautiful. As I walked by all the little vendor shops I couldn't stop thinking how many bars of soap I could sell if I was a vendor. But then almost just as fast I thought how many bars of soap would I have to sell just to pay the rent!! 
Our next destination was the Main Branch of the New York Library. It's kinda weird to think to go to a Library when you're in New York,  but I definitely suggest taking the time to go there! The library is the second largest public library in the US (behind the Library of Congress) and the third largest in the world.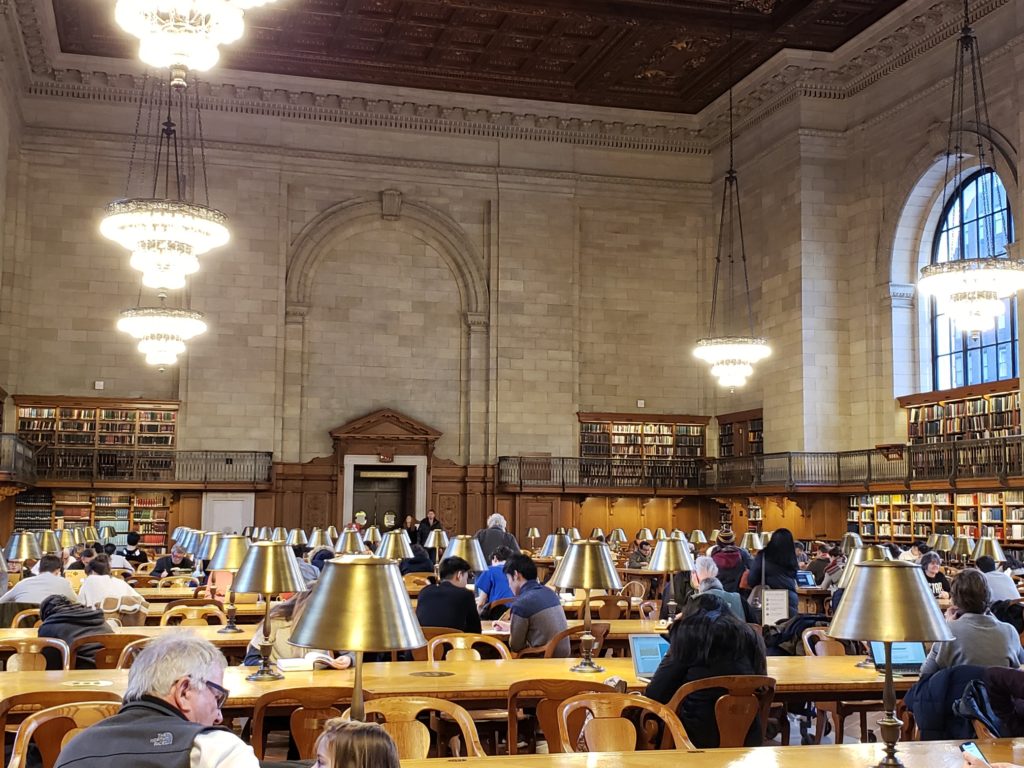 It was completed around 1911 and not only is the Library full of unbelievable carvings and extravagant lighting and fixtures, it also houses the original Winnie the Pooh collection in the Children's section.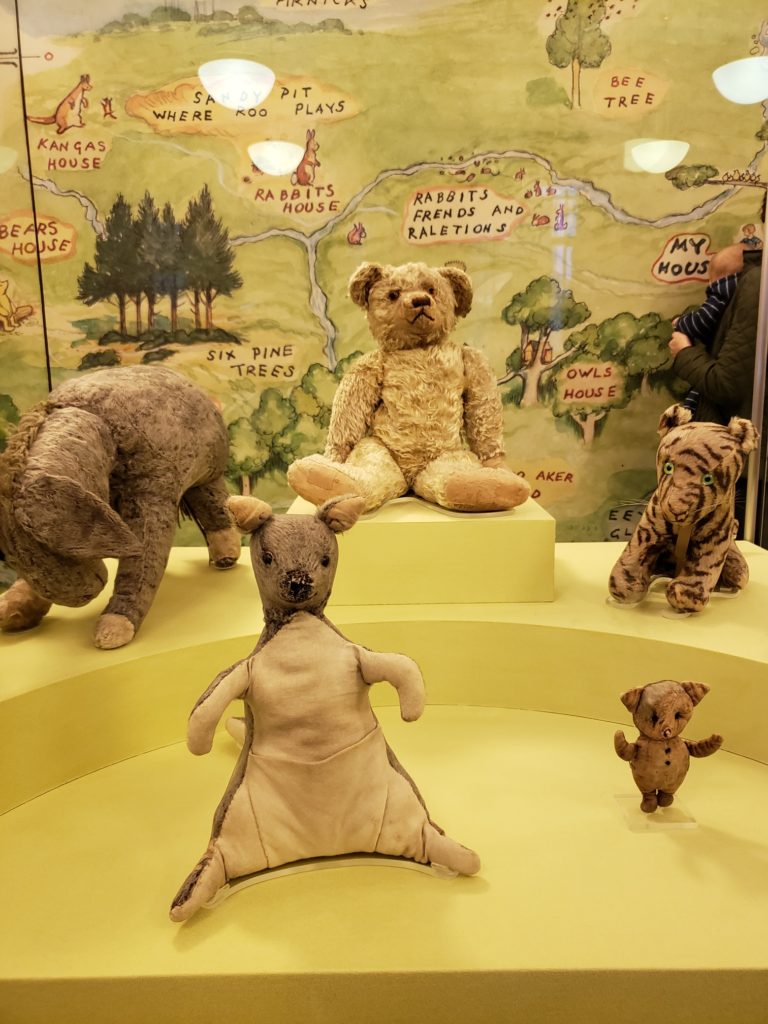 See if you didn't know, Christopher Robin was an actual boy growing up in London and Pooh was purchased at Harrods department store in London on August 21, 1921 for his birthday. The bear at the time was called Edward which was the proper name for Teddy. The rest of the toys in the collection were also given as gifts to Christopher between 1920 & 1928. Even though these toys were almost a hundred years old, you can still tell how much they were loved and played with.
If you're at the Library you'll also have to check out the iconic Lions in the front of it. They have been named Patience and Fortitude and stand very majestic outside the entrance.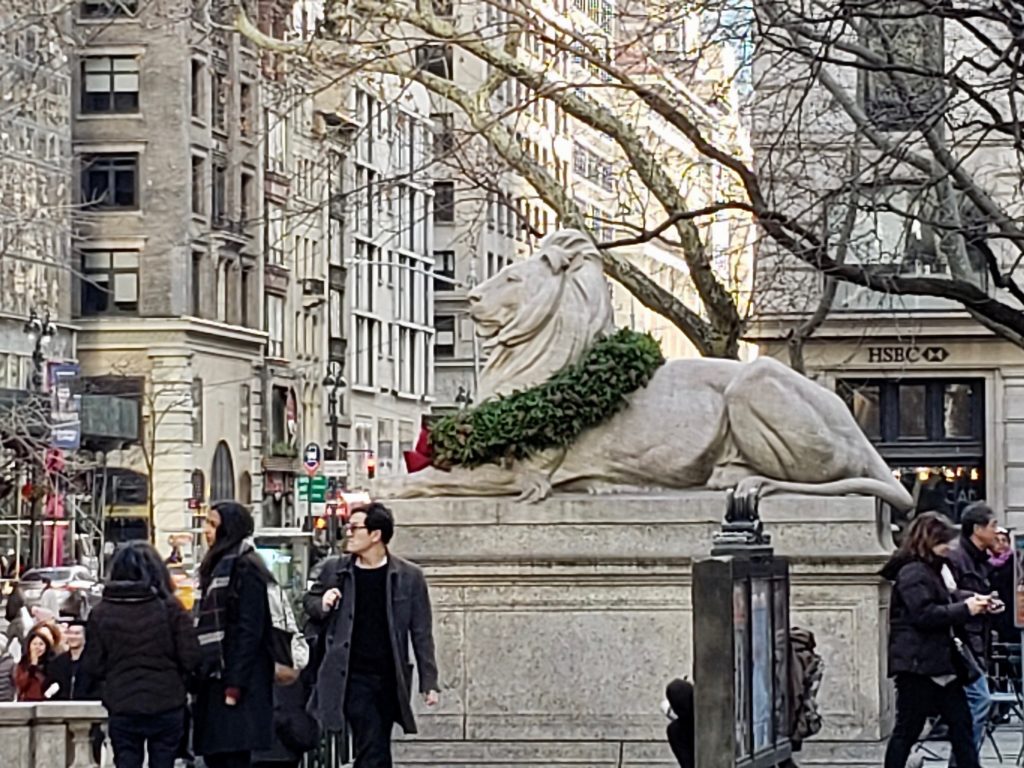 The only thing during our whole trip that was not so cool also happened at the Library. See while we were in the building William had someone try to slip their hand behind his hand hooked in his pocket to get to his wallet. When he knew that someone was trying to pick pocket him he quickly made it known to this guy and just as fast the guy turned away and made it through the crowd and disappeared. William said he wished he would have grabbed the guys hand and held on to him to have someone in security check out his backpack. But I'm glad he didn't. Who knows what else this guy had in his backpack other than probably a lot of other people's wallets. I'm just glad that it all turned out OK and no one lost any of their stuff during the trip!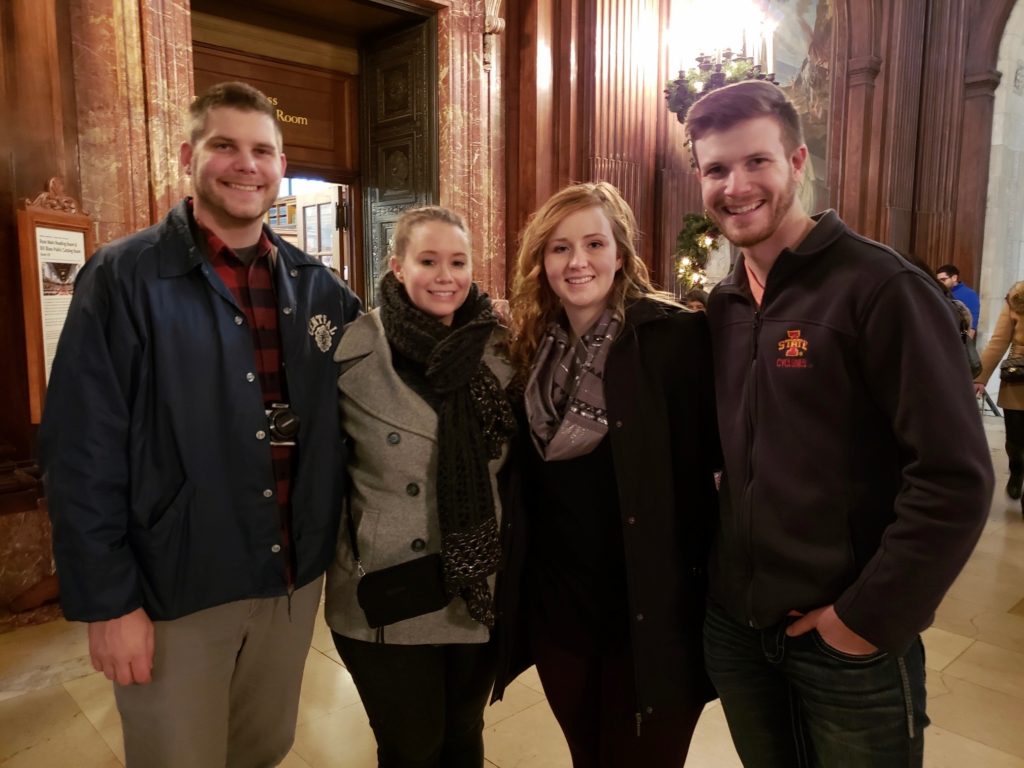 After checking out the testing of the New Years Eve ball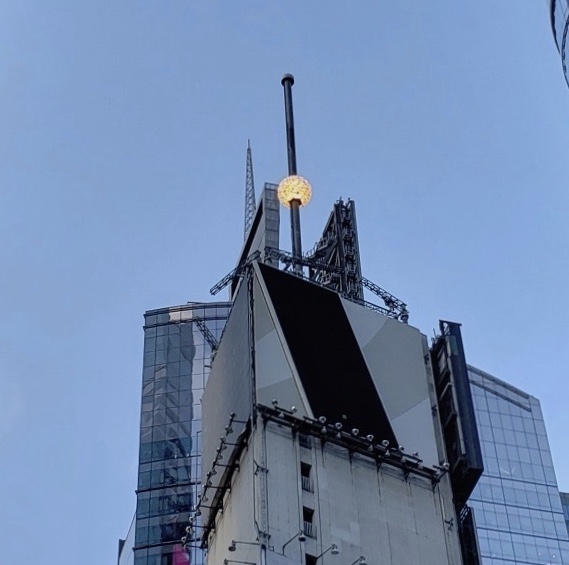 Off we went to the Rockefeller Center.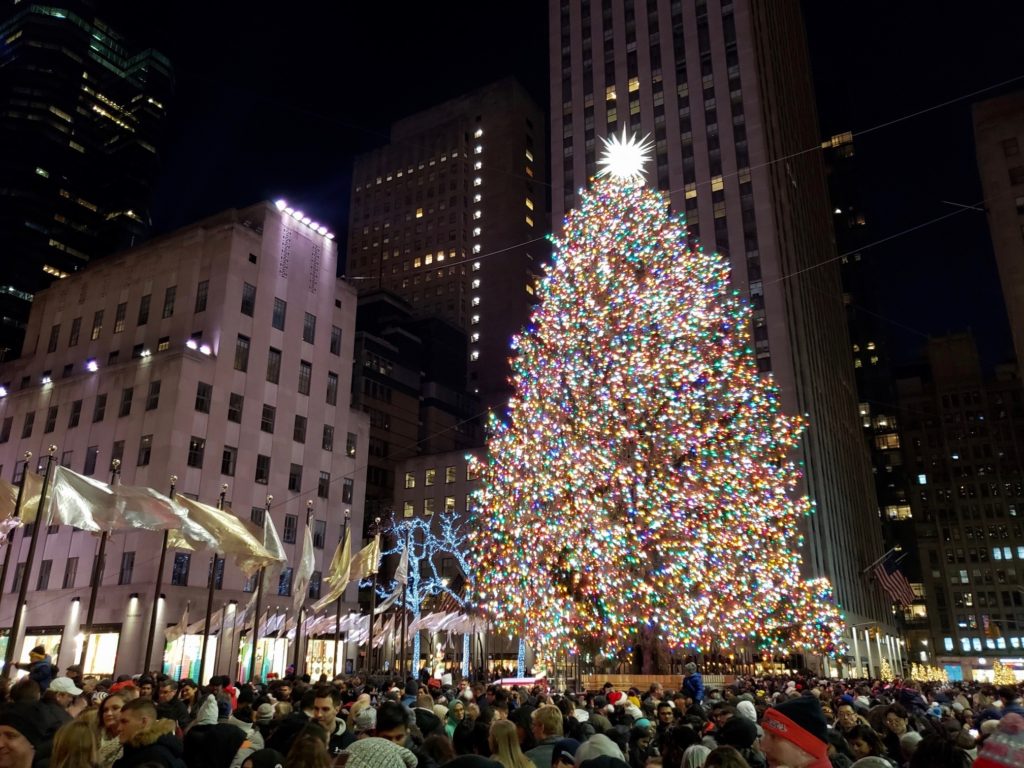 If you do not like crowds – my suggestion is to not go to the Rockefeller Center on an evening right before Christmas. I'll I can say is Thank Goodness for cell phones because we got separated and when we found out that we were almost right beside each other in the crowd we had the worst time catching up each other. The tree was absolutely stunning  and it's something that's probably on everyone's bucket list. I'm also thinking that it's come a long way since the first tree in 1931 when construction workers decorated a small tree during the Depression.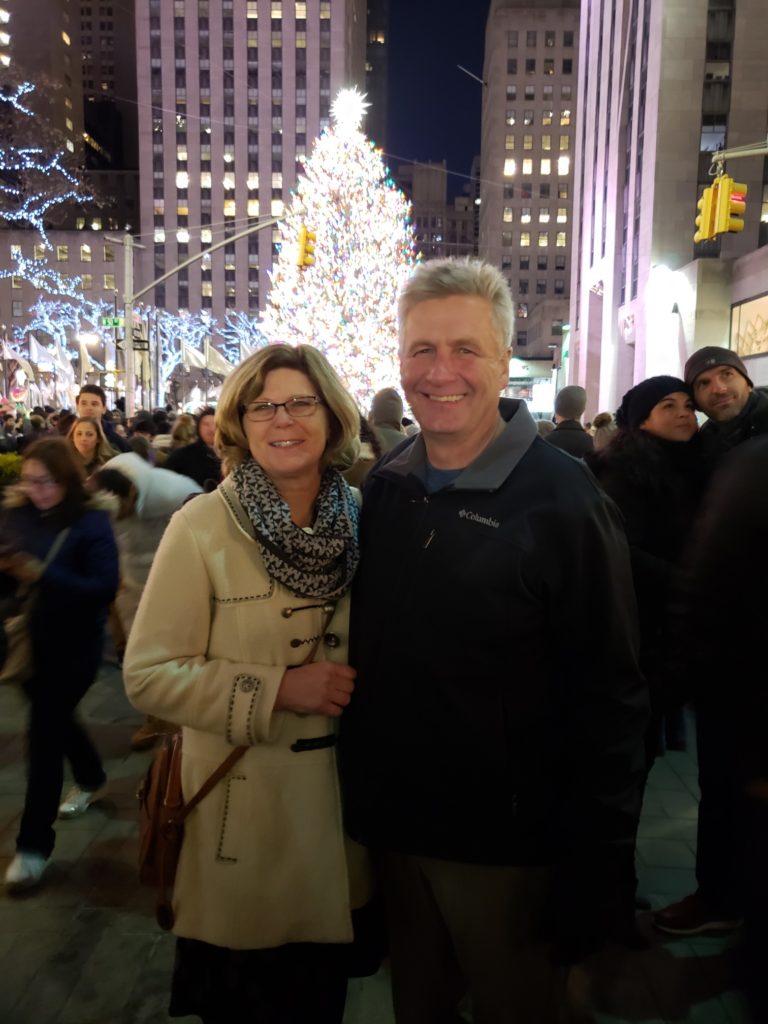 Off to supper to meet up with Kelcie's brother from New York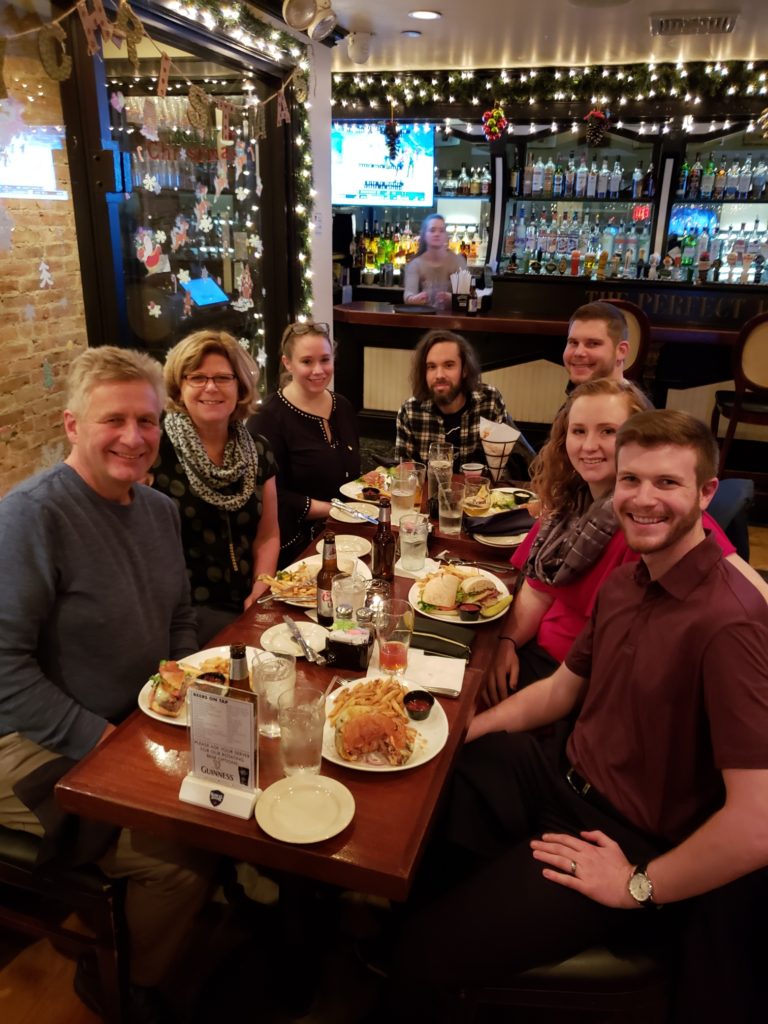 and then to the Broadway show 'Beautiful' the Carole King Musical. Very Very Cool! and just crazy how good some people can sing!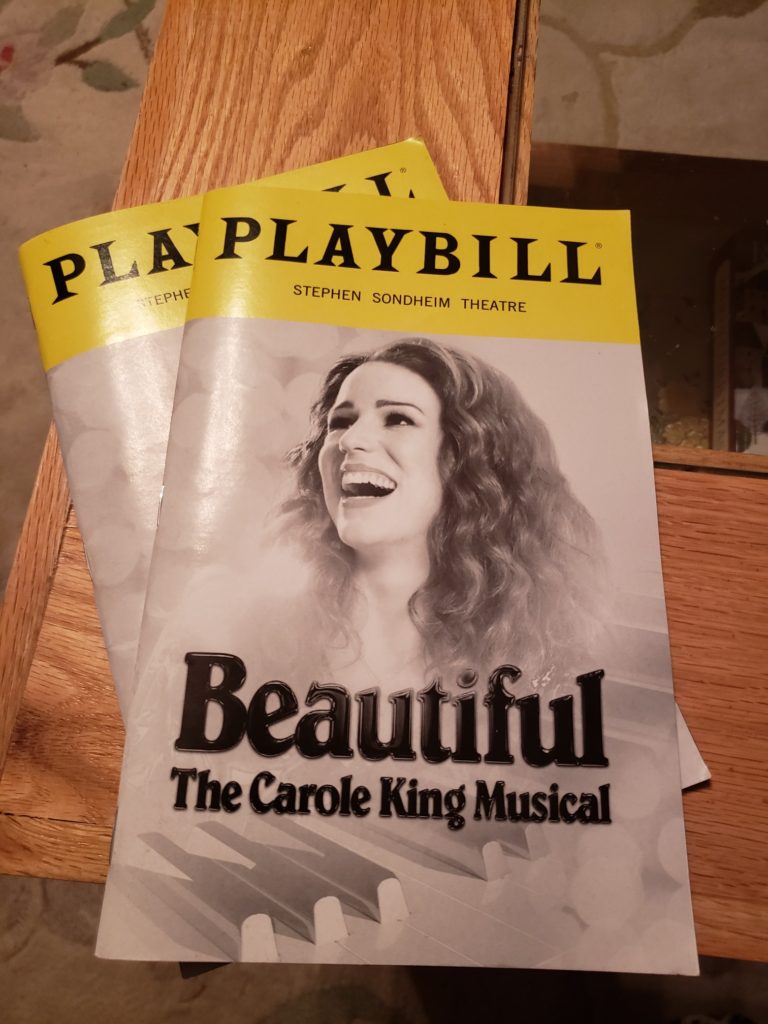 After a full day to the Hotel we went and with all the walking that we did today and not as much sleep as we probably should have gotten the night before, the beds felt  really good and I know that Daryl and I were asleep almost as our heads hit the pillows. 
We put our luggage into storage at the hotel and we were off again the next morning.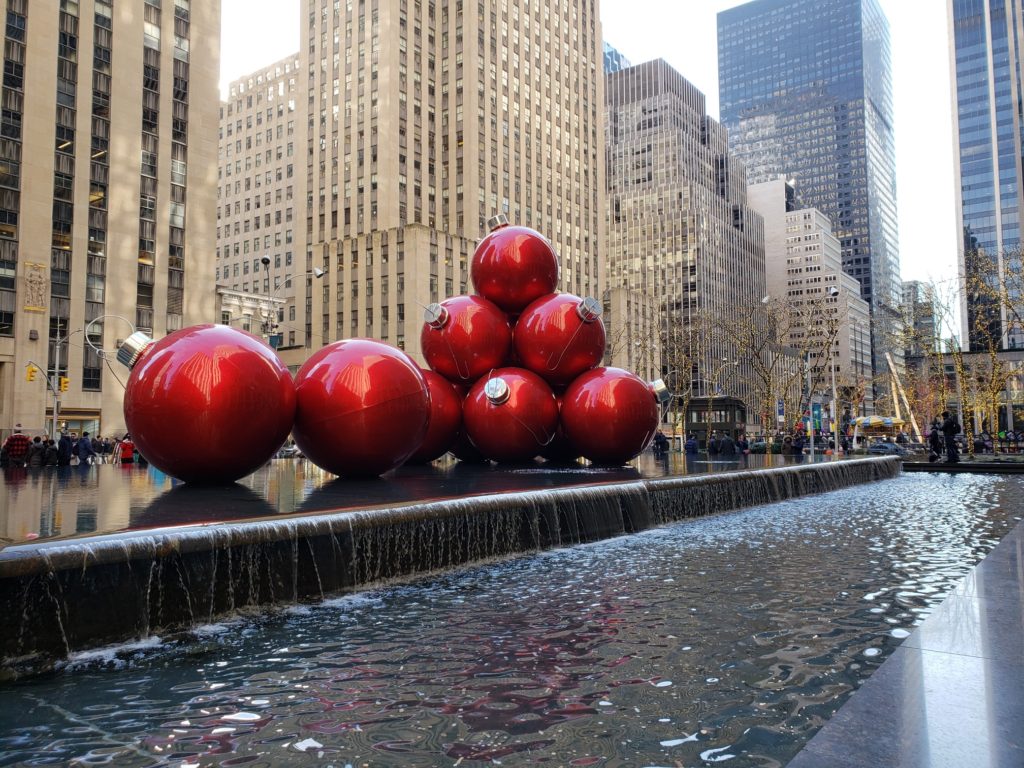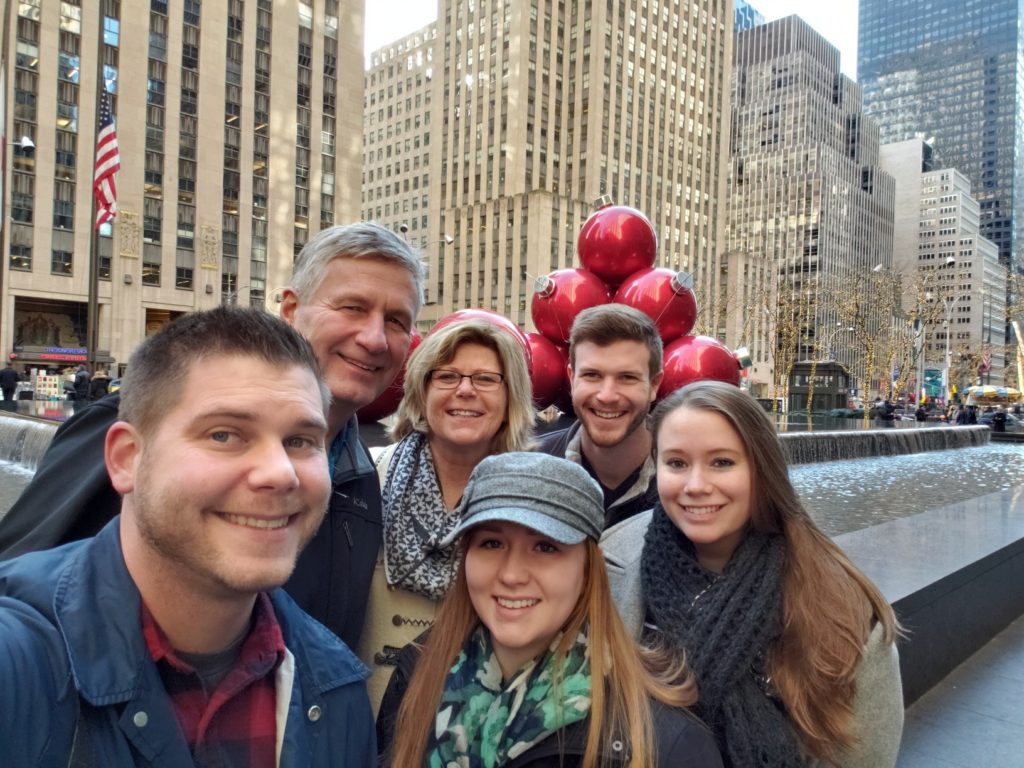 We stopped by the tree and it was a lot more manageable to get around this time!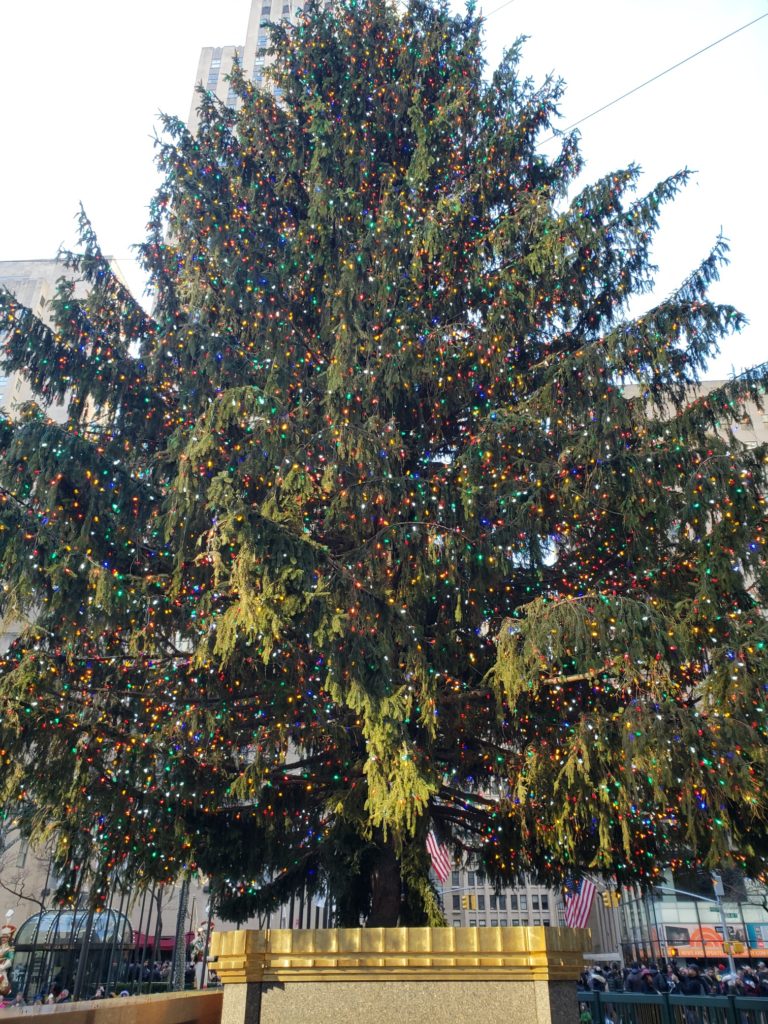 Because there is a lot to do all in that one area, we were just steps away from Radio City where our next stop was.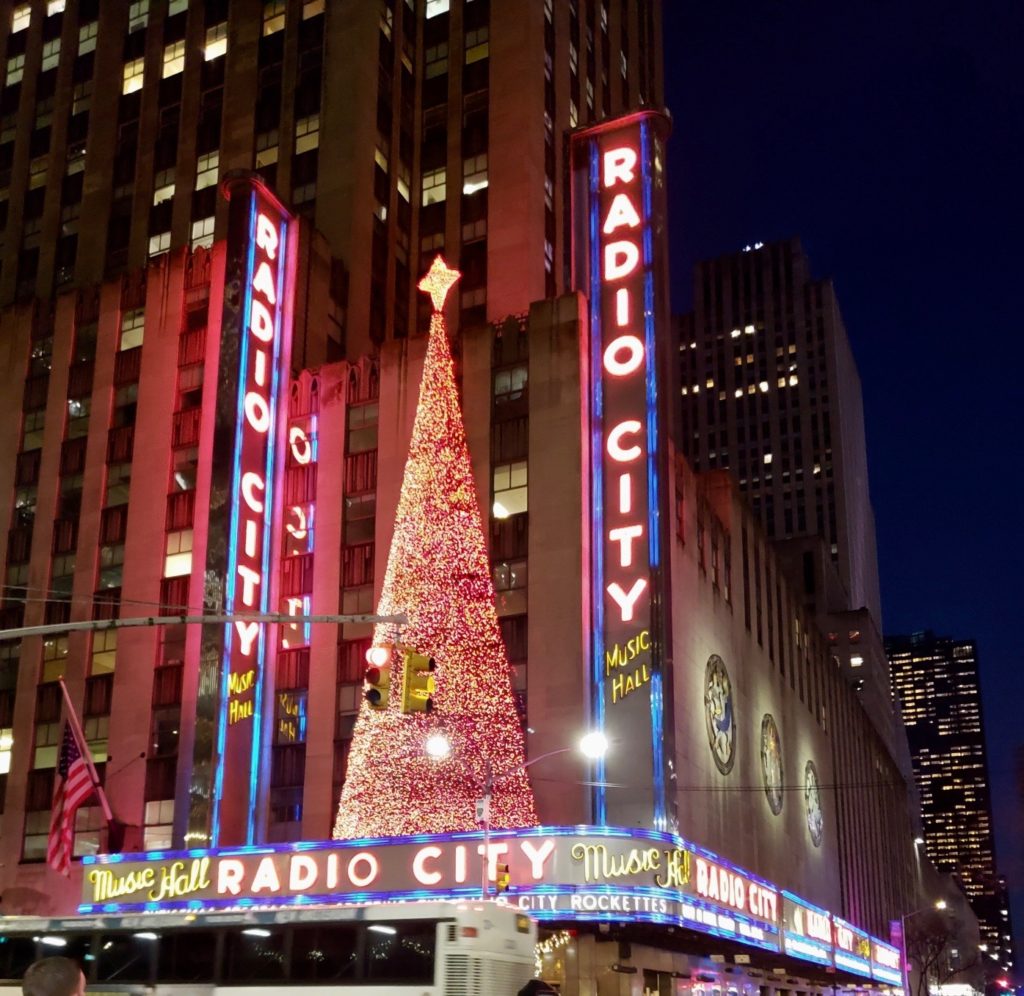 We went to see the Holiday Show with the Rocketts and what a show this was!
It's so hard to explain but the whole theater was part of the show and during the show depending on what was going on the whole ceiling was lit up to make you think that you were in the show. There was even drones way up high for a 3D effect and with camels and other animals on stage, let's just say it was a sensory overload!!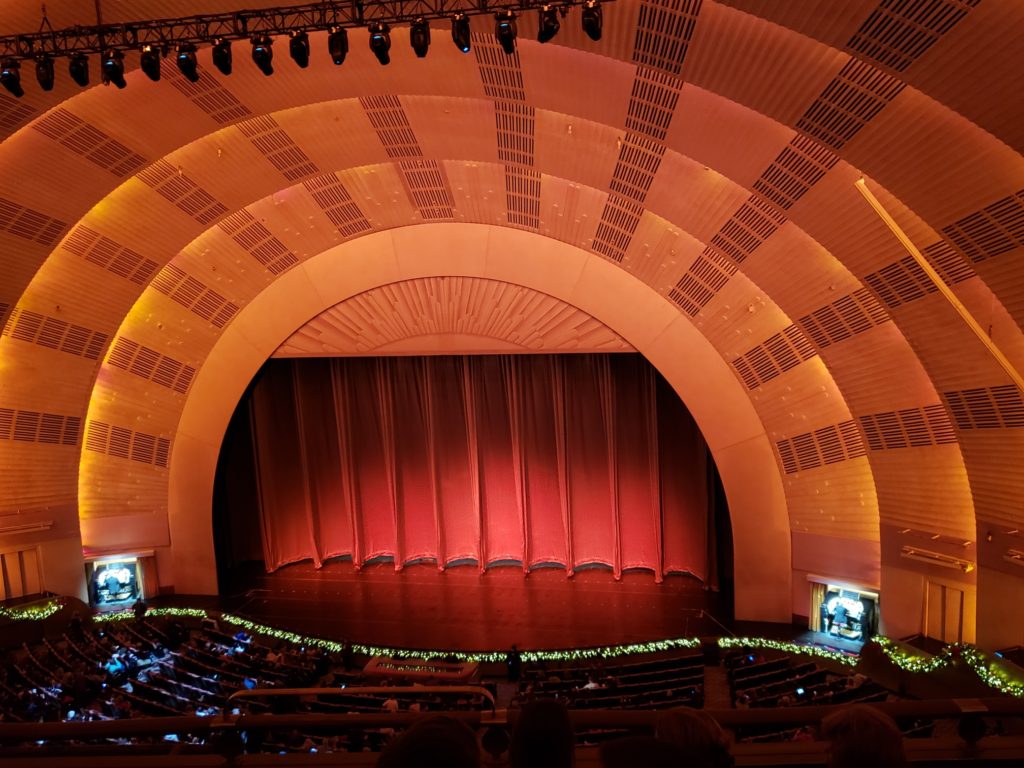 A quick stop at a street vendor to pick up some roasted chestnuts because it is Christmas and everything.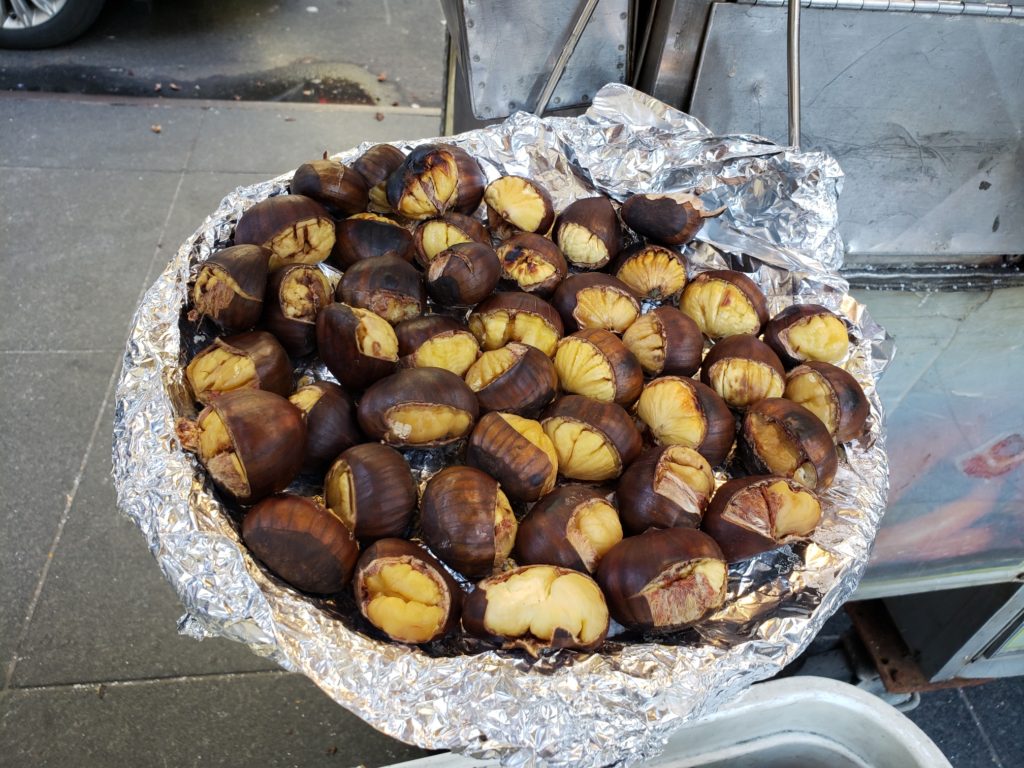 But the only thing about the chestnuts were that they tasted terrible and were very expensive. I wanted to buy them to check them out and now that I've done that I don't think they'll be on my list again.
With our plan to head back to the kids place for the next couple of days, we needed to head back to get our luggage, grab some cabs, and try to catch the next train to Poughkeepsie.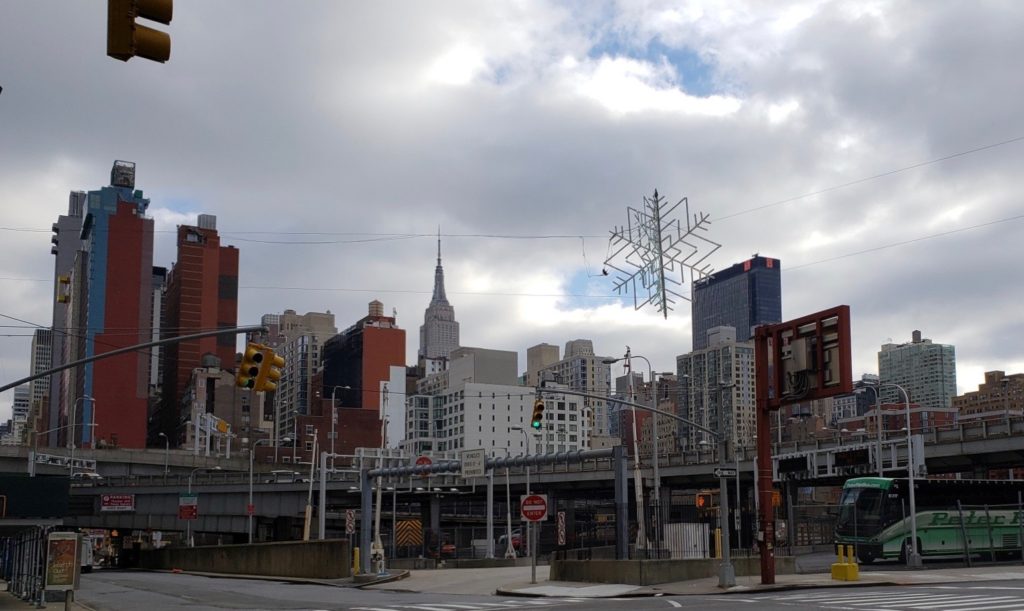 Did we make it on time? Nope. There was too much traffic to get the train station and even the cab driver told us that we just might as well get out and walk to the station. I think that's kinda funny for some reason. But we didn't have a long wait for the next train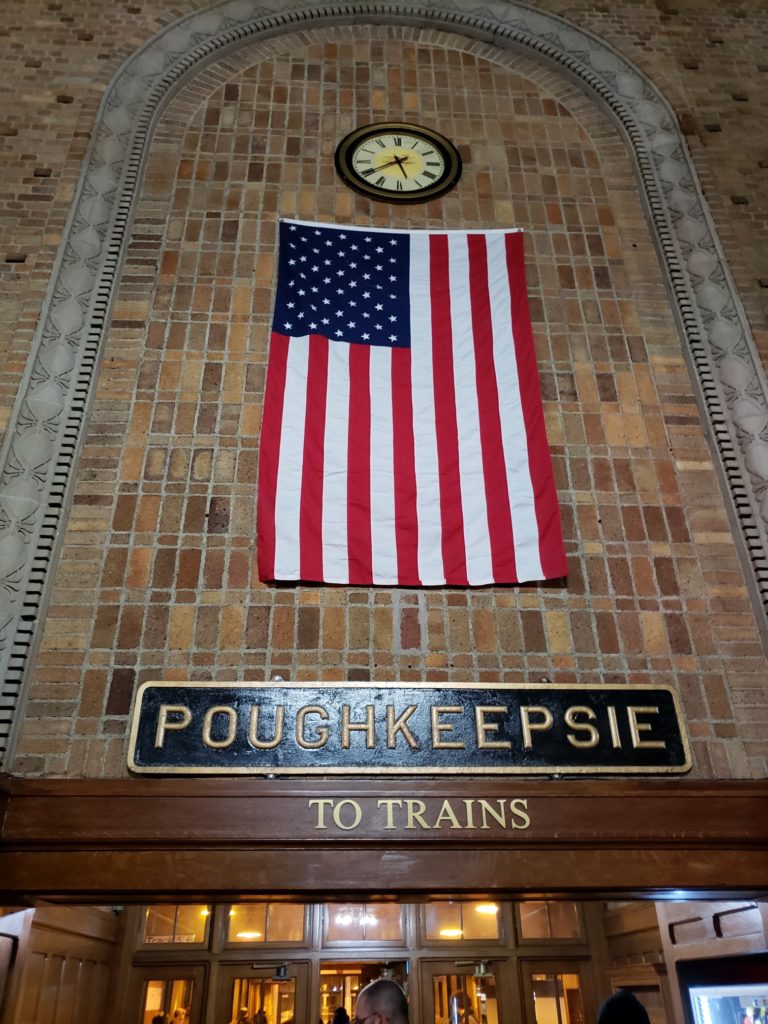 and in no time we were back at the apartment playing the new Jackbox game and having a drink or two of the local beer.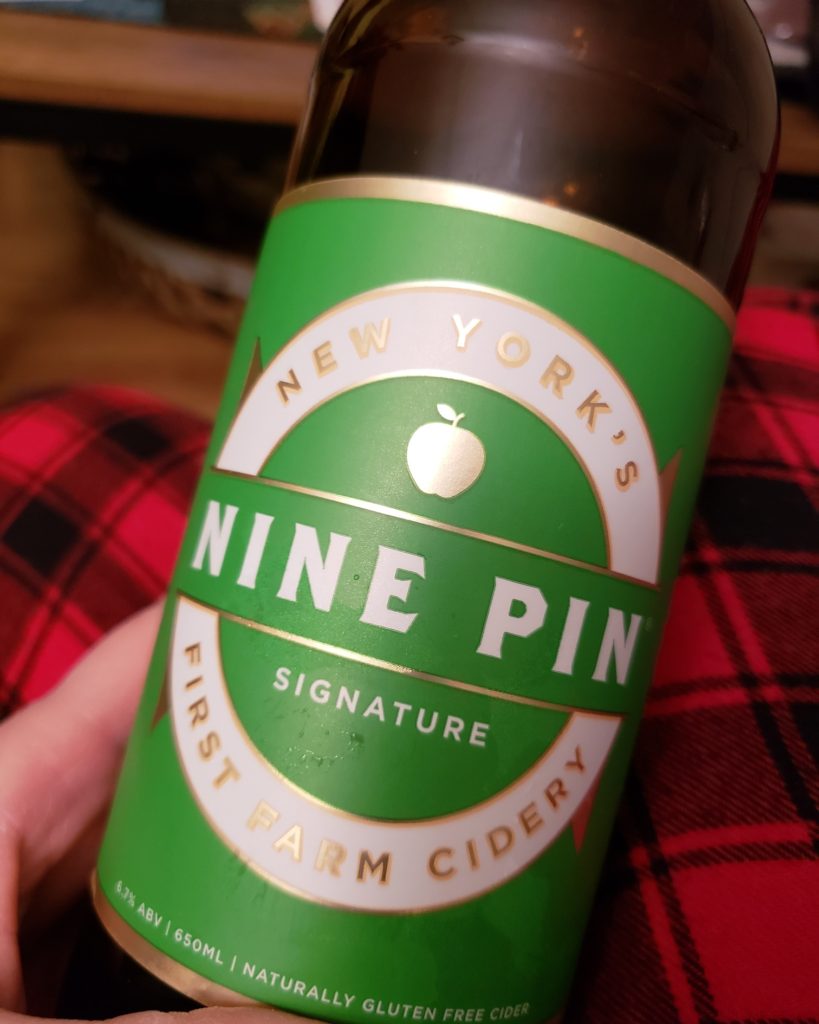 We opened a few gifts that night, held the family pajama exchange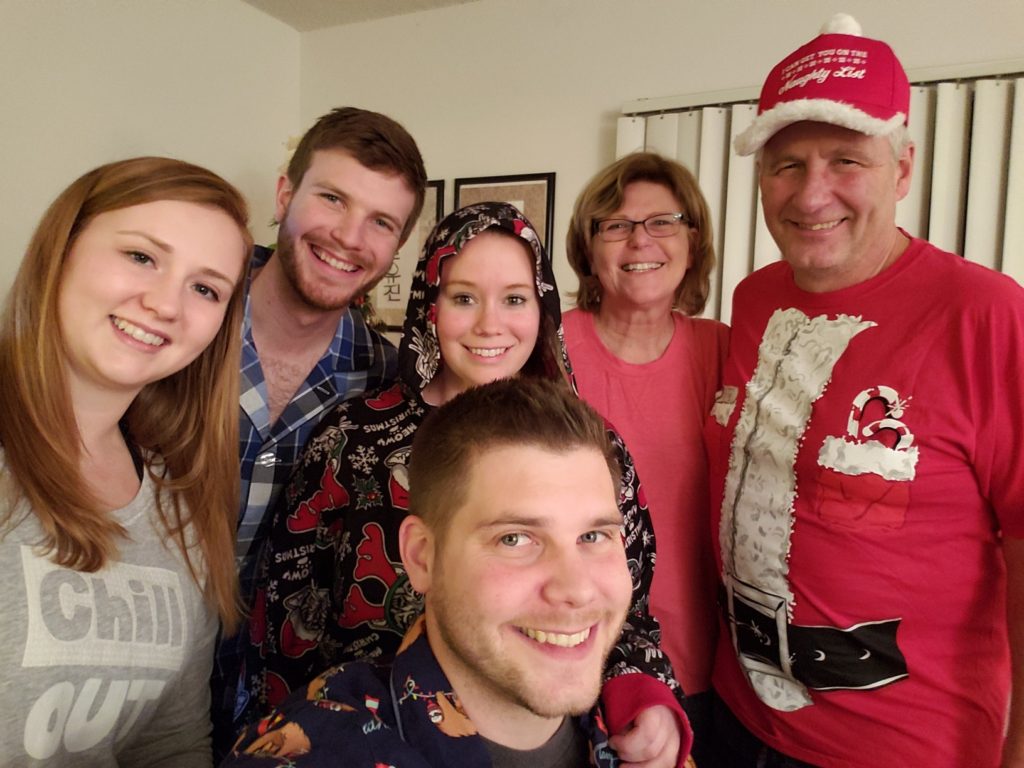 and watched some Christmas movies as we ate the local ice cream – Stewart's Ice Cream. How can you go wrong with an ice cream company that started back in 1923 making deliveries to Albany and other local towns literally in a Model T and has now grown to have their own specialty stores in a lot of locations? I'm not an ice cream connoisseur – but I think Daryl might be,  and he gives it defiantly a thumbs up! 
The next morning was Christmas Eve and just like a Hallmark movie, there was a fresh coat of snow outside which made it seem almost like it was all planned. Some fresh NY bagels (which by the way are absolutely the BEST!) were on the breakfast menu and then it was time to exchange gifts. With the kids all in New York it was a little bit of a challenge to get all the gifts mailed or brought with us, so I was nervous that I might have missed something. Thank goodness everything went off without a hitch and we had a lot of fun just sitting around on the floor opening gifts.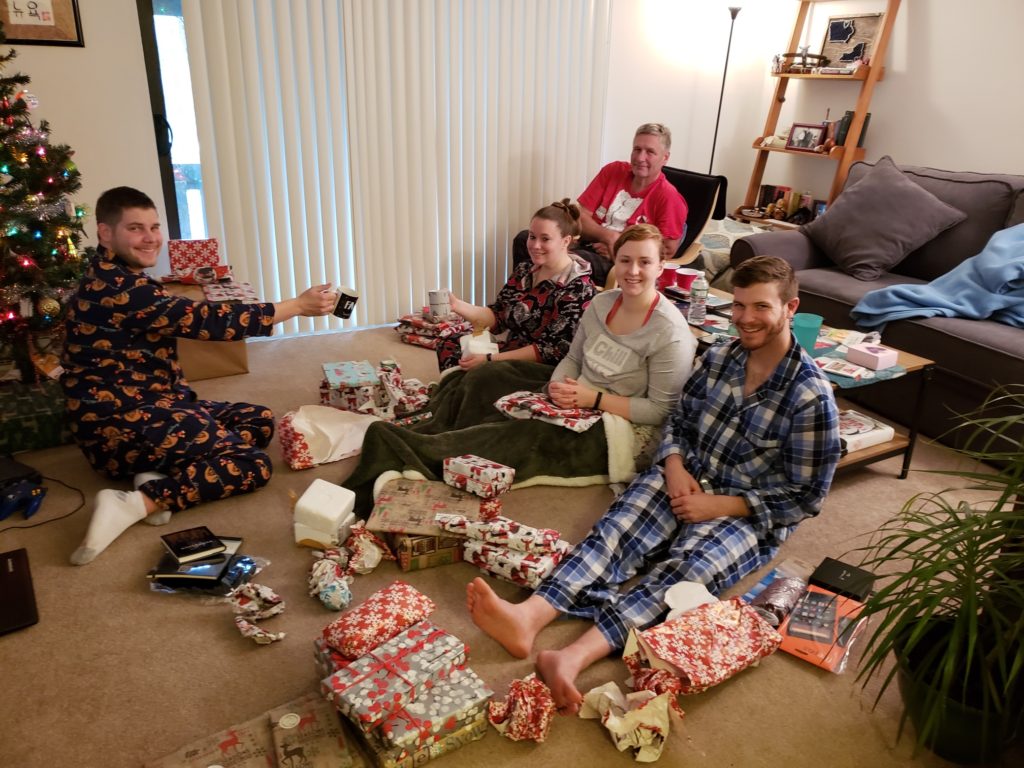 We wanted to get to church for Christmas so what we thought was plenty of time to get a seat at the Catholic church of Christ the King was not soon enough. I don't know how many people it held, but it did hold a lot! After church Kelcie and Kyle made the Christmas meal of ham (pretty much a staple at any of our family Holidays) and a lot of other great food! They worked hard to make our time in New York a great one and they definitely accomplished it! 
Christmas wouldn't also be complete unless we had the annual Euchre card game. The boys won and that's about all I'll say about that. Another year with their scorecard and picture on our refrigerator 🙁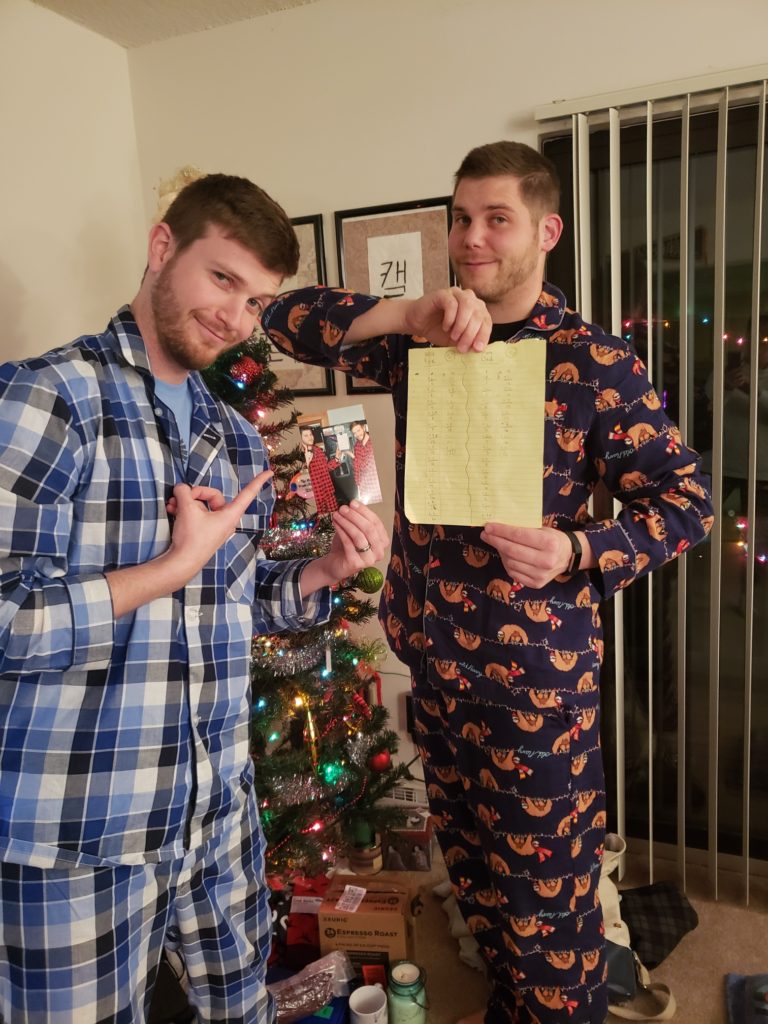 It was going to be an early flight out tomorrow so once we all get our bags packed, we were able to watch the traditional Christmas Carol Movie. And to make sure that it IS the right one from the 1951 movie, Daryl has his own DVD that was brought along. 
The next morning came way too early and by 4 am on Christmas morning we found ourselves saying Merry Christmas and good bye to the kids as we headed back to the airport to return the rental car and to catch our flights. 
What a Christmas this was and it's one that will go down in the books as a great adventure for our family! 
Merry Christmas and a Happy New Year from our family to yours!