It's that time of the year again when it's the Iowa State Fair!!
We haven't gone now for a couple of years and I was super excited to have the chance to go again. With the car packed and my brother and sister in law with us – we were off!
The weather looked absolutely perfect and the only dilemma of the day was if we might need a coat for later on. See we were not only going to spend the day at the fair – but tonight we're planning on going to the John Mellencamp concert tonight!! Whooohoooo!! It's going to be fun!
Once we found a spot to park, the next thing was to figure out what food we should eat. We planned the day to have to eat at least twice at the fair and with a ton of vendors to choice from, we just had to figure out what we wanted.
See the Iowa State fair is known for it's good food and they totally live up to their reputation. So what was my choice for dinner? Well maybe not the most nutritious dinner around but it was awesome! It was homemade chips with jalapeños and then cheese and then some kind of smoked meat on top of that smothered in barbecue sauce.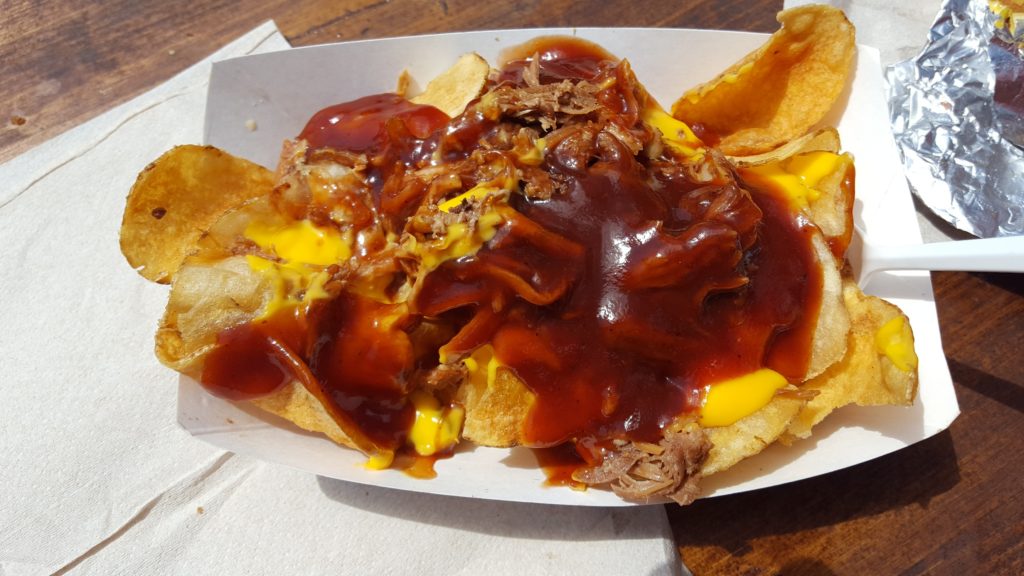 I'm thinking about like a billion calories but hey, if you only get to the fair every once in awhile – you better make it worth your time right?
After scoping out some of the displays and for sure seeing the butter cow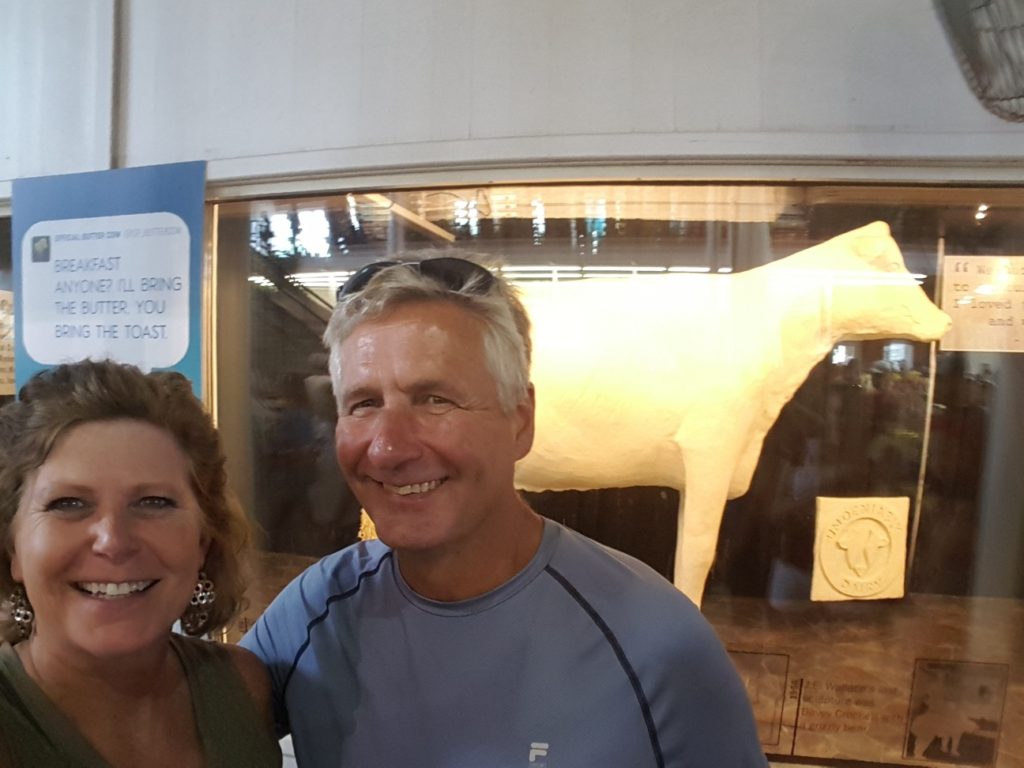 we took a tram ride to see if we were missing anything important. And then we saw it. I'm talking about the ultimate ride called the Skyscraper! The ride went up 165 feet at 70 mph. Yup, pure fun! So after we took off our shoes, sunglasses, removed our keys, wallets, and purses , we gave them more money than we probably should have for a ride we got in line. Seriously the ride was so tall that when you stood in line you couldn't even see how high the ride was going. And was it fun? It was AWESOME!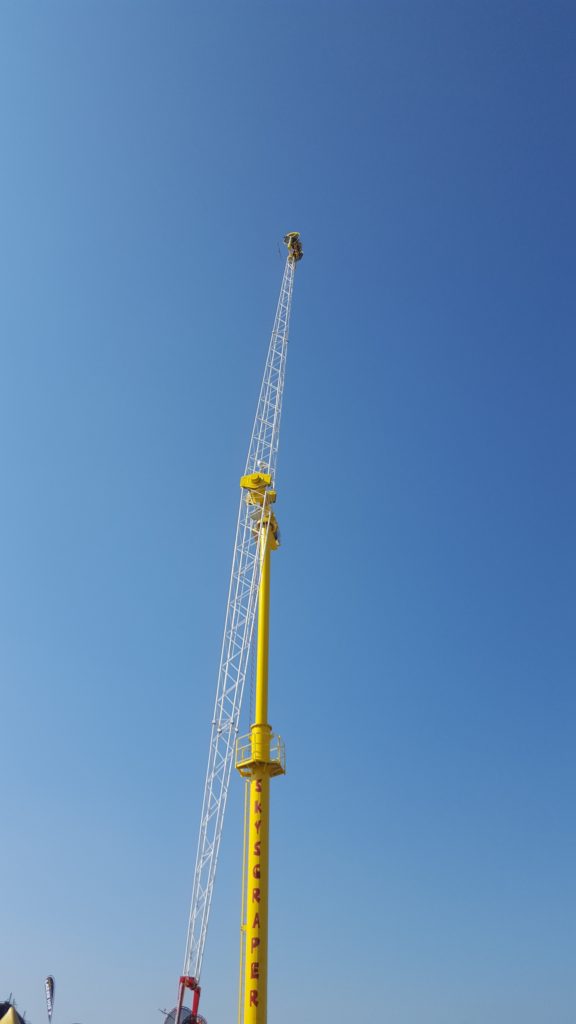 Now to watch the Budweiser team drive through the fair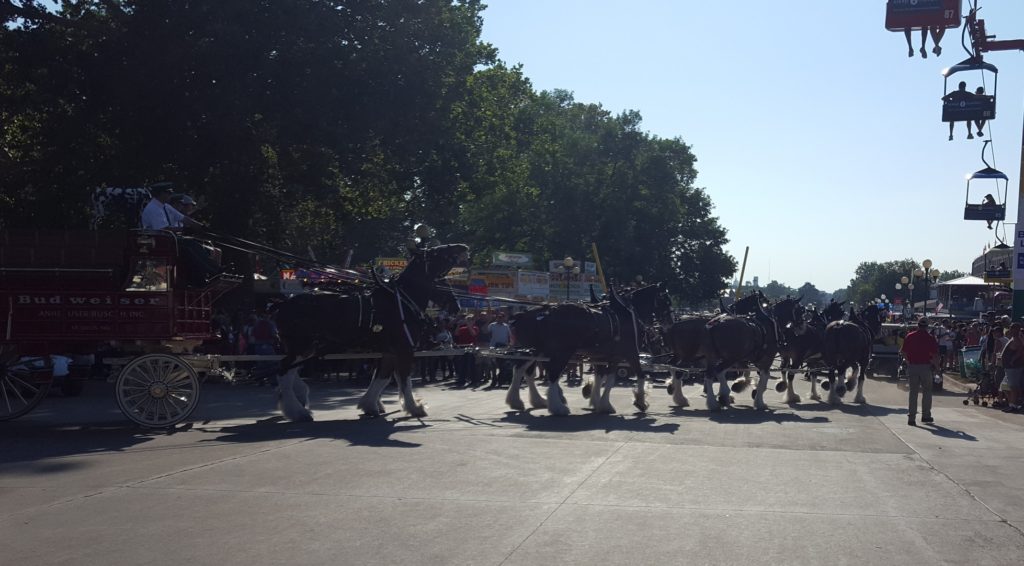 and to get some more food in our bellies before the concert. The opening act started just as it was getting dark and when John Mellencamp came on it was pretty much dark outside. You could see him singing on the stage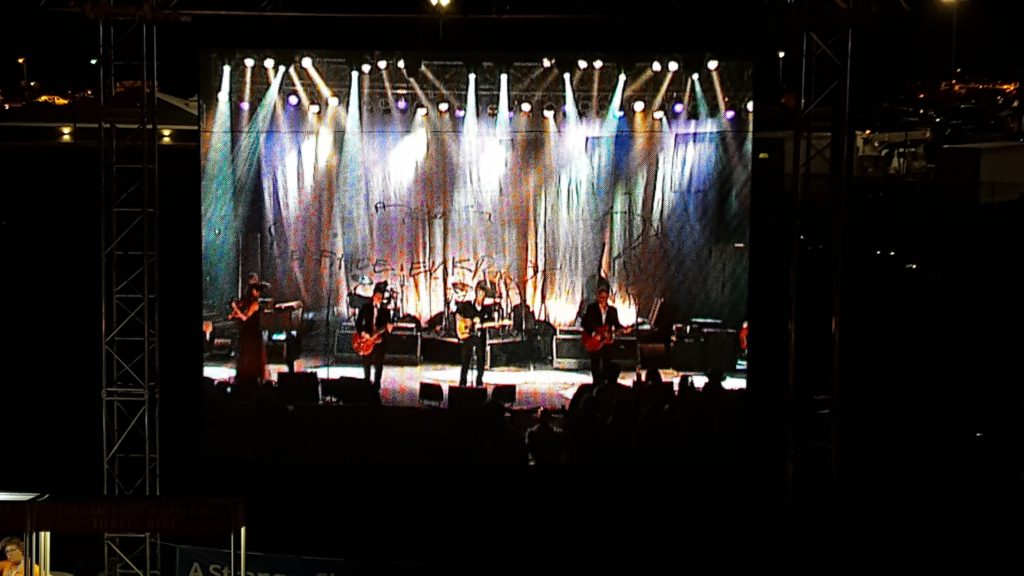 and then you could see all the rides lit up from the fair. It was a perfect night for both! Here are only a few of the rides ..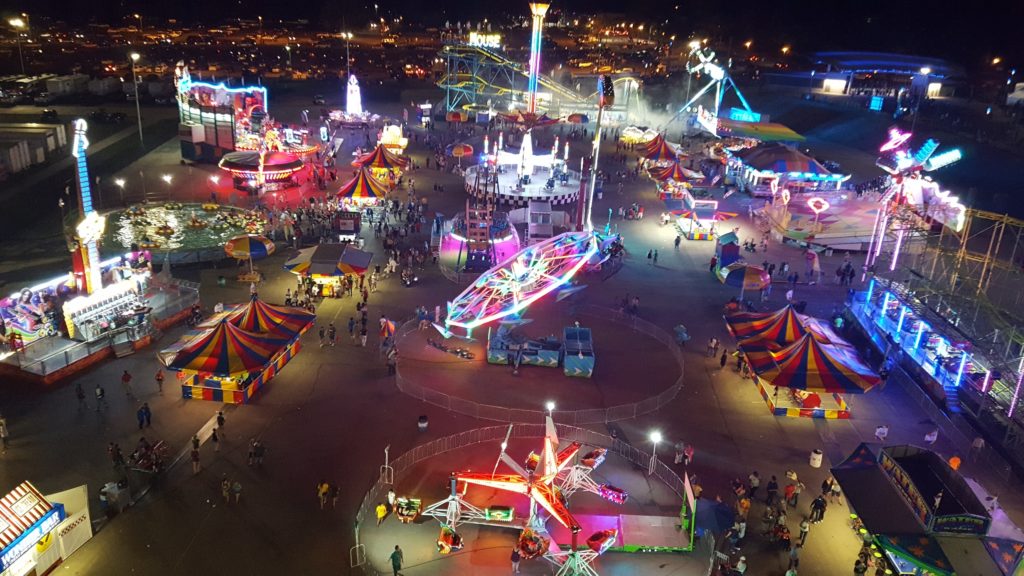 After the concert we went on a couple more rides before we left for the night and looking back I knew today was going to be fun but it was even better than I was hoping. We laughed and had the best time ever! And guess which barn I liked the best? Well the calf barn of course! You can just never have enough calves.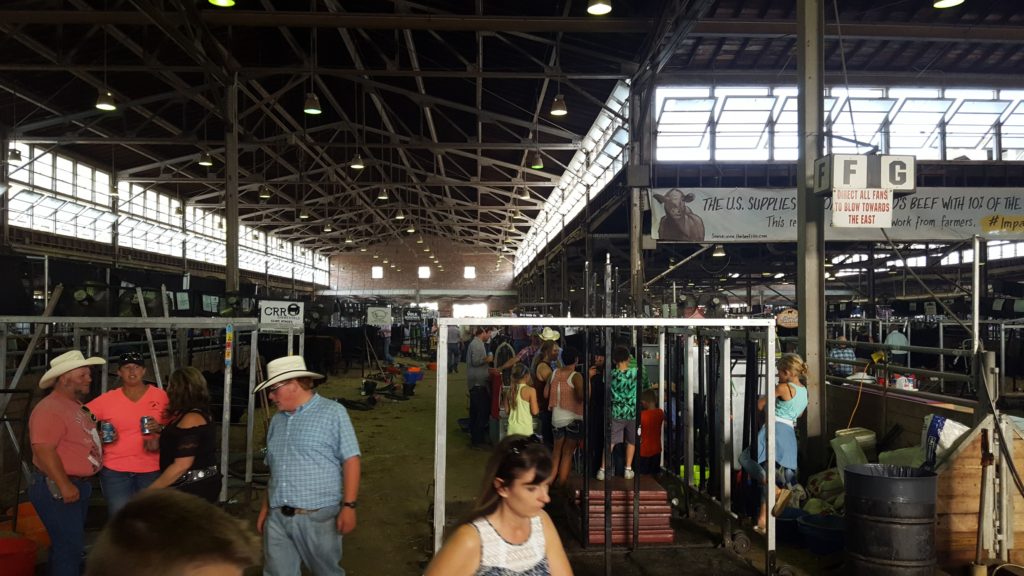 This calf was getting ready to head out on the show ring soon and was smelling pretty good if I say so myself.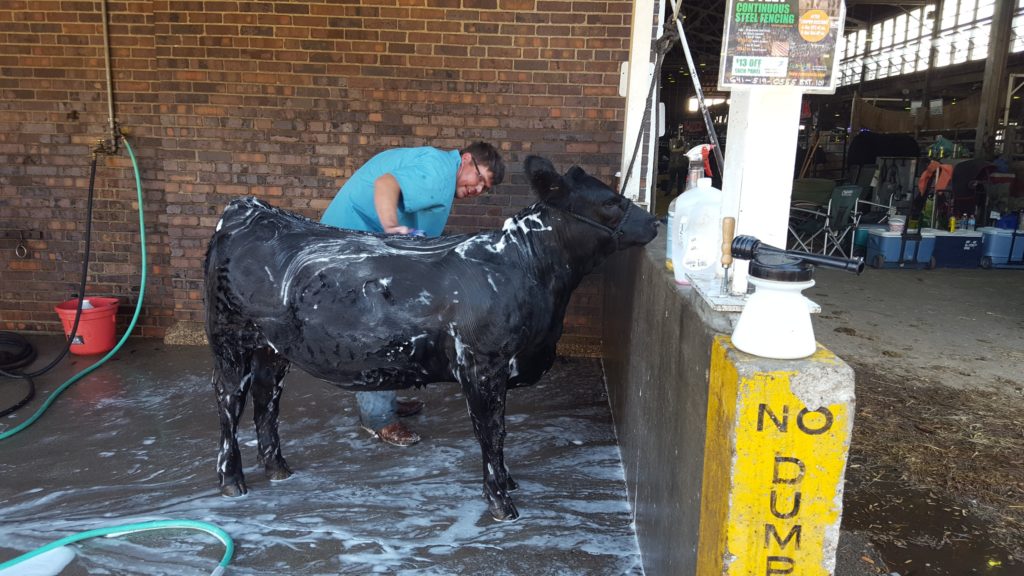 And Daryl couldn't go to a fair without some of his favorite food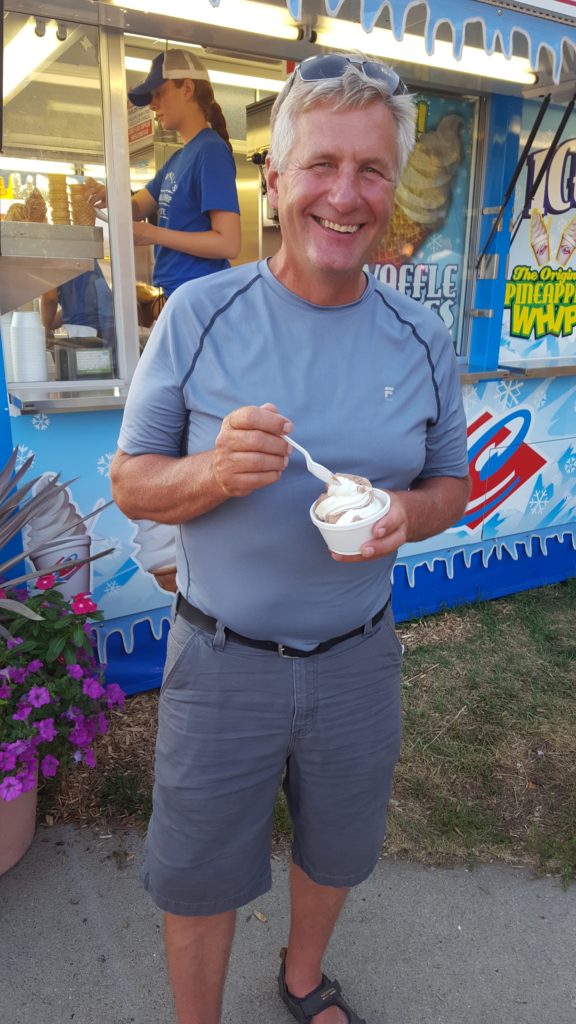 After the fireworks were done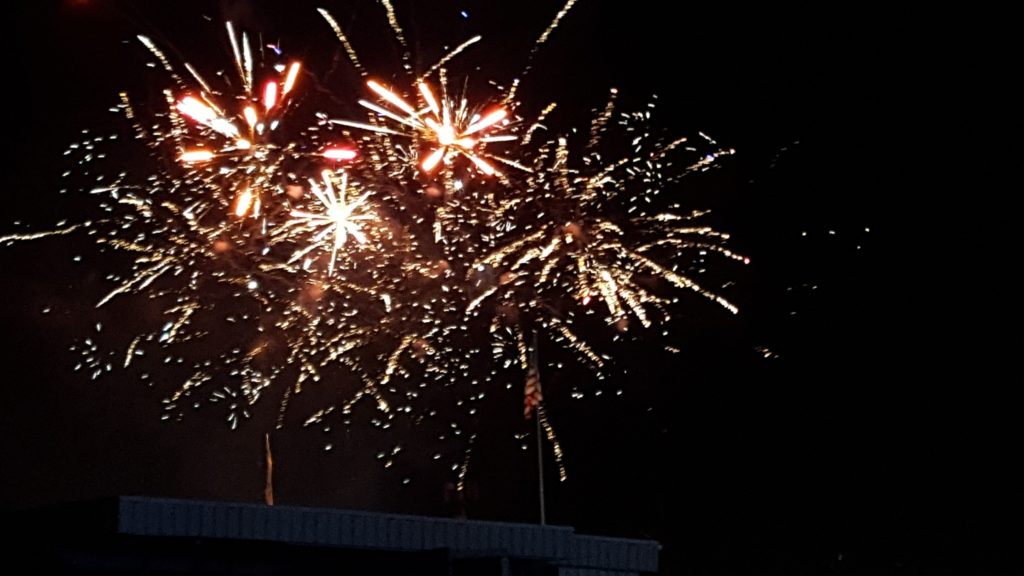 we headed over to the kids apartment for the night. And the funny thing is that they weren't even going to be there. They were in the cities visiting some friends 🙂 But they trusted us that we wouldn't trash the place and we were super careful not to mess anything up.