Well I'm back 🙂 
And I had tons of fun once again on the annual bike ride across Iowa that I go on. I was a little worried how the weather was going to be for the week because we've been getting quite a bit of rain and on the day that we left, well it was pretty wet! In the 33 years that we lived on the farm I don't ever remember the pasture by the windmill ever flooding before. Well until now! And check out our driveway. Or should I saw river!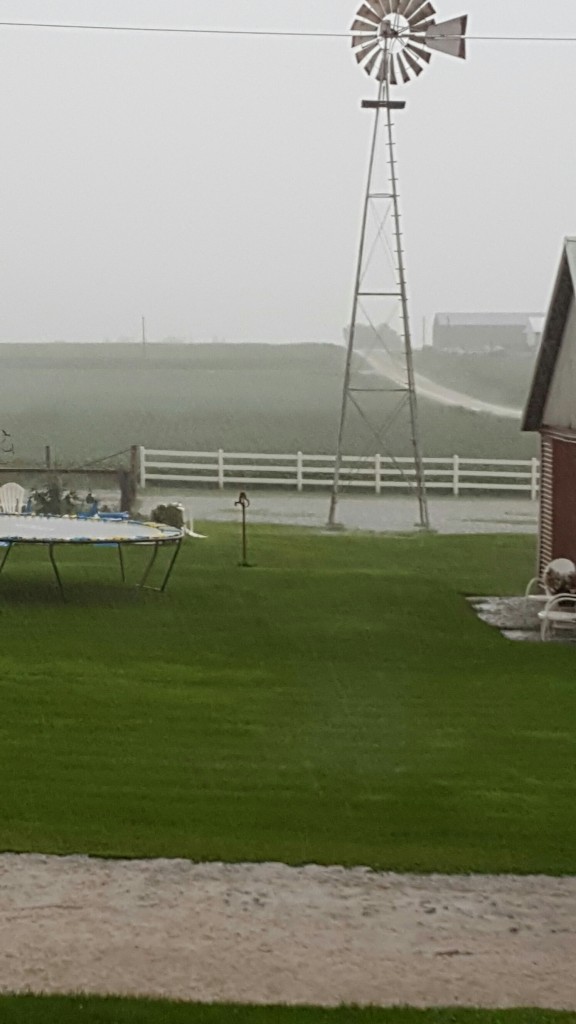 But with the bikes safely stored inside my brother's enclosed trailer that we take, and my stuff was all packed, I was off for another adventure.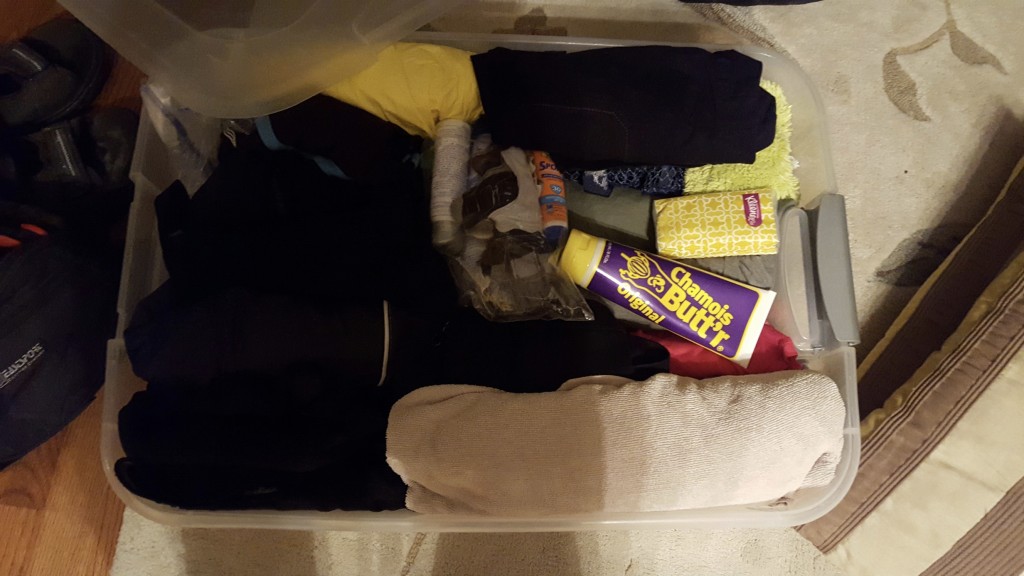 We were lucky again this year to find housing to stay in and let me just tell you that this is a wonderful thing. There is always a very good chance that a storm will blow through and we've been literally stuck in our tent with us trying to hold it down. Only to find ourselves being pushed to the ground and then sucked back up again with the storm hitting our tent. Yea, so not cool! But that year there were others that literally got caught in their tents during the night and because the tent stakes let loose, the tents started rolling through the campground with people in them. Now even though this is not funny – it would be a sight to see don't you think?
So like I said we've had the chance to stay now in housing for the past 7ish years and it's great! We don't really ask for anything other than someplace to throw down a sleeping bag and hopefully use their bathroom. Now sometimes we know the people, but honestly most of the time when we pull up to their house after a day of riding it's the first time that we meet them. And everyone of the places that we've stayed are the most gracious people you can ever meet. We usually spend the time sitting around with them and visiting for quite some time. They always feel obligated to feed us – must be a midwestern thing or something. But heck, I'm not complaining!
The first couple of days of the bicycle ride was pretty hilly, but as the week went on it was much better. One of the best things about the ride is that you can literally see some of your friends once a year on the ride and it's just like you've seen them yesterday. You pick up the conversation from the last time you saw them and it's awesome.
As far as training? I had to laugh when I overheard someone saying that they only were able to get around 400 miles in for training. Yup, I got around 55 miles in!
But to me there is no other feeling than when you start out in the morning and the person beside you is playing Led Zeppelin and the next person up the road has some Rockabilly music just blaring. You just know that it's going to be a great day to ride your bicycle. All you have to worry about it getting to the last town for the night. Oh yea and flat tires. I did have two flat tires this year which is my worst nightmare! My brother helped me with my first one because he wasn't too far away from where it happened and then an Air Force person helped the second time. I was so worried that these two flats happened the first two days that this is how the ride was going to go – but they were the only two flat tires that I had all week. Whew!
And for food/drinks there are a LOT of opportunities to pick what you would like along the way, but we usually started the days with Ma's bars that she sent along for us. I mean how can you resist those bars and some Gatorade to get you going?
Now don't get me wrong – this week wasn't all about riding bicycles.
There were naps to be taken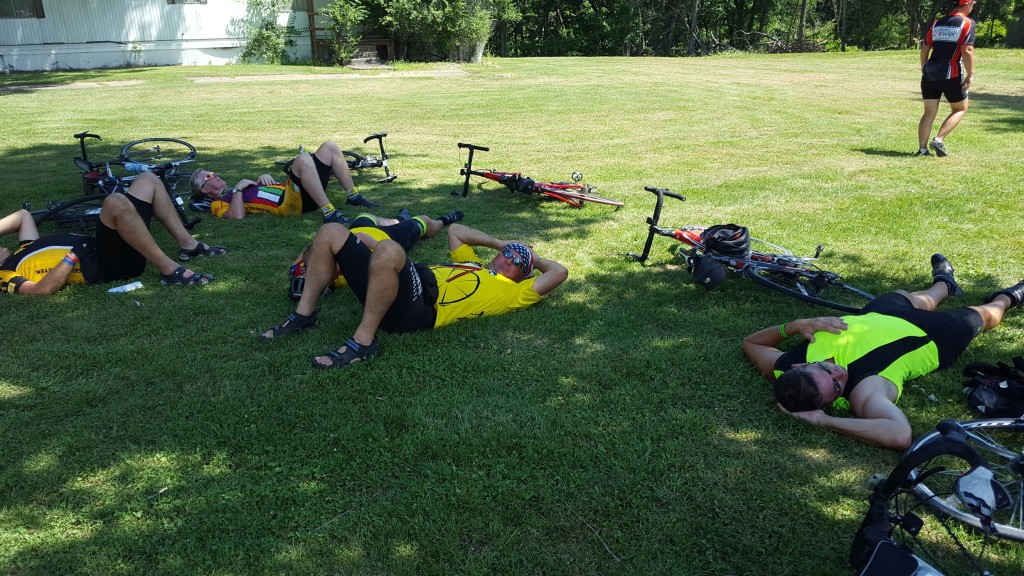 and concerts to go to – Rick Springfield played one night and in every town there were different bands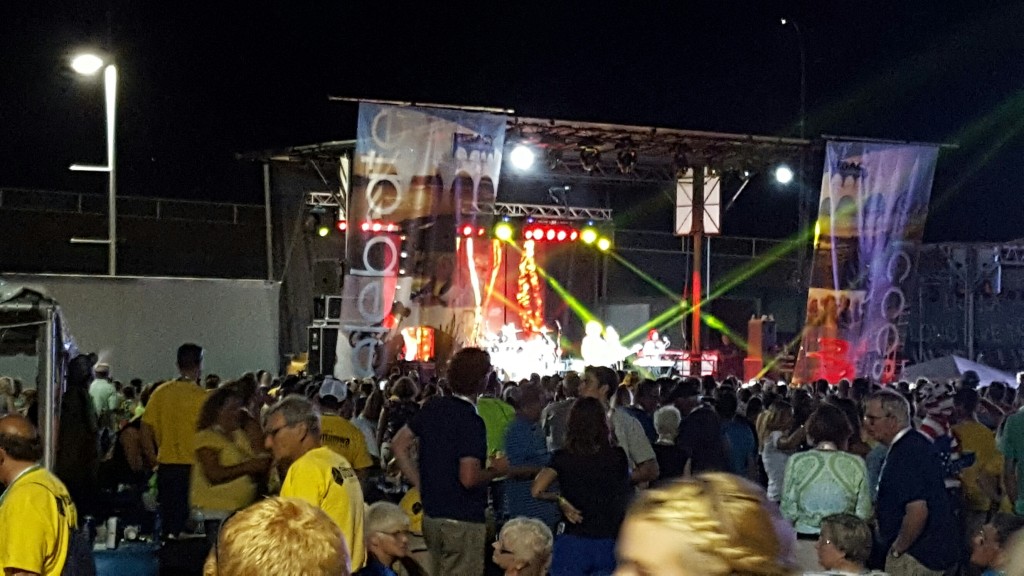 we had a couple of stops along the way with refreshments with hundreds of your closest friends 🙂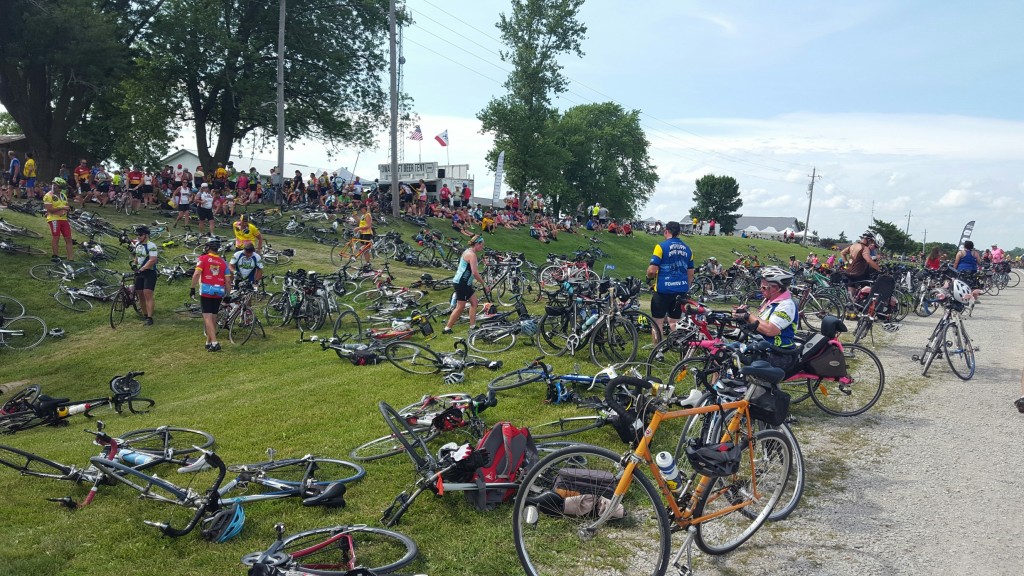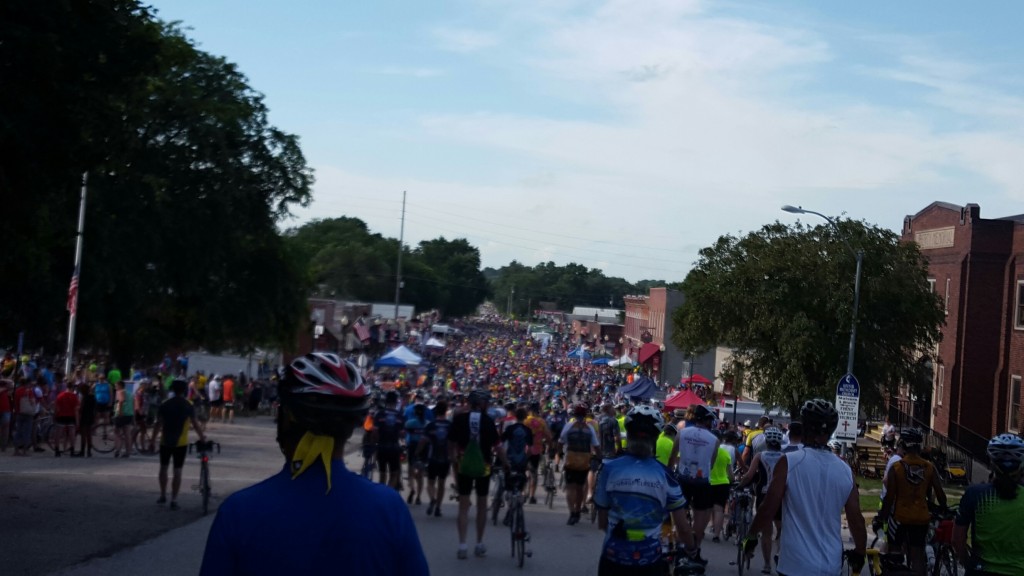 and plenty of pie to be eaten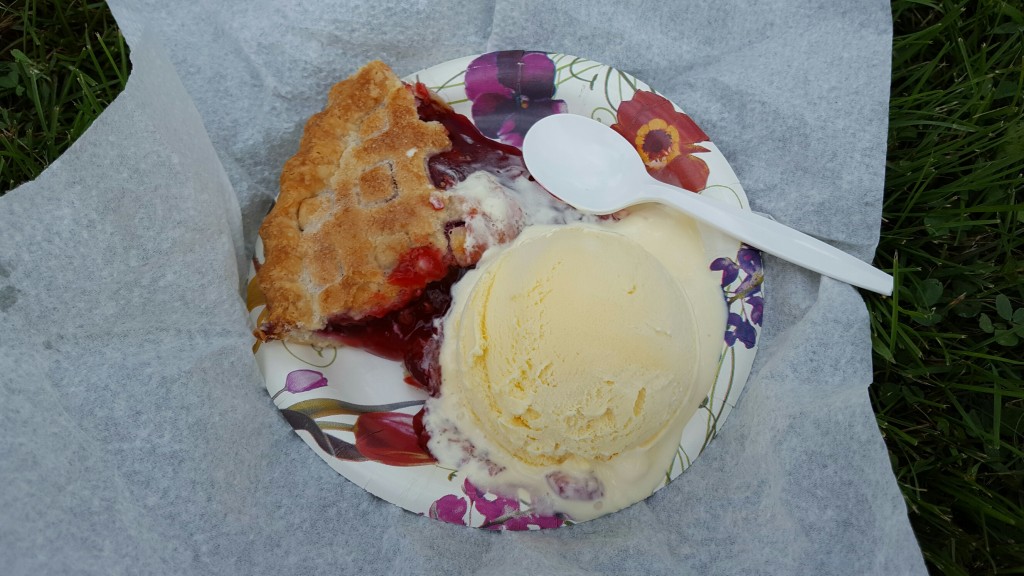 There was also many other food vendors along the way. I liked how these pizza guys were just cranking out the food. Not only were they fast but the pizza was excellent! One thing that you will do on this ride is to learn fast was that a food truck or street vendor was your best friend.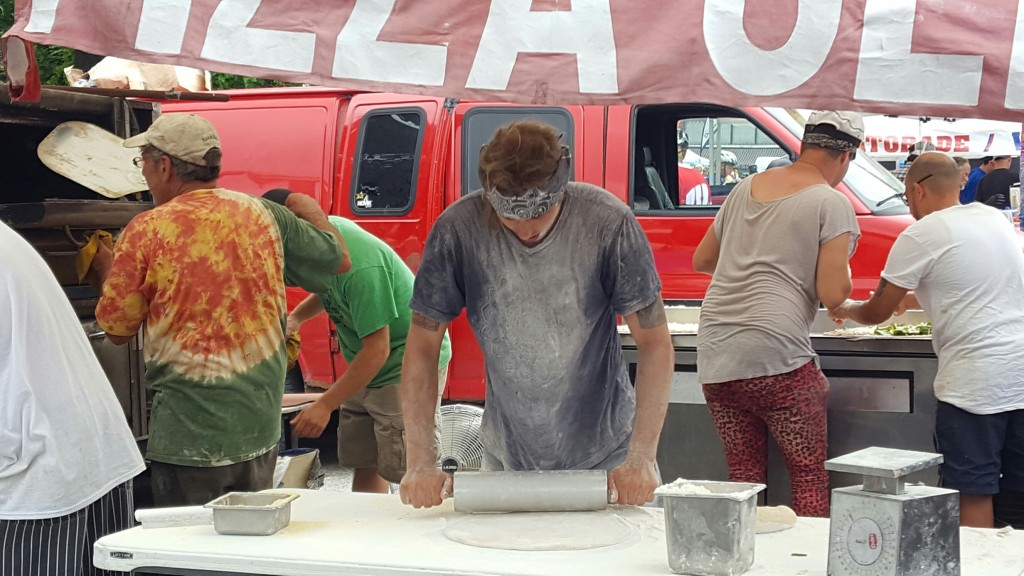 One day we had double rainbows over the town when we got in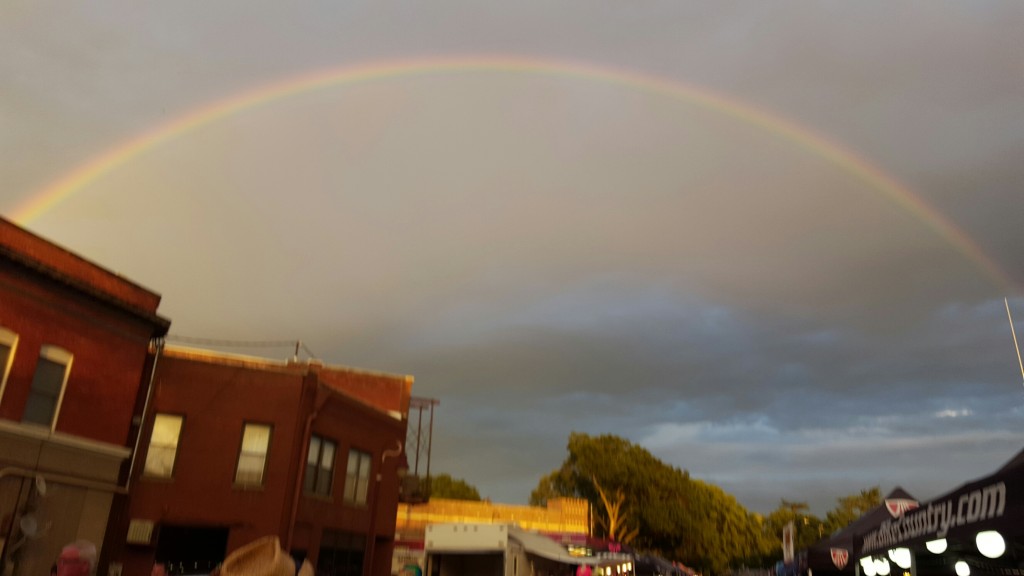 and we saw Iowa's oldest longest running movie theater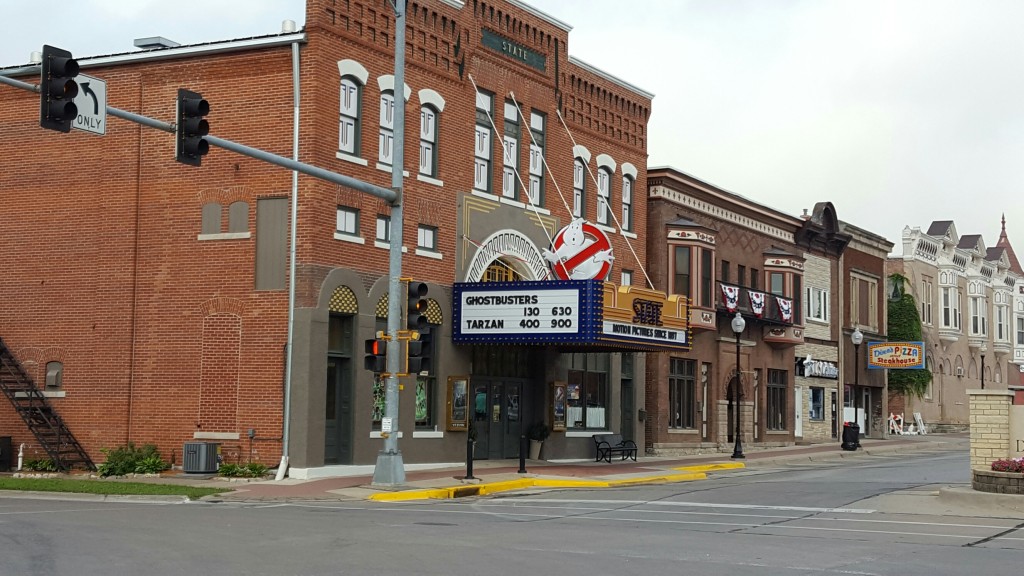 You also have to be creative when there are so many bicycles out in a spot, so the corn rows made perfect bike racks
The Bad Boys were out again this year with their insane bicycles. They have a full bar and a barbecue on their bicycles. Man I just have trouble with myself for the heavy weight, I couldn't imagine how heavy these bicycles weighed!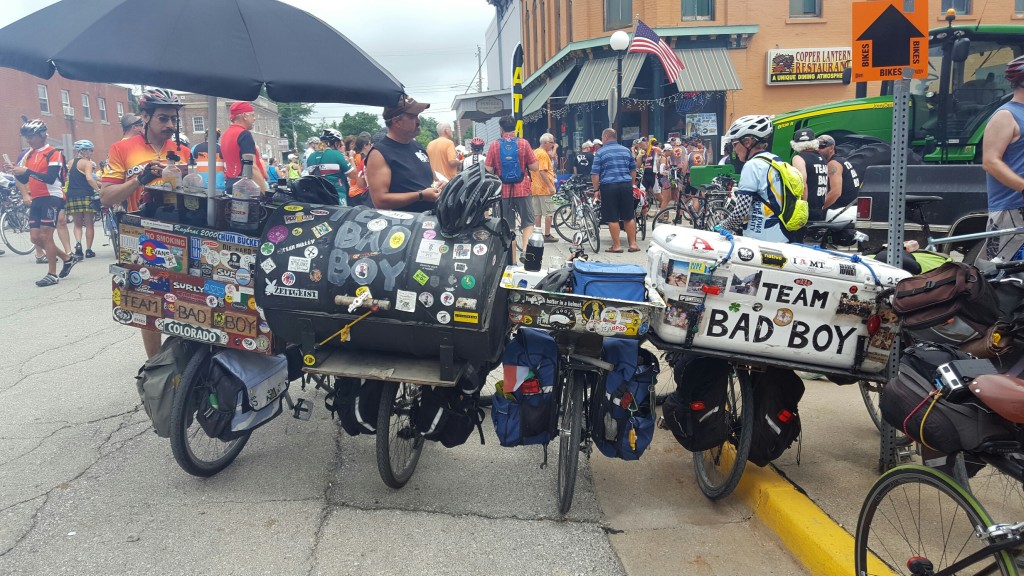 After 7 days on the back of the bicycle and around 500 miles, it was time finally come down to the river and dunk our tires to end the ride. See you dunk your tires on the west side of Iowa and once you reach the east side of Iowa you dunk your tires again. Now to put this ride down in the books as a really fun ride. See this ride isn't all about just being on your bicycle, it's about meeting up with your friends for a week and having a great time while you are together.
I've had a chance to ride my bicycle the past 17 years on this ride and hopefully there is still more years to come!