Late last night our dogs just starting barking like crazy and then they did what normal dogs would do. They tore off through the yard chasing something. They were peacefully laying on the porch and at first it looked like it might be a ploy not to have to get locked up for the night. But it was such a funny bark that I knew something was very wrong. 
And wrong it was! 
We still don't know what they really were barking at, but we did find whatever they were chasing was probably doing. What we found was left of a peahen!!!!!! 
My stomach just hurt. See we know that we have fox in the area and my guess is that a fox caught this peahen and killed it. Now I don't know how in the world he could have caught her because peacocks are very very tough! They are so strong that you better make sure you know what you're doing if you really want to catch one. 
Now it just didn't make sense why our peahen (Sally) would have gotten caught. But it definitely was a peahen. My only hope was that there was a strange peahen in our neighborhood a couple of weeks ago and maybe, just maybe, it was that one. Now that would be a long shot don't you think? But it was the only thing that I could think of when I was laying awake in bed for the long hours after I should have been asleep. 
So tonight I asked Daryl if he saw the peacocks and he said that he didn't really see them today at all. OH NO!! Maybe the bones and a few wings left from the one in our yard actually was Sally! 
Well tonight I went looking for her myself and guess what? I found her! She was hanging out with the cows in the yard and it seems like Sassy and Audrey were keeping on eye out for her.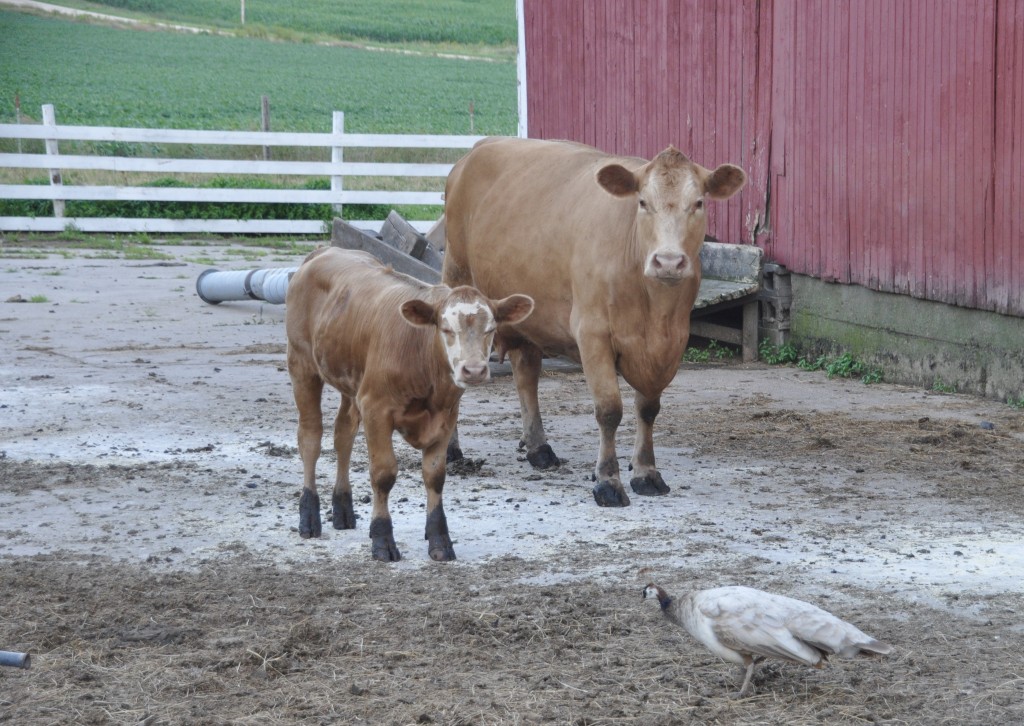 I just laughed out loud tonight when I was trying to take this picture because both Scarlet and No Ears thought that I was only in the cow yard to give them treats or something. Now normally that's a true statement, but for tonight I was just trying to snap a picture. And when I stepped back so they wouldn't keep trying to lick the camera and my face, well Scarlet could still reach me and she started to lick my legs!
I think I'll buy them some apples tomorrow.