Well it's that time of the year again when we dust off our bicycles and try to get in as much training as we can before we head out on the road with some of our 10,000 + friends. It's RAGBRAI time! 
And with no surprise, we didn't get very many miles in for training – I think only around 60 but with our bikes in the back of the truck and heading over to my brothers to meet the others on our team, well seriously it's pretty much too late to be worrying about training don't you think! 
We were lucky to be able to stay in houses again this year for this week on the ride and that just makes it so much better. Now don't get me wrong, I really like to camp. But when it's hot or humid outside and you have no idea where the bathrooms are – staying inside in air conditioning is just so much better! 
This is my 18th year of riding and I honestly have a blast every year. OK, maybe not the very first year one of the days. We had headwind so bad and so many hills that I had more blood blisters on my fingers than you could imagine. Yea, that day wasn't so much fun. But one of our first years that we rode on this ride our friend told us that if you aren't having fun well then you just need to lower your standards and I guess that's been our motto ever since. 
So this year's ride was another great year and with the ride coming through literally our back yard and hometown – seriously how can you get much cooler than that? It was so weird coming down the road and what you always do is you watch for the towns water tower because then you know that your'e getting close to the town. Well I was riding this past week and heading to our town and then I heard someone say that they can see the next towns water tower and they were so excited!  Now if you've never road this ride before I'm thinking that this sounds a little odd, but trust me a town's water tower in the horizon can be your life safer on the ride. The tempo picks up a little bit and there's hope that you'll just be able to make it a little further down the road. 
Well our town put on a great show and for around 400 people and never hosting around 15,000 people before at once – let's just say that they Rocked It! Everyone in our town has been working very hard for this one day since January and with most of the people having to be on more than one group or committee – it's been a very busy time for our little town. All I can say is that I couldn't been more proud to be a part of our town and even know when I think about how great everyone did it just makes me smile. 
The rest of the week there was concerts to go to and a lot of good food to eat. It's hard to describe the ride but when I am on my bike the one word that comes to my mind is 'happy'. I love to ride my bike and even though I'm not the fastest or the best hill climber, that's OK with me. I mean after riding around 9,000 miles over the years on this ride in good weather and in rain storms, we have rode in hail before and tornado warnings. We've had some days where we've had a tail wind pushing us (not very often though) and beautiful weather like we saw this last week. We've met many new people that over the years that have become some of our closest friends. So how can you not have a good time? But now that the week is over it's time to put our bikes away for awhile again. Life just keeps moving on and we'll have to see what our next adventure will be. 
Here are a few pictures that I took along the way. 
This first one is a quick picture that I took of the storm heading our way in one of the first towns. We wasn't sure if we were going to wait it out or try to outrun it. Well we 'tried' to get in front of  it but that didn't work so well. It always seems to storm on Ragbrai and all we got was wet and some pretty good wind. No big deal and I was just glad it didn't blow up a big storm.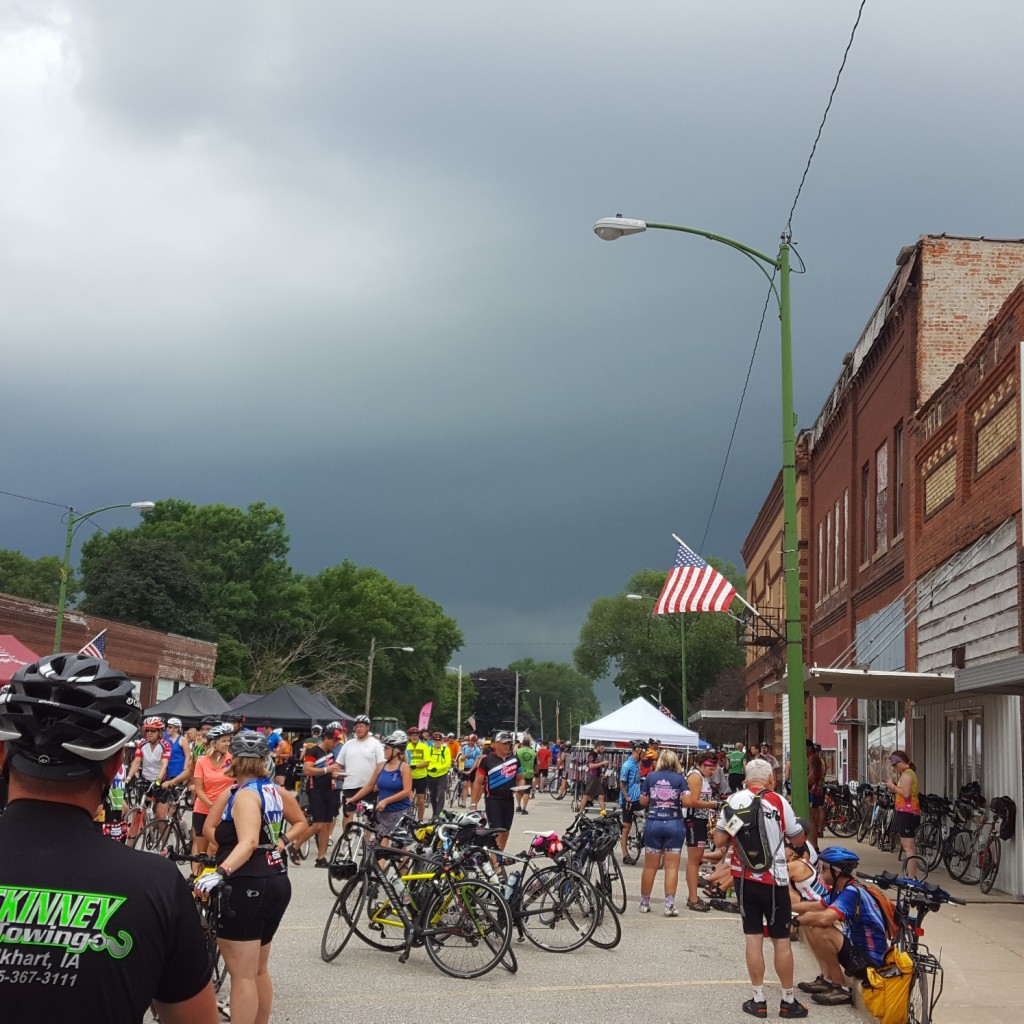 Our host houses are always so nice. This year in one of the houses we were treated to a brick oven on their patio  making homemade pizzas. They were Fantastic! With the temperature as hot as 1000 degrees, I think the first ones took 80 seconds to cook.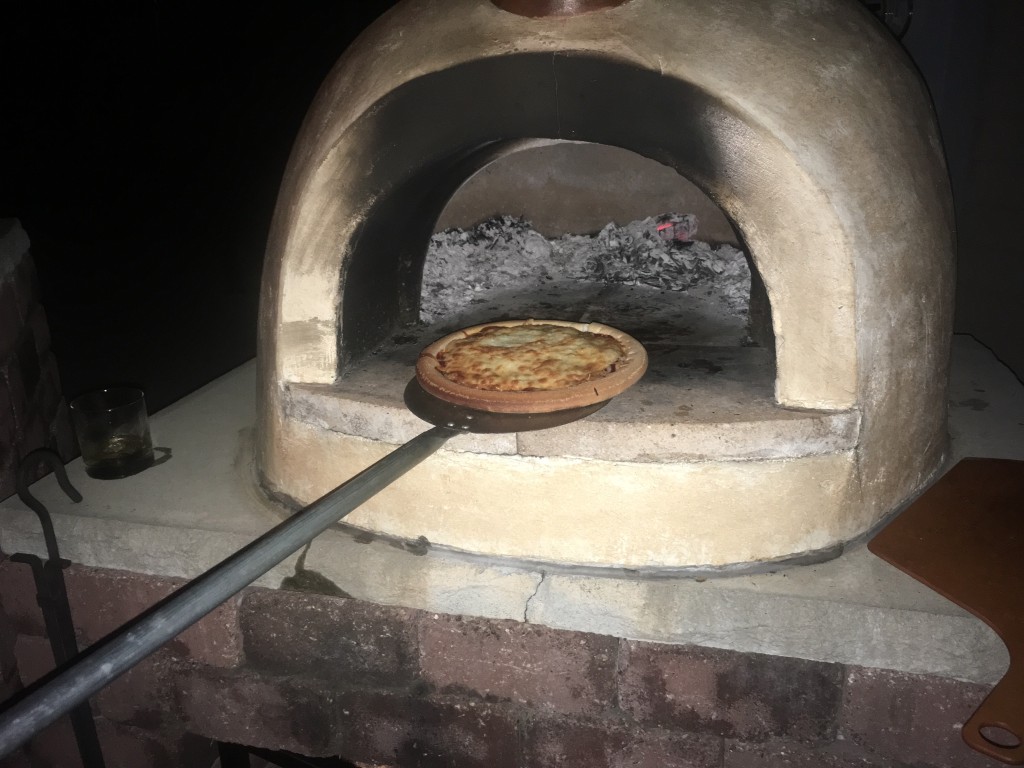 We usually have a couple nights of fireworks along the way in the towns which is always fun.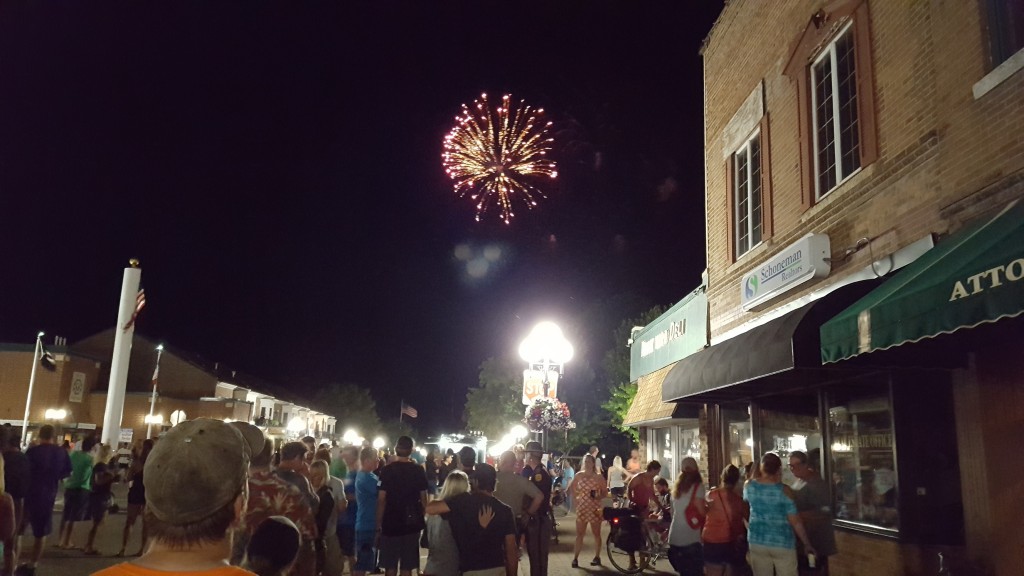 And seriously loosing your bike is what Ragbrai riders have nightmares on. You HAVE to remember where you put your bike along the ride! Especially if you've been in the town for a few hours hanging out with your friends 🙂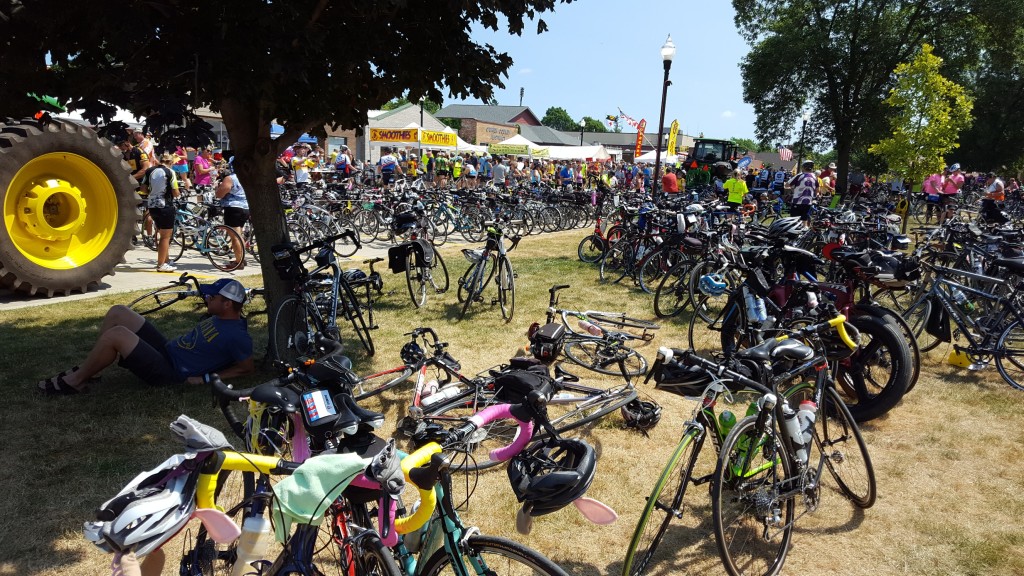 It's probably better not to ask about these next couple of pictures …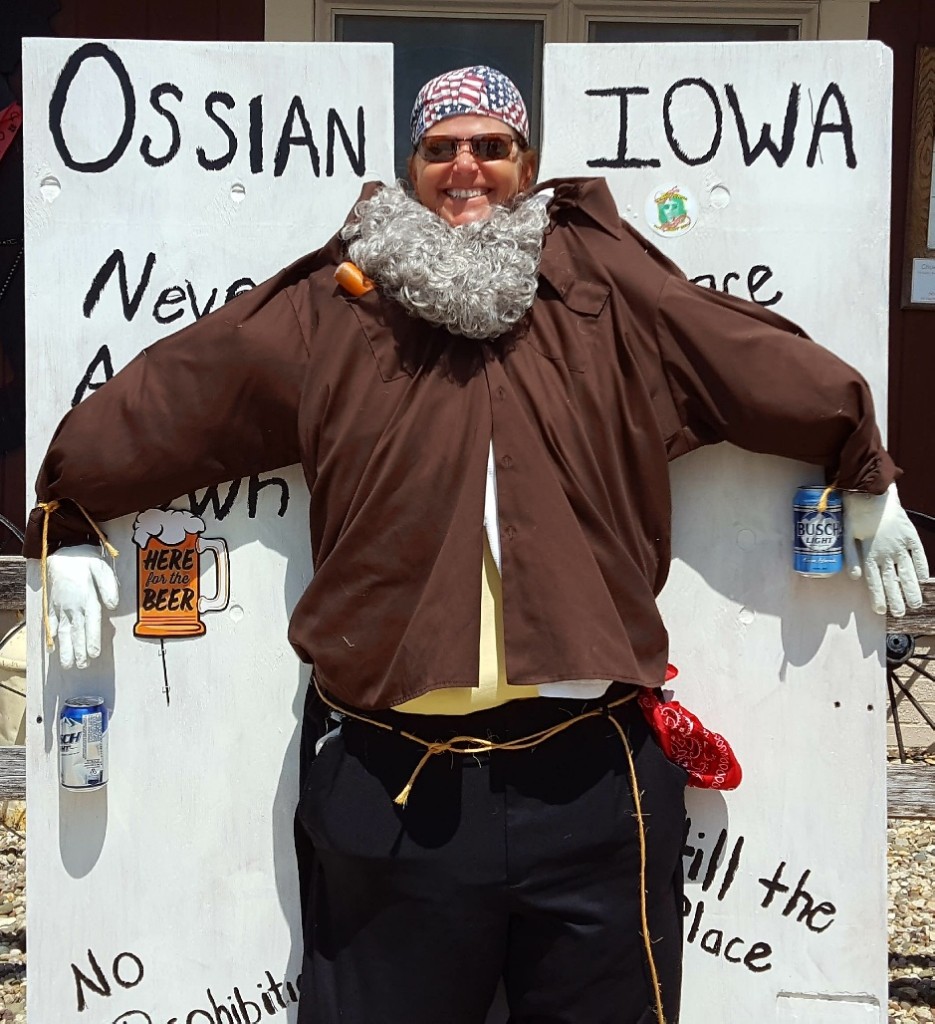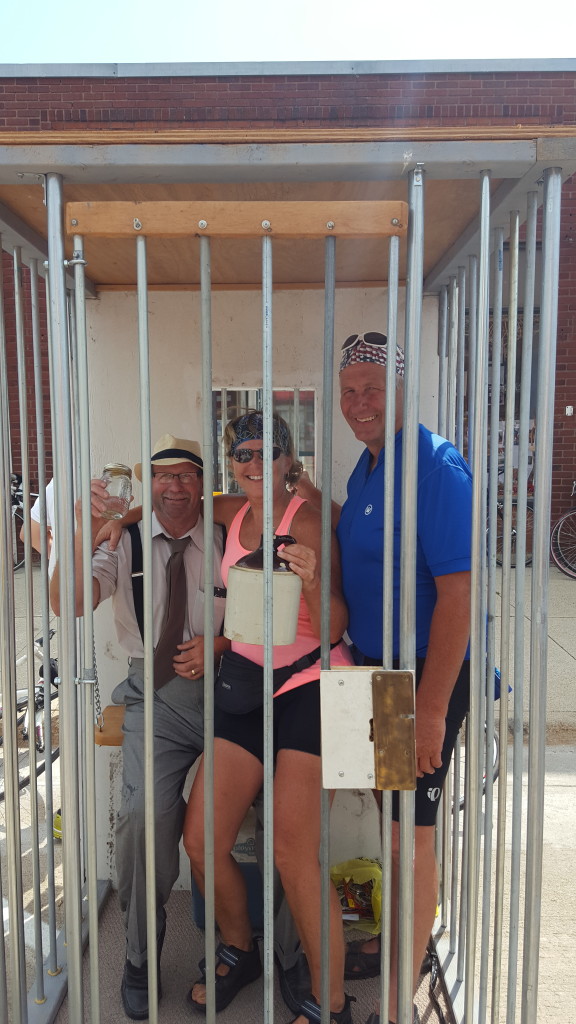 Just by coincidence our bikes were lined up as Red White and Blue at the end of one of the days.  Pretty cool!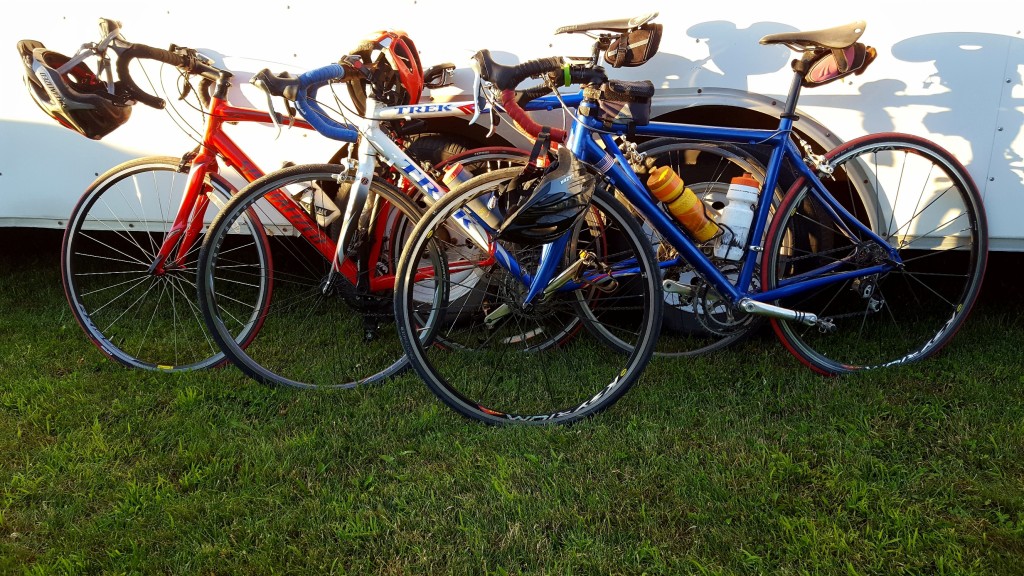 And check it off my 'Bucket List' I made it to the Hobo Museum in Britt Iowa. Now the one thing that I learned is that the Hobo's had their own symbol language for the towns. (see the symbols in the second picture)
Finally just chilling after the last day and finishing the ride. Congratulations to another year of our team riding the week out!!