What a great day today was! I actually got some work done around the house and we got to help celebrate a big day in William's finance's life.
The day started out switching out my winter to summer clothes. Now even though one day it's been in the low 80's and the next our furnace literally turned on, it didn't matter. It was time. I also was able to get rid of some of the clothes that I either don't wear or don't need to wear anymore. I ended up with a garbage bag full, so that right there tells you that I probably don't need it all!
Next thing to do is to pick up the house. I haven't paid much attention to the upkeep of our house this past month (making soap 🙂 ) so it was time to buckle down and get something done. I even actually vacuumed the house which was a shock! Next to get the floors scrubbed and laundry hung out on the line. Today was a 80 degree weather day.
After I jumped into the shower and got dressed, we were headed to UNI for the Master's Graduation program. It was really fun to be there and watch all the excitement of the graduates. Even though it might seem like it's just another step in their life, it's seriously a pretty big step.  After the graduation ceremony we all went downtown for more celebrating and had a really good meal. The celebration was for William's fiancé who was graduating. We sure had a great time and it was fun to get together with both William and Jude and her family and friends. Congratulations to her!! Whooohoooo!!!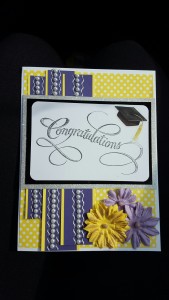 With our bellies full and with a lot checked off our lists today, we were sure ready to hit the hay once we got home. I seriously think I fell asleep within 30 seconds once I crawled into bed. But what a great day we all sure had!